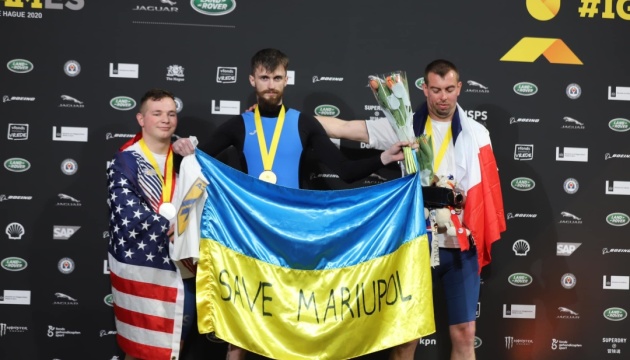 Ukrainian vet unfurls Save Mariupol flag at Invictus Games podium
Ihor Halushka, a member of the Ukrainian Invictus Games team, climbed the podium to receive a gold medal and unfurled the Ukrainian flag reading "Save Mariupol".
"My brothers in arms are now fighting in the encircled Mariupol, without enough provisions and ammunition. They are defending the Ukrainian land there, and it is thanks to their courage and strength that I can fight here! They give me strength!" Halushka spoke of his motivation, Ukraine's Invictus Games team posted on Facebook.
Earlier, Viktor Lehkodukh won a silver medal in 4-minute indoor rowing.
The Ukrainian team has already won 4 gold, 3 silver, and 5 bronze medals at the Invictus Games in The Hague.
The Invictus Games are held in The Hague from April 16 to 22, 2022. The Ukrainian team is represented in eight sports.
The Invictus Games is a multi-national sporting event for wounded, injured and sick servicemen and women launched by Prince Harry, Duke of Sussex, in 2014. The competition support servicemen and women and veterans on the path to physical recovery, psychological rehabilitation and social integration.
ol