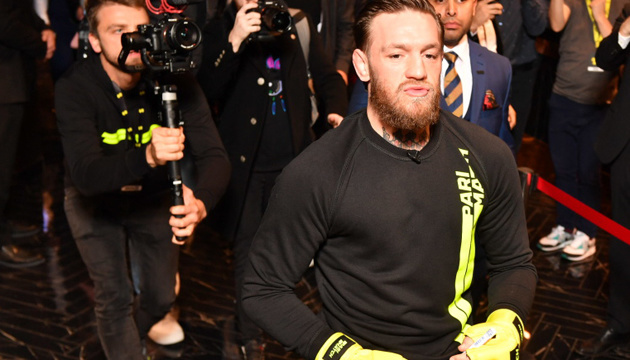 McGregor in Kyiv: Talking about Lomachenko, Usyk, football and politics
The mixed martial arts star for the first time visited Ukraine at the exclusive invitation of Parimatch.
Conor McGregor, an Irish professional mixed martial artist (MMA) and boxer, arrived in Kyiv for the first time and his visit became a real event in the sports life of Ukraine. Since February 2019, McGregor is a Parimatch ambassador and the brand has made a lot of efforts to invite the legend of the top MMA promotion - the Ultimate Fighting Championship (UFC) to our country.
A huge number of journalists gathered at a press conference in the Champion Hall/ Parimatch at the CEC Parkovy. There were not only Ukrainian journalists. For example, journalists from Belarus and Kazakhstan came to the event too. The excitement was not even prevented by the fact that the event was delayed for three hours because of the delayed Irish flight due to bad weather.
McGregor at the meeting was surrounded by numerous guards in uniform and boxing gloves with the Parimatch logo. The Irishman left his autograph on a stand with boxing gloves and tried the Ukrainian traditional round loaf. Despite his controversial reputation, McGregor turned out to be a pleasant and smiling guy who eagerly answered all questions and joked a lot.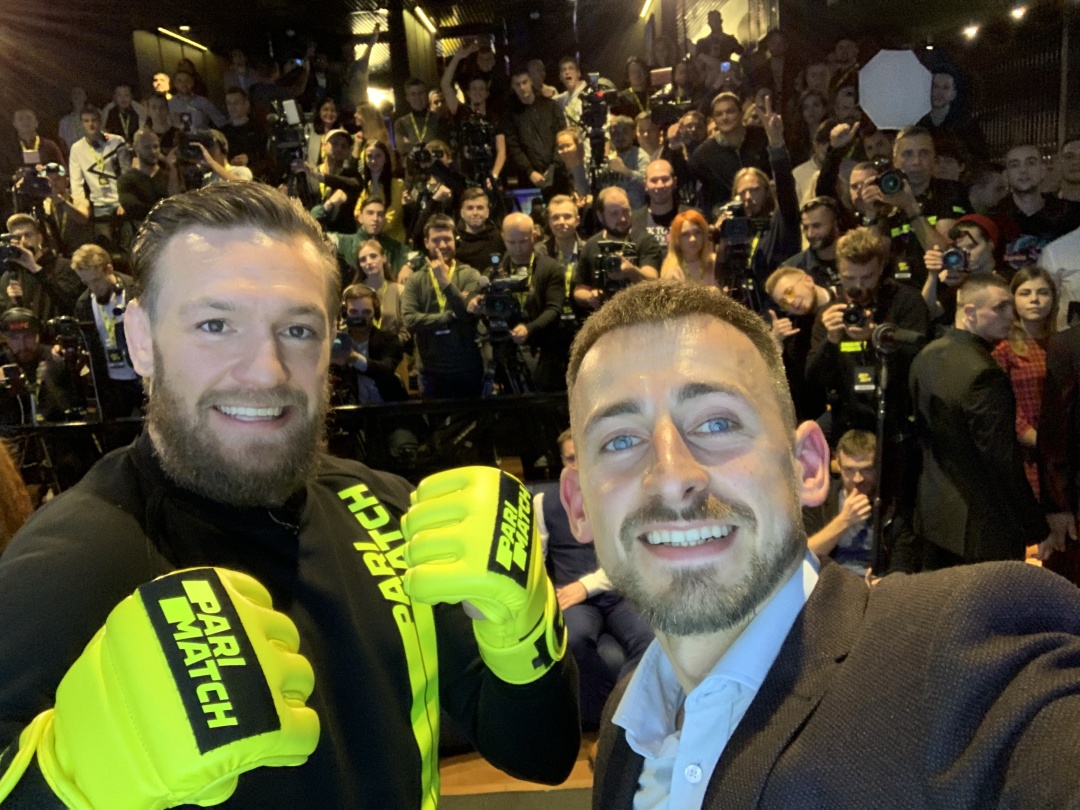 Kyiv's journalists felt the charisma and eloquence of the Irishman when they asked Conor about his impressions of visiting Ukraine, plans for the next fight, business outside MMA, in particular, about his own brand of whiskey Proper 12, as well as about the details of cooperation with Parimatch as official ambassador.
"I am very happy to come to Ukraine. The first thing I noticed was the large number of boards at the airport and around the city with me. It is really nice and motivating. I chose Parimatch because they are ambitious and cool and they chose me! Ukrainian sport, especially boxing, is a global phenomenon. Lomachenko, Usyk and others are real stars and professionals," McGregor said at the beginning of the meeting.
As expected, the first questions to the Irishman were about the Ukrainian boxing. "I know Vasyl Lomachenko very well. He should try himself in MMA. I believe that he will succeed. A boxing fight with Usyk? We are in different weight categories. I will gladly give him my MMA belt, but it's better for him to be a boxer. He was supposed to go into heavyweight. He is a great boxing master. It will be very interesting to watch him in the heavyweight division," said McGregor.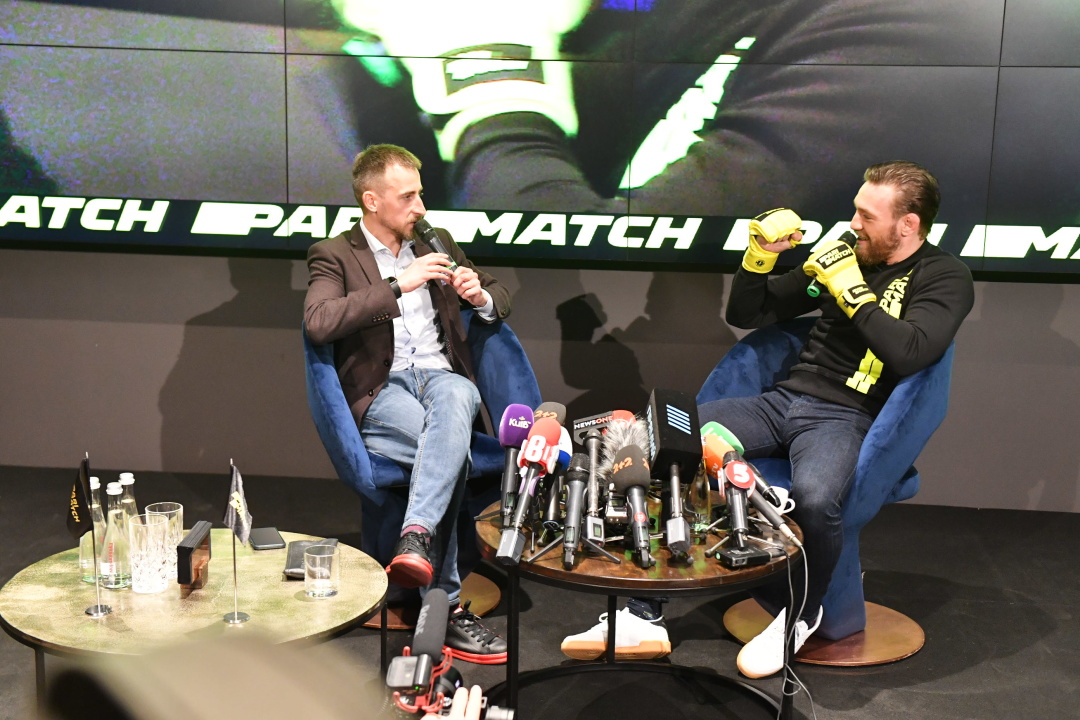 Journalists did not ignore the topic of football. McGregor turned out to be a huge Manchester United and Celtic fan. He also commented on his recent photo in a t-shirt of Shakhtar Donetsk: "I know Shakhtar, they play in the Champions League against Manchester City and other teams. I've never seen their match, but we'll come up with something to change it. "
By the way, it was at the press conference that McGregor found out what Ukrainian President Volodymyr Zelensky was doing before he became the president, and responded brilliantly to this: "Was Zelensky a comedian before? Now the opposite is true. People listen to comedians and laugh at politicians. "
Of course, McGregor gave advice to young athletes. They were about the regime and motivation. "I love Chicken Kievs. My girlfriend cooks them for me. As to the drinks, I like coffee and water. This is good for an athlete. I have a nutritionist. I have had many ups and downs. Subsequently, I learned to train and eat correctly, comply with the regime. We're all human beings. You can lose, but you must continue work and be obsessed with your work. Just believe in yourself," said McGregor.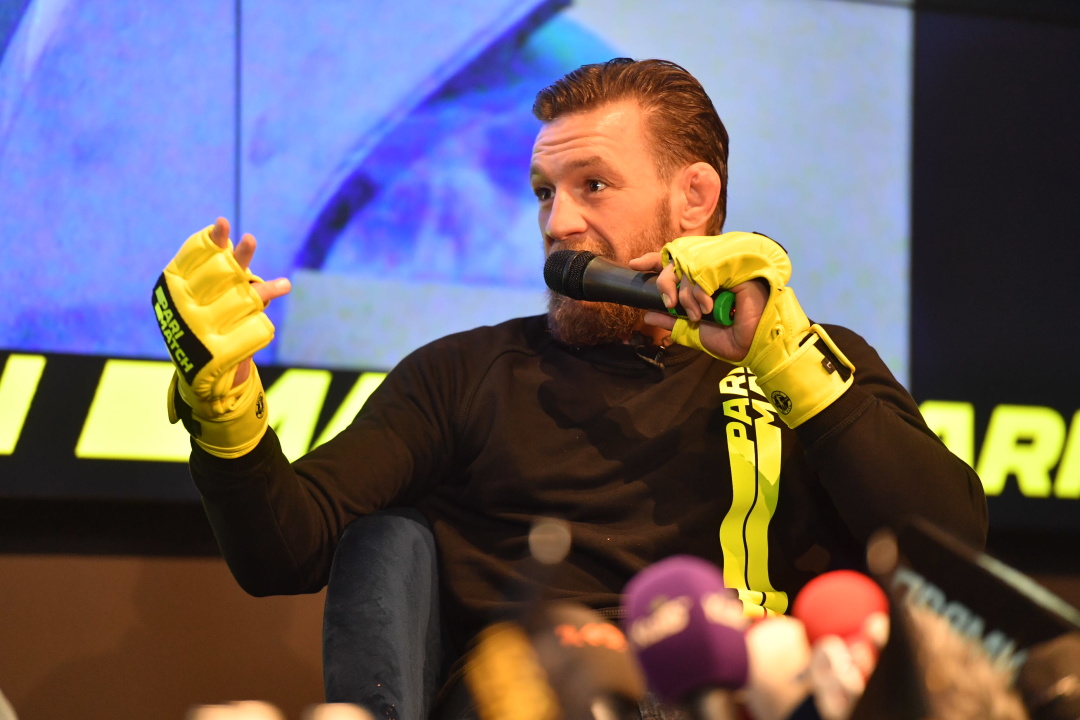 The Irishman denied rumors about the end of his sports career: "I am charged to continue my career in MMA. We follow all rivals. But so far I'm not ready to give the names of my closest rivals." At the same time, MacGregor confirmed that he thinks about his life outside of sports. What will he do? He says he is interested in business, charity projects. Perhaps he will get into the film industry.
"Conor McGregor has been a key face of the Parimatch brand for almost a year now. In addition, he is a brilliant athlete with a huge fan base around the world. Bringing him to Ukraine, introducing him to the public and fans was our long-standing goal. As one of the main patrons of sports in Ukraine, Parimatch seeks to inspire sports enthusiasts and amateurs. Therefore, the meeting with the UFC legend and our ambassador fits perfectly into this strategy," Vadym Misiura, a Parimatch representative, summed up the meeting with the star.
Sviatoslav Vasylyk, Kyiv