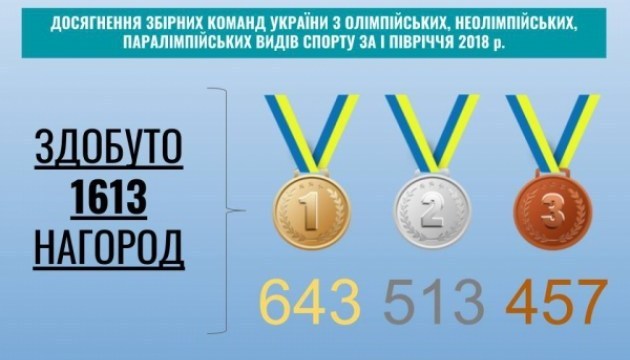 Ukrainian athletes won 1,613 awards in first half of 2018
Ukrainian athletes demonstrate excellent results at the most prestigious official international competitions in Europe and around the world.
In the first half of 2018, our athletes won 1,613 medals in Olympic, non-Olympic and Paralympic sports (643 gold, 513 silver and 457 bronze medals), Ukrainian Youth and Sports Minister Ihor Zhdanov announced.
Since the beginning of 2018, the athletes of national teams for the Olympic sports have taken part in 430 international competitions (2018 Winter Olympics, six world championships, 39 European championships, three World Cups and the European Cup. Ukrainian athletes have won 191 awards (42 gold, 59 silver and 90 bronze medals).
In addition, Ukrainian teams have already participated in 126 official international competitions in non-Olympic sports in the first half of the year. The athletes have won 1,057 awards (464 gold, 346 silver and 247 bronze medals).
Since the beginning of the year, the Ukrainian Paralympic team has represented the country in 58 international competitions (2018 Winter Paralympics, four world championships, 12 European championships, 13 World Cups, European Cup and 27 international tournaments). Ukrainian Paralympians have won a total of 365 medals (137 gold, 108 silver and 120 bronze medals).
ol