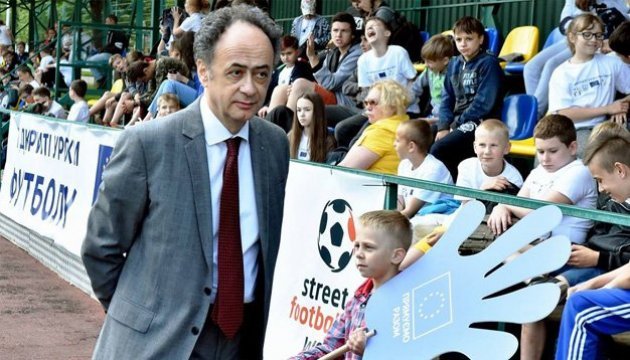 Mingarelli opens children's football festival in Kyiv region
Head of the EU Delegation to Ukraine, Ambassador Hugues Mingarelli opened the "Open Fun Football Schools" children's football festival in the town of Vyshneve, Kyiv region, on May 21.
Mingarelli greeted 200 children participating in the football festival, with half of them being IDPs.
"This festival is part of the support for the east of Ukraine, where we still witness the conflict. Many of you had to leave, change your usual way of life, schools and friends. The EU aspires to restore peace not only in Ukraine, but also in your hearts. You deserve to feel secure, have an opportunity to learn and play," Mingarelli said.
Thousands of children had to leave their homes in the east and south of Ukraine. In order to help them adapt and make friends with their peers from host communities, the Football Federation of Ukraine with the financial support of the European Union holds "Open Fun Football Schools" across Ukraine.
In April-May 2018, over 4,000 boys and girls took part in the festivals in Donetsk, Luhansk, Kharkiv, Dnipropetrovsk, Zaporizhia, Kherson, Mykolaiv, Odesa and Kyiv regions.
op