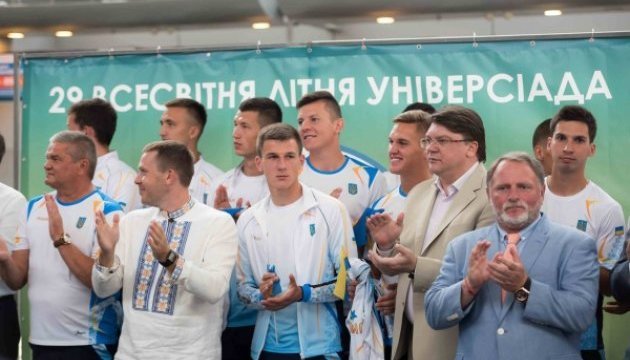 179 young athletes to represent Ukraine at 2017 Summer Universiade
The Ukrainian national team has been seen off for the 29th World Summer Universiade at the Boryspil international airport today, August 16.
The Summer Universiade will be held in the Taiwanese city of Taipei, China, on August 19-30. Ukraine will be represented by a team of 179 athletes. The members of football team and representatives of water sports flew for Taipei among the first, Ukrinform reports.
About 12,000 athletes from 160 world countries will participate in the 29th World Summer Universiade in Taipei for ten days. They will compete in 22 kinds of sports – badminton, basketball, baseball, water polo, volleyball, golf, judo, track and field, table tennis, swimming, diving, roller sport, gymnastics, rhythmic gymnastics, archery, tennis, taekwondo, weightlifting, wushu, fencing, football, billiard sports.
As a reminder, at the last World Summer Universiade 2015 in Gwangju (Republic of Korea), the Ukrainian team won 31 awards (8 gold, 17 silver, 6 bronze medals) and was ranked 8th among 146 countries in the overall team standings.
ol