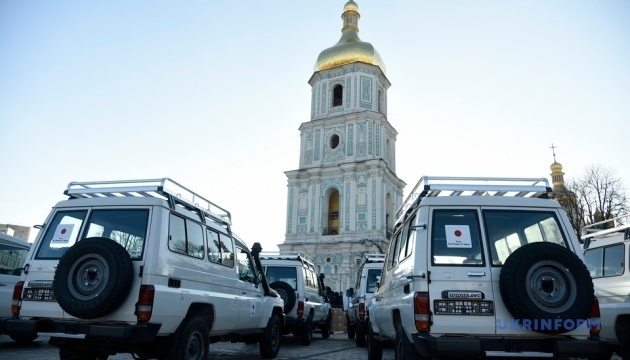 Japan sends batch of humanitarian aid to Ukrainian rescuers
Japan has handed over a batch of humanitarian aid to Ukrainian rescue workers, which includes 40 vehicles and 50 metal detectors.
The handover ceremony took place in Kyiv on Monday, November 20, according to an Ukrinform correspondent.
"We really need assistance from our international partners. We are grateful to our Japanese colleagues who are helping Ukraine in every possible way at this stage of recovery, because it is obvious that without demining, without carrying out a non-technical and technical survey, it is difficult to talk about a full recovery of the state," Ukraine's First Deputy Prime Minister and Economy Minister Yulia Svyrydenko said.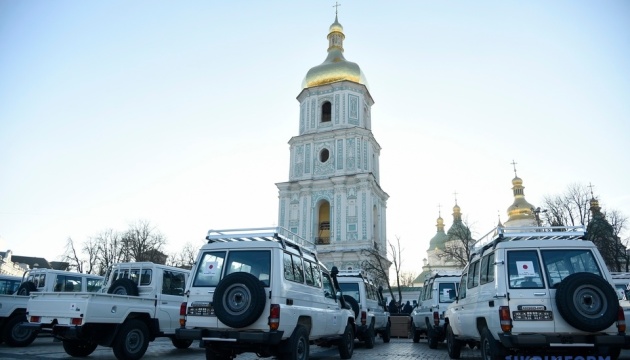 In addition to cars and metal detectors, Japan handed over 150 containers of soap-based firefighting liquid to Ukraine's State Emergency Service. Svyrydenko and Acting Head of the State Emergency Service Volodymyr Demchuk received certificates for this equipment and containers from Japan.
According to Ukrainian Interior Minister Ihor Klymenko, the cars and equipment that Japan is providing to Ukraine will help speed up the demining of Ukrainian territories.
He thanked the Japanese government and the country's ambassador, Kuninori Matsuda, who is the curator of the demining process and cooperates with the Ukrainian government, for their help and understanding of the difficult situation Ukraine is in.
Japan's First Deputy Foreign Minister Tsuji Kiyoto, in turn, expressed hope that the transferred equipment and vehicles would play an important role in Ukraine's reconstruction. He noted that Japan would stand with Ukraine until peace returns to Ukrainian land.