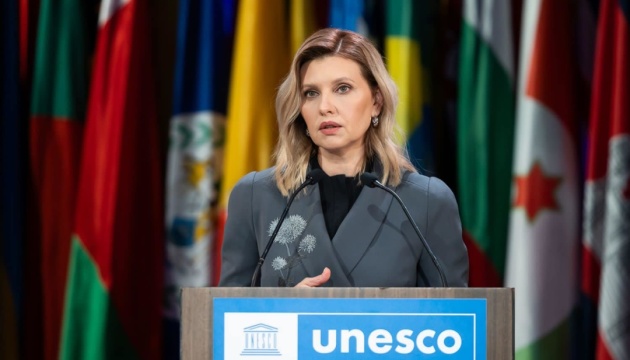 First Lady Zelenska calls on UNESCO to expand mission in Ukraine
Ukraine's First Lady Olena Zelenska has called on UNESCO to expand the organization's presence in the country.
That's according to Zelenska's address delivered at the 42nd UNESCO General Assembly session that kicked off on Tuesday, an Ukrinform correspondent reports.
She recalled that today, UNESCO is one of the few organizations that really effectively stands on the border between civilization and chaos, between memory and culture and modern barbarism, which, she noted, "has many faces" but which is easy to recognize by the desire to destroy.
"We are asking for the expansion of UNESCO's presence in Ukraine," Zelenska said.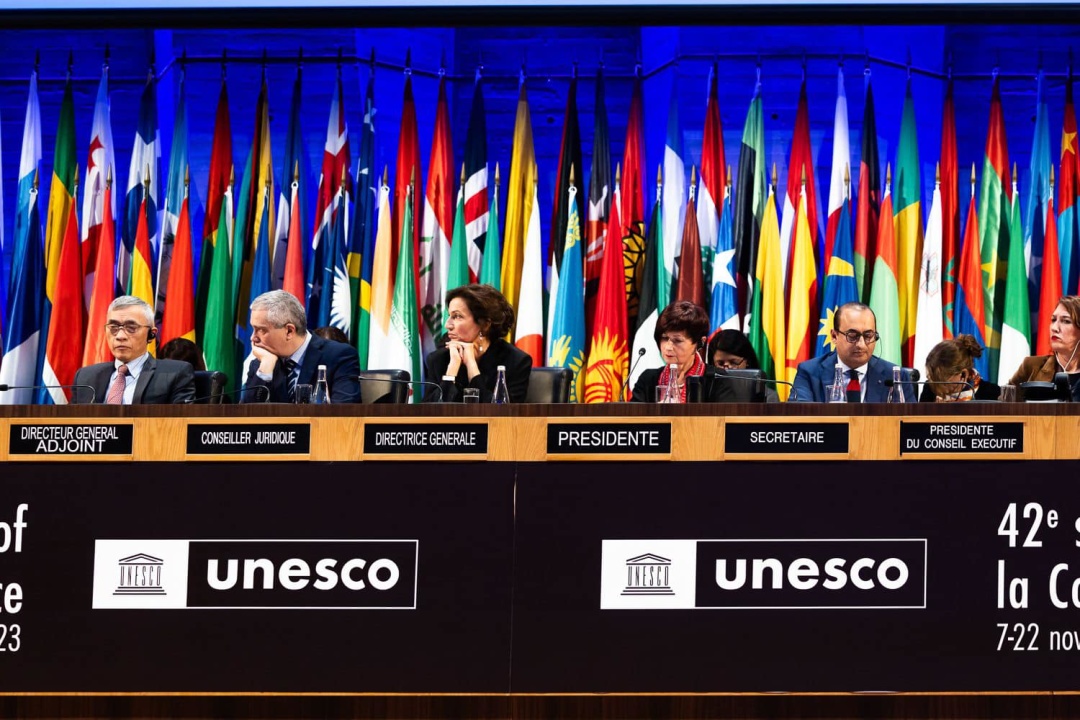 According to her, the scale of crimes committed by Russia is incredibly large and it will take decades to rebuild what has been destroyed. But nowadays it is important to document everything that has been happening. Ukraine needs authoritative witnesses, Zelenska stressed, with security guarantees for them because even now, testifying about terror can be dangerous.
"What Ukraine is going through should not be a problem of Ukraine alone. This is a demo version of what modern barbarism is capable of if left unpunished. This is an attack not just on us, but on everything valuable to a normal person. It is an attack on civilization itself. The one that UNESCO so devotedly protects. It's just that today we are standing between barbarism and civilization. And we are trying to protect life from destruction, from obliteration. So that no one else loses either history or life," the President's spouse summarized.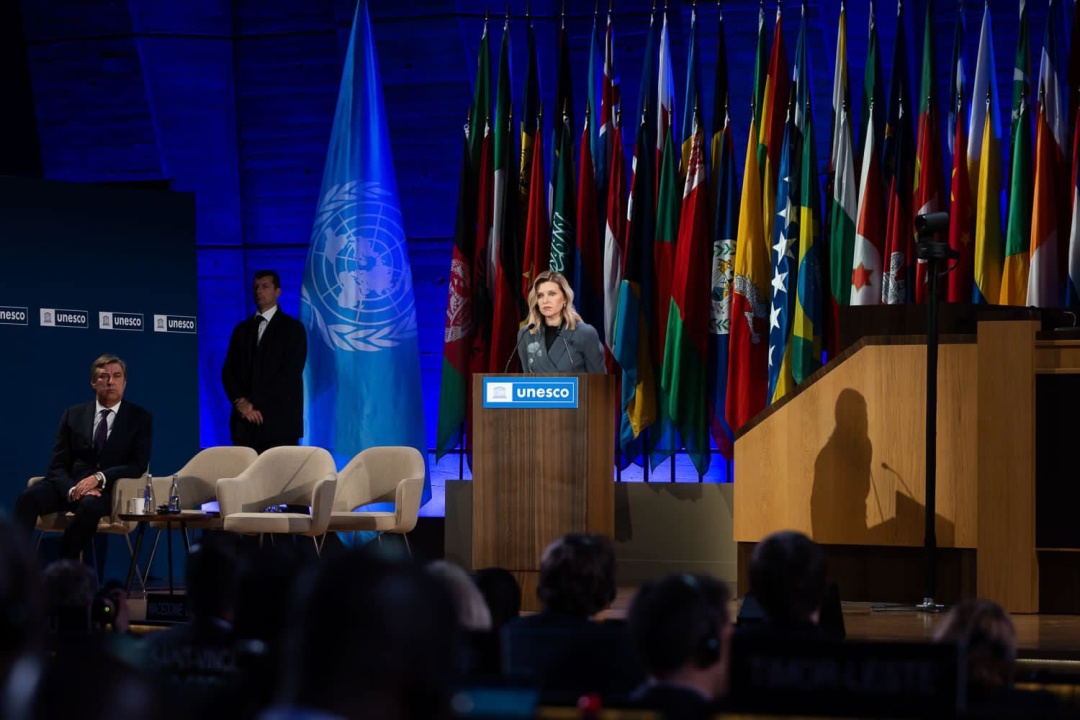 She emphasized that Ukraine is very grateful for the UNESCO office in Kyiv for providing enhanced protection to 20 cultural heritage sites of Ukraine, and for all the essential support.
She also recalled that 3,428 educational institutions were damaged, 365 were completely destroyed, and a third of Ukrainian children study only online. In addition, 343 sports facilities were damaged, and 95 were completely destroyed. Over the past year and a half, about 360 well-known Ukrainian athletes and coaches were killed.
"A few days before my visit here, on November 5, as usual, Russian troops attacked Odesa at night. The shelling damaged the building of the Odesa National Art Museum. The news about culture in Ukraine is mostly like this now. A theater in Chernihiv, and before that the historic center of Lviv, Spaso-Preobrazhensky Cathedral (again in Odesa), and before that dozens of other sites of our cultural heritage. Museums, libraries, theaters, galleries... More than 1,700 cultural sites have been damaged over the past year and a half," the First Lady said.
She also emphasized the irreparable human losses, the deaths of cultural figures. In particular, Olena Zelenska spoke about Iryna Osadcha, the director of the Kupiansk Museum of Local Lore, who was killed by a Russian missile at her workplace, 85-year-old artist Liubov Panchenko, who died after a month of starvation in occupied Bucha, and Volodymyr Vakulenko, a children's writer killed by the occupiers in Izium.
As Ukrinform reported earlier, Russian delegates were unable to take part in 42nd session of the UNESCO General Conference, which opened in Paris, due to the failure to obtain visas on time.
On November 15, 2022, the representative of UNESCO, professor of architectural conservation Chiara Bardeschi, started her work in Ukraine.
Photos provided by First Lady's press service