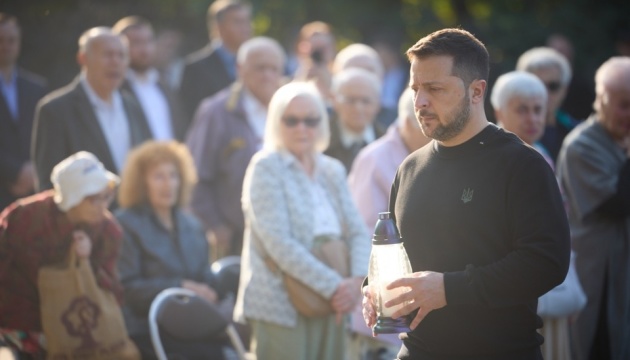 Zelensky honors memory of Babyn Yar victims
On the 82nd anniversary of the Babyn Yar tragedy, President Volodymyr Zelensky of Ukraine paid tribute to the memory of the victims of the mass executions of civilians by the Nazis in occupied Kyiv during World War 2.
That's according to the presidential press service, Ukrinform reports.
The head of state installed a lamp next to the Menorah memorial sign on the territory of the Babyn Yar National Historical and Memorial Reserve.
Head of the President's Office Andriy Yermak, the Righteous Among the Nations Vasyl Nazarenko, families and descendants of the victims of Babyn Yar and of the Righteous, former prisoners of ghettos and Nazi concentration camps, and rabbis also took part in commemorating the executed Jews and other victims of the Nazis.
Representatives of Jewish religious organizations read out a memorial prayer.
"Thank you for finding the opportunity to be here today, at the commemoration of the victims of Babyn Yar, Nazi repressions, and the Holocaust. I thank the Jewish religious representatives who prayed for the commemoration of the victims of Babyn Yar," the president said during a meeting with the participants of the event.
Zelensky noted the heroism of the Righteous Among the Nations.
"It is really important to always remember history, not to forget it. Because 'Never again!' are not empty words," the Head of State emphasized.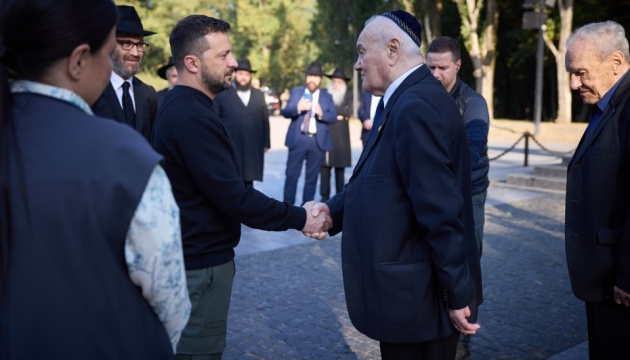 Zelensky honors the memory of the Babyn Yar victims / Photo: Ukrainian President's Office
Video: the President's Office
On behalf of the President, flower baskets were also placed at the monument to those executed by the Nazis in Babyn Yar, and at the monuments of the Ukrainian writer Olena Teliha and the Roma shot by the Nazis.
As Ukrinform reported, on September 29, Ukraine honors the memory of the victims of the Babyny Yar tragedy - one of the most terrible symbols of the Holocaust.
Photo: President's Office