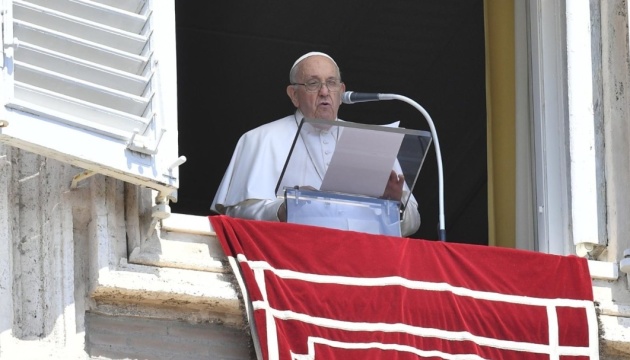 Pope Francis calls on believers to pray for Ukrainians, migrants
Pope Francis concluded his Sunday meeting with pilgrims in St. Peter's Square in the Vatican, as he has been doing for more than a year and a half, with a call to pray for the long-suffering Ukrainian people.
This is reported by Ukrinform with reference to Vatican News.
"Let's remember martyred Ukraine and pray for this nation, which is suffering a lot," the pontiff said.
Also, on the last Sunday of September, which coincided with the end of the 19th month since Russia's full-scale invasion of Ukraine, Pope Francis called for solidarity and prayer.
Speaking to pilgrims gathered in St. Peter's Square in the Vatican for Sunday prayers, the Pope also noted that the day marked World Migrants and Refugees Day, with the theme "Free to choose to migrate or stay," to remind that "migration must be a free choice" and not "the only possible one".
"Indeed, the right to migrate has become an obligation for many today, while there should be a right not to migrate in order to stay on one's land. Every man and every woman must be guaranteed the opportunity to live a dignified life in the society in which they live. Unfortunately, poverty, war and the climate crisis are forcing many people to flee. Therefore, we are all called to build communities that are ready and open to receive, support, accompany, and integrate those who knock on our doors," Pope Francis said, noting that this challenge was at the heart of the "Mediterranean Encounters" that took place in Marseille and in the final session of which he participated the day before.
As reported by Ukrinform, Pope Francis called the Ukrainian people a martyred nation and expressed the opinion that arms dealers are interested in continuing the war.
Photo: Vatican News