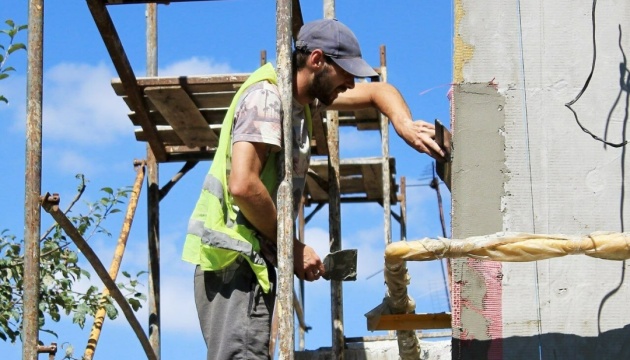 Presidential Administration shows how Poltava residents help rebuild Pravdyne in Kherson region
Craftsmen from the Poltava region are helping to rebuild houses and infrastructure destroyed by the enemy in the village of Pravdyne, in the Kherson region.
Deputy Head of the Office of the President Oleksiy Kuleba said this on Telegram, Ukrinform reported.
"In the village of Pravdyne in the Kherson region, 424 houses were damaged by enemy shelling, 24 were destroyed to the ground. Roofs were smashed, walls were damaged, and windows were broken. Poltava residents came to help overcome the consequences of Russian terror in the Kherson region and rebuild homes and infrastructure in Pravdyne together. The work is in full swing, as the cold and frosty season is coming soon," he said.
According to Kuleba, the specialists from the Poltava region assure that they will not be stopped by wasps that 'took revenge' for the destroyed nest that was under the removed broken slate, nor by Russian missiles.
"After all, all Ukrainians are now standing side by side, which means we are invincible!" - the deputy head of the Presidential Administration is convinced.
Kuleba also posted a video about the work of Poltava craftsmen in the Kherson region.
As reported, in July, 15 regions of Ukraine united in the 'Plich-o-Plich' project to rebuild 26 settlements in the Kherson region that were most affected by Russian aggression.