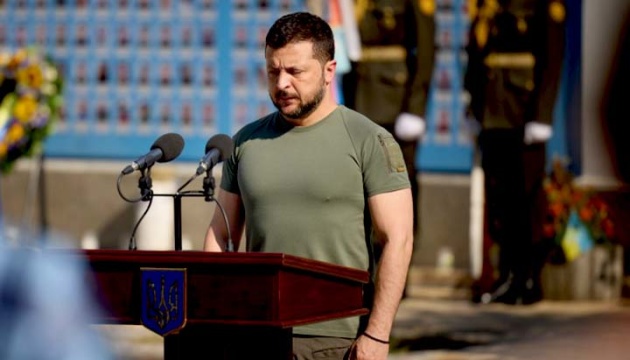 President Zelensky hands over state awards to families of fallen Ukrainian defenders
Ukrainian President Volodymyr Zelensky has participated in a solemn event on the occasion of Day of Remembrance of the Defenders of Ukraine.
The relevant statement was made by the Office of the President of Ukraine on Telegram, an Ukrinform correspondent reports.
"Annually, on August 29, we honor the memory of Ukrainian men and women who had given their lives defending our state. Defending the independence of Ukraine. Freedom for all our people. Ukraine's integrity. Ukraine's right to be among free nations," Zelensky noted.
The Head of State mentioned that each of these words carries an extraordinary weight, but there are no such words that are sufficient to describe fully the strength, majesty and self-sacrifice of heroes who remain forever in battle, so that their people may preserve their will or gain victory.
"Words are never enough to express what we feel. And let the tears that will be shed today, let the silence that will sound louder than any words, let our respect, which is absolutely sincere, tell everyone what we really feel and how grateful we are to all our defenders, whose lives became the life of Ukraine. May the memory of all our warriors be blessed!" the President of Ukraine stressed.
All those present at the event observed a moment of silence for the fallen defenders of Ukraine.
President Zelensky handed over the Orders of the Gold Star to the families of the Ukrainian warriors, who had been awarded the title of Hero of Ukraine posthumously.