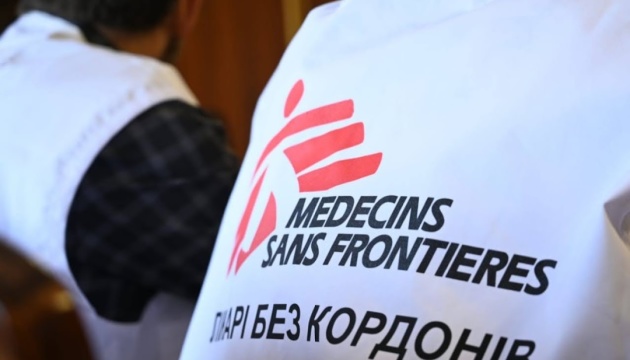 On Guard for Mental Health: Supporting Mental Health of Population in Context of War in Ukraine
The war in Ukraine has created a huge need for psychological support for the population - from first aid to comprehensive psychological support.
People have experienced fear, trauma and isolation, and are showing symptoms of anxiety, depression and stress.
"Doctors Without Borders" psychologists respond to the needs of patients by providing them with first aid, mental health counseling and comprehensive psychological support. In 2023 alone, our psychologists conducted more than 8,000 sessions in seven different regions of Ukraine. Near the front line and in the territories recaptured by Ukraine, "Doctors Without Borders" mobile clinics provide assistance to rural residents, most of whom have survived months of fighting, violence and hostilities.
"[February 25] was my birthday. Almost on my birthday, the war broke out... We were hiding in basements. They [the Russian military] were driving around the village in tanks and armored personnel carriers," explains 74-year-old Anatoliy Andrievsky from the village of Myrolyubivka, Kherson region.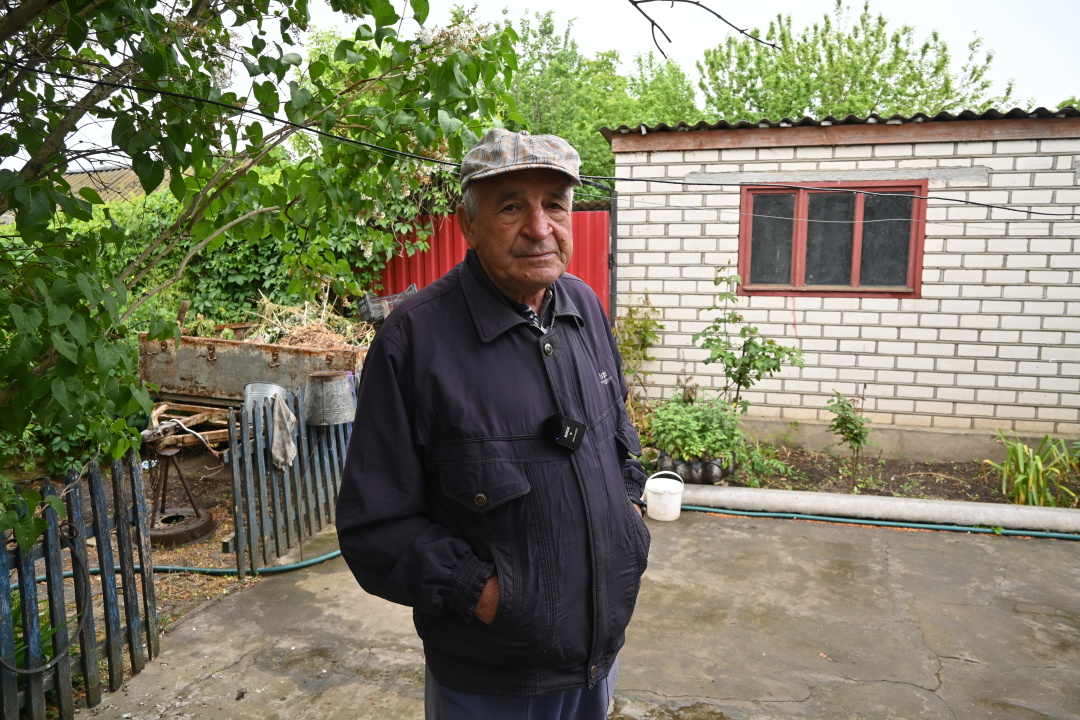 "Of course, it's scary. You lie down and think - who knows what will happen in the morning. Whether you'll get up or not. And what about yourself? It's good to have someone to talk to, otherwise you're alone..."
Anatoliy Andriyevsky learned about the psychologists of "Doctors Without Borders" from local residents. Now he is thinking about seeking their help. One of the main obstacles to psychological support is the stigma associated with mental disorders and the shame that residents feel when seeking psychological support, especially in rural areas. Although "Doctors Without Borders" consultations are available to everyone, most of our patients are elderly women.
"Men also feel powerless, helpless, and this cannot but affect their inner state. Something has to be done about it, because it affects both the family and the man himself," explains Tetiana Baranets, a psychologist at "Doctors Without Borders".
Supporting mental health with the help of the community
Further away from the front line, in Kirovohrad region, people who fled the fighting are trying to cope with trauma, fear and anxiety. IDP families, mostly women with children, are adapting to their new lives.
"This is Bonnie, from the video game. He is doing well and likes to sleep," explains eight-year-old Vanya, showing his toy.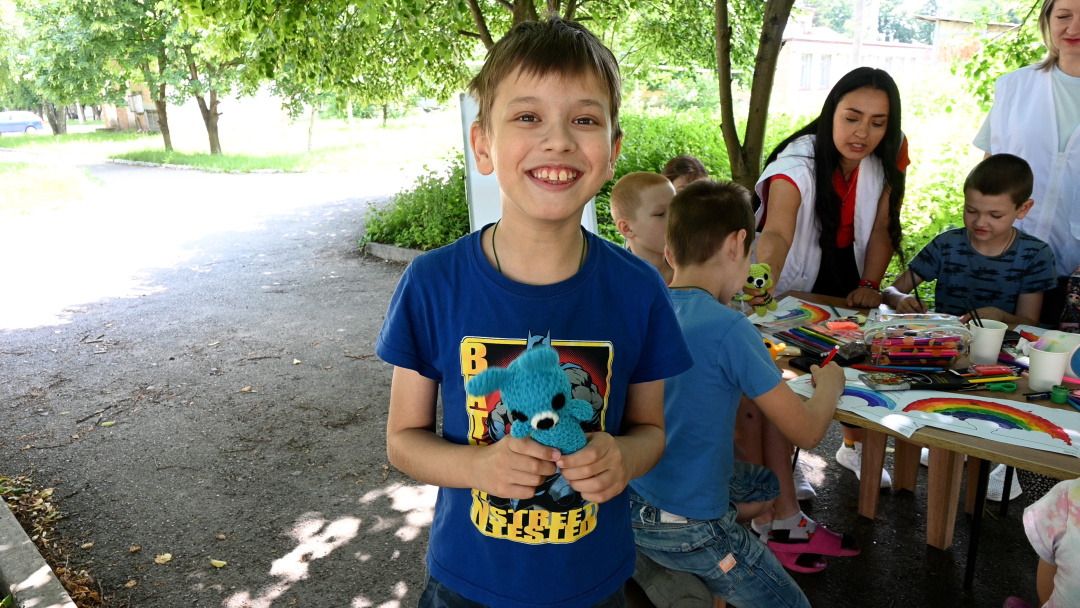 The boy lives with his mother in a shelter for internally displaced persons. The specialists of "Doctors Without Borders" help Vanya share his emotions and experience them with the help of toys.
In August 2022, his family was evacuated from Vuhledar, Donetsk Oblast. Many children who have been displaced by the war miss their homes, friends, past lives, and teachers.
"My youngest son Vanya used to feel very anxious at night, he was afraid to fall asleep. After talking to a psychologist, he felt better," explains Olena Beda.
Most of the patients of "Doctors Without Borders" in Kirovohrad Oblast have symptoms related to anxiety or depression. To help patients cope with this, our psychologists conduct both individual and group sessions for children, as well as provide support to their family members. From January 2023 to April, the "Doctors Without Borders" teams conducted more than 1,000 group sessions with patients in the Kirovohrad region, helping them to overcome anxiety, obsessions, trauma and stress.
"We work with children individually: we play, draw, help them overcome fears and various negative emotions related to what they have experienced," explains Svitlana Alekseenko, a psychologist at "Doctors Without Borders".
Group psychological sessions can be a support not only for IDPs, but also for the community in which they live. During such sessions, psychologists and social workers from "Doctors Without Borders" talk about the benefits of psychological assistance. This creates a more favorable environment and a broader understanding of the need to support mental health.
First psychological aid in traumatic events
Rocket attacks continue to threaten the lives of civilians and cause casualties even far from the front line. This physical threat also affects the mental state of the population across the country.
For people facing the consequences of shelling, psychological first aid is essential. It supports their ability to cope with symptoms such as shock, panic attacks, changes in appetite and sleep patterns, and the abandonment of daily activities.
In the frontline regions of Zaporizhzhia, Dnipro, Donetsk, and Kherson oblasts, "Doctors Without Borders" teams respond to the acute psychological needs of people affected by rocket attacks. For example, in March 2023, our psychologists worked at the site of a rocket attack on a residential area in Zaporizhzhia.
When the teams of mobile clinics of "Doctors Without Borders" arrive at the site of a rocket attack, the first thing they do is identify those in a serious mental condition. Timely and proper assistance can reduce the time it takes for a person to recover from such a traumatic event.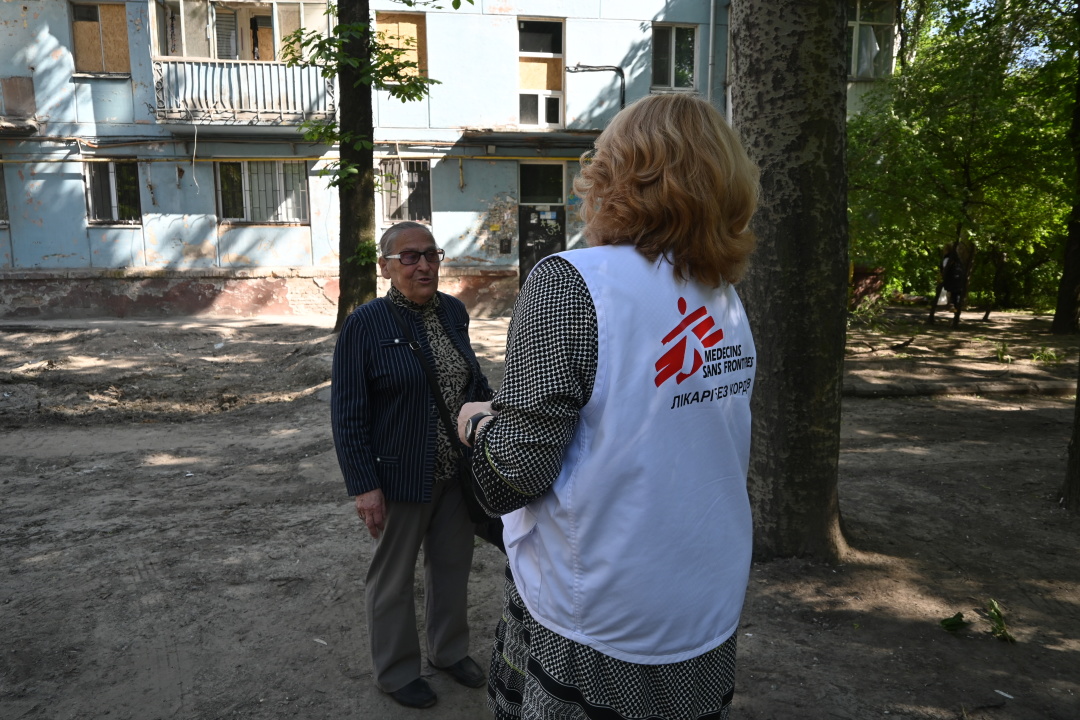 "The main thing here is to help a person come to their senses, to establish contact with them, to understand that they see you, hear you, that they understand where they are," explains Inna Potapenko, a psychologist at "Doctors Without Borders". "We have always paid attention to those who sit and remain silent, because it was clear to us that this is a state of stupor from which a person needs to be brought out."
Mutual support and specialized care
For some patients, one or two psychological sessions are not enough. Long-term and specialized care is needed to reduce the likelihood of developing mental disorders, prevent further symptoms, and restore a person's ability to maintain relationships and avoid isolation.
In Kyiv Oblast, "Doctors Without Borders" provides comprehensive psychological assistance and physical therapy to people who have been tortured or ill-treated. Patients undergo comprehensive psychological and physical rehabilitation and report improvements in limb mobility and mental state. Through group and individual sessions, they can share their emotions with other people who have also had similar experiences.
"Moral violence was sometimes more difficult than physical violence," explains 52-year-old Andriy Verbych, who faced ill-treatment and torture while in captivity with the Russian armed forces.
"They turn on the propaganda in the cell, so you can't hear each other. If you think about it alone, you feel like you are losing your sanity."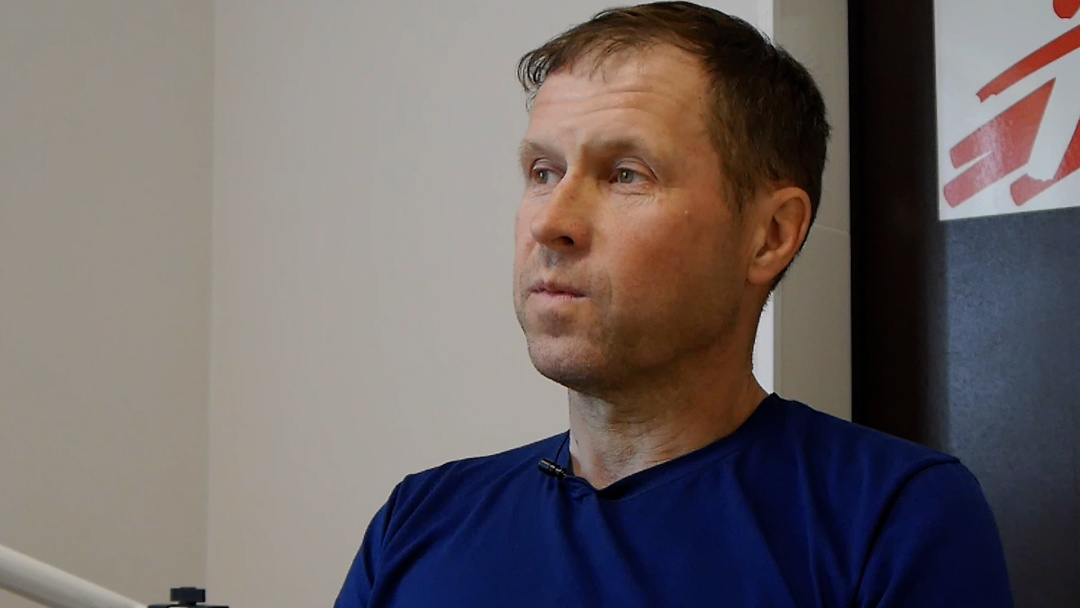 In Gostomel, residents who have experienced violence and suffered trauma often feel excluded from their community and isolated. A combination of group and individual mental health sessions can support a sense of self-identity and belonging.
"A person, a personality, is not only a negative experience. It is much wider and much more," explains Mariana Kvyatkovska, a psychologist at "Doctors Without Borders", "sometimes the person himself forgets about it. They live with this trauma and memories. For them, life is divided into "before" and "after", and they feel in this vacuum."
Mental health is a key challenge for the Ukrainian healthcare system
Although Ukraine's healthcare system has been introducing initiatives to improve mental wellbeing, the war has had a devastating impact on people's mental health. The more people are exposed to various traumatic events, the more likely they are to develop mental health problems.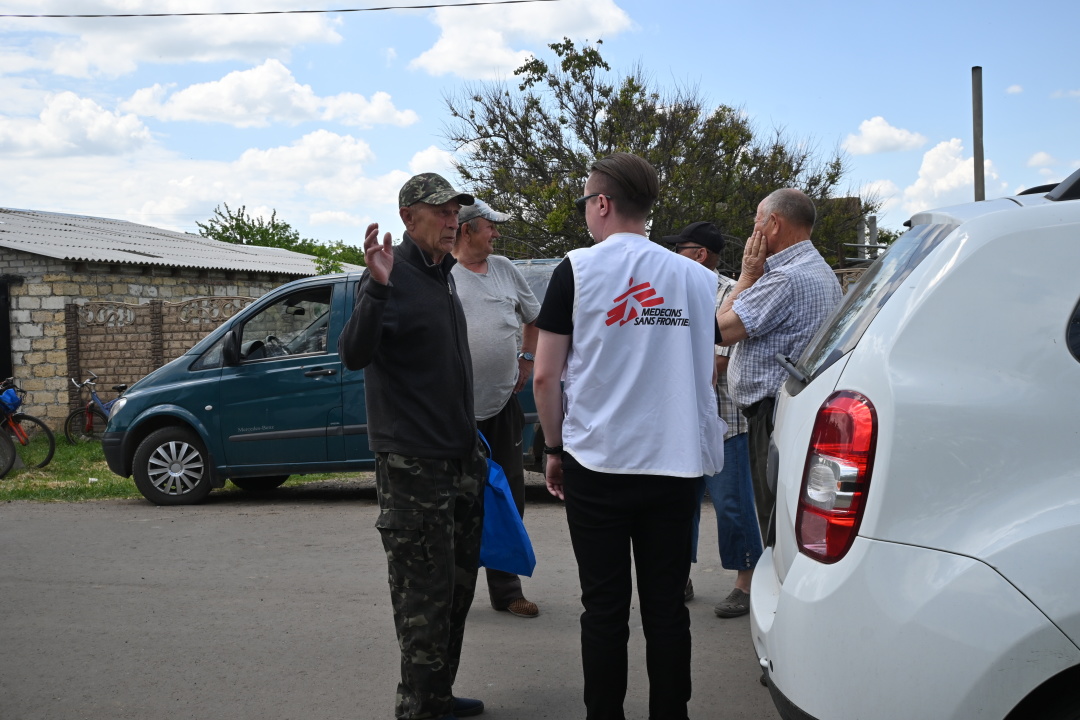 The lack of psychologists and counselors in rural areas, the stigma associated with mental health, and the reality of the fighting make it difficult for people to receive help. Without timely and proper psychological support, problems can develop into long-term post-traumatic stress disorders, anxiety and depression, and significantly affect the quality of life.
"Doctors Without Borders"