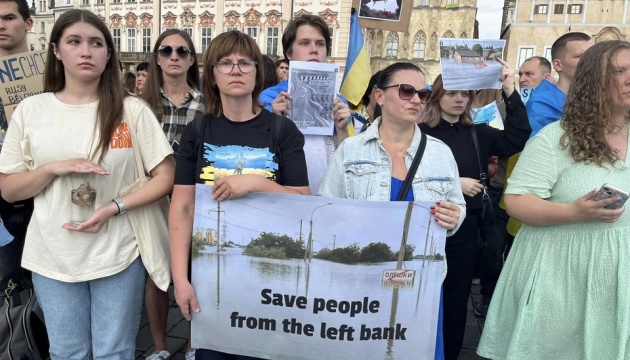 Activists rally in Prague highlighting Russia's terror attack on Kakhovka HPP
A performance rally was held in the Czech capital Prague to draw public attention to the Russian act of terror at the Kakhovka hydroelectric power plant.
The Embassy of Ukraine in the Czech Republic reported this on Facebook, Ukrinform saw.
"A performance rally took place in Prague, the purpose of which was to draw the whole world's attention to the tragedy that the south of Ukraine is going through," the diplomatic mission said, posting photos from the event.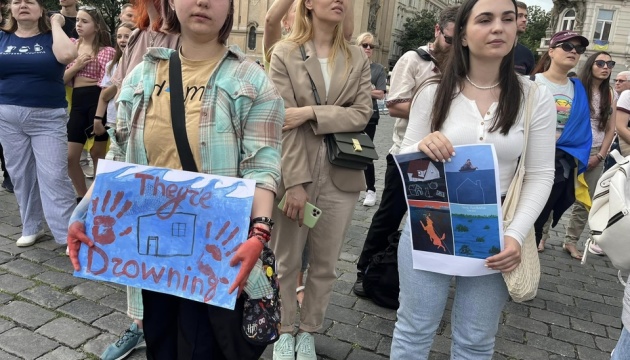 A rally was held in Prague to draw attention to the Russian terrorist attack at the Kakhovka HPP / Photo: Embassy of Ukraine in the Czech Republic
It is noted that thousands of people have lost their homes and are in constant danger as a result of Russian terrorists blowing up the Kakhovka HPP – an act of terror committed by the Russians against the civilian population in Ukraine.
"The world must respond decisively to the largest environmental catastrophe," the embassy said in a post.
As reported, Russian troops blew up the Kakhovka HPP on the night of June 6. Evacuation from flooded areas is underway.
A criminal case has been opened under the "ecocide" article.
The Minister of Environmental Protection and Natural Resources, Ruslan Strilets, said the damage to the environment due to the explosion of the Kakhovka HPP is already estimated at over UAH 55 billion.