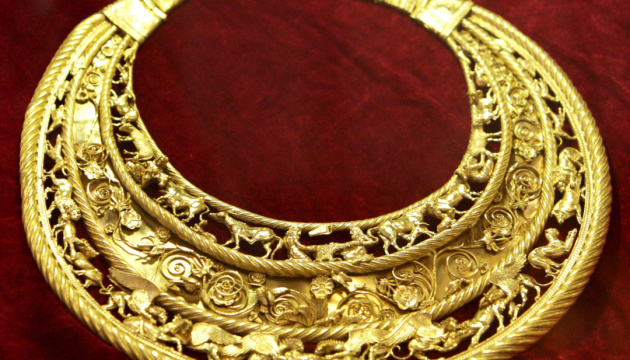 Return of Scythian Gold collection: Supreme Court of the Netherlands upholds Ukraine's claims
The Supreme Court of the Netherlands passed the final sentence in the case of the Scythian Gold collection's ownership.
As an Ukrinform correspondent reports from The Hague, the Court completely rejected the cassation appeal filed by the Crimean museums and upheld the appeal decision which upheld Ukraine's claims.
After almost 10 years of litigation, the Supreme Court of the Netherlands ruled that the Allard Pierson Museum has to hand over museum exhibits of the exhibition entitled "Crimea. Golden Island in the Black Sea" to the National Museum of the History of Ukraine.
The teams of the Ministry of Justice, the Ministry of Culture, the Ministry of Foreign Affairs, lawyers from the Bergh Stoop & Sanders Dutch firm and the Serhiy Kozyakov and Partners Ukrainian bar association have been working towards returning the exhibits home since 2014.
"The Supreme Court confirmed that Order 292 of the State of Ukraine establishes a fair balance between the interests of the state in protecting its cultural heritage and limiting the rights of museums. The struggle lasted almost nine years, but we were always sure that we would win. Therefore, it is very nice to receive this ultimate decision," Maarten Sanders, one of the Dutch lawyers who represent the interests of Ukraine in the Scythian Gold case, told an Ukrinform correspondent in an exclusive comment.
The Dutch lawyer also noted that this is very good news for Ukraine in such difficult times.
"Especially in these difficult times for Ukraine, this is very good news. We have always said that Ukraine was somehow lucky that this part of the Crimean treasures ended up in Amsterdam at the time of the occupation. It was one of few assets that could not be seized by military force. We can say that this has now been supported by our Supreme Court," Sanders emphasized.
As reported, on January 26, 2022, the so-called Russian Crimean museums in the temporarily occupied Crimea filed a cassation appeal against the judgment of the Amsterdam Court of Appeal regarding the return of the Scythian Gold collection to Ukraine.
The Scythian Gold collection should be returned to Ukraine. This judgment was delivered by the Amsterdam Court of Appeal on October 26, 2021.
The legal war for the exhibits began as the valuable collection was taken from Crimea to the Netherlands for an exhibition before the occupation of the peninsula by Russia in 2013. The exhibition "Crimea. Golden Island in the Black Sea" consisted of the collections of five museums, one of which is located in Kyiv, and four in Crimea. The exhibition was held at the Allard Pierson Museum in Amsterdam.
While the litigation is ongoing, the collection, estimated at EUR 10 million, has been stored at the Allard Pierson Museum.