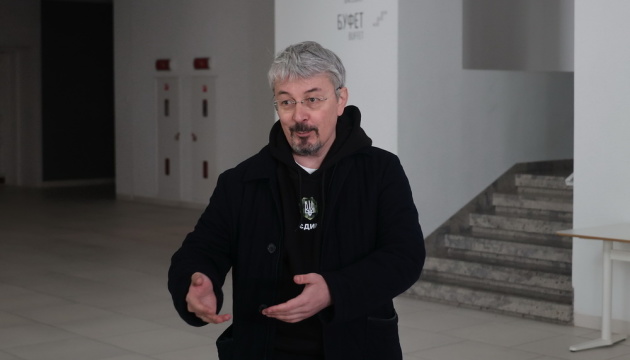 Minister Tkachenko: Kakhovka HPP explosion to affect cultural heritage
Kakhovka dam HPP explosion by the Russian troops caused damage to cultural objects in many settlements, in particular in Oleshky and Nova Kakhovka, on the left bank of the Dnipro River.
"Kakhovka dam HPP explosion caused damage to cultural objects on the left bank of the Dnipro River, in Oleshky, Nova Kakhovka, Kakhovka. Monumental art, for example, in Nova Kakhovka, and specific museums, libraries, clubs in all these towns [were damaged]," Minister of Culture and Information Policy of Ukraine Oleksandr Tkachenko said during the United News telethon.
Tkachenko explained that it will be possible to assess the scale of damage in more detail when Ukraine will liberate these territories.
"It is important to emphasize that, in principle, extremely great damage has been caused to the entire cultural and ecological layer of the entire territory that covers the Kakhovka reservoir, because it stretches towards Zaporizhzhia. Nikopol, Marhanets, other towns will suffer from a lack of water. We will have the consequences of the shallowing of a certain part of the Dnipro," the minister noted.
He emphasized that the consequences of the disaster will affect not only the normal rhythm of people's lives but also the cultural heritage. "In order to overcome these consequences, we will have to invest a lot of effort and money," the government official added.
He also said that there is currently no complete information about the cultural damage caused by Russia by unleashing a full-scale war against Ukraine. According to Tkachenko, as of now, there are more than 1,400 damaged or destroyed objects of cultural infrastructure worth billions of dollars.
The minister emphasized that the restoration of damaged cultural objects requires a lot of money, which they plan to attract from international donors and through reparations from the Russian Federation.
As reported, the Russian army blew up the Kakhovka HPP dam on the night of June 6. In Kherson region, the evacuation of the population from dangerous places, which are at risk of flooding due to the explosion, has begun. Law enforcement officers have initiated an investigation under the article "ecocide". Ukrhydroenergo hydro power generating company stated that the Kakhovka HPP is completely destroyed and cannot be restored.