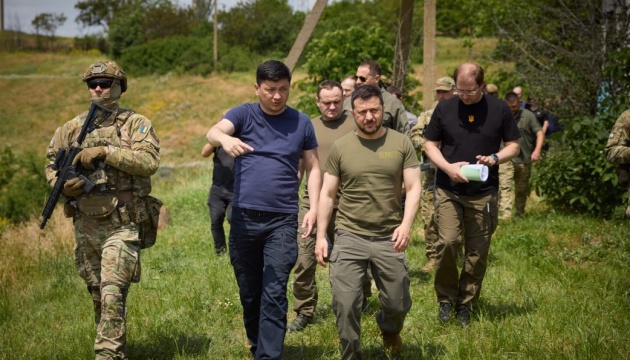 Zelensky comes to Mykolaiv region to monitor flood response
President Volodymyr Zelensky arrived in Mykolaiv region where he visited the pumping station run by the Ingulets River Canal Administration, which was flooded due to the destruction of the Kakhovka HPP.
He reported this on Telegram, Ukrinform saw.
"Mykolaiv region. We visited the main pumping station of the Inhulets River canal management, which is flooded due to the destruction of the Kakhovka HPP dam.," Zelenskyy said.
He said that civilians had been evacuated from flooded settlements while rescuers and local authorities are on the ground.
The president also said locals are being provided with drinking water and food.
The head of state added that the emergency response Headquarters has been set up in the Snihurivka community. It will operate 24/7.
As added by the President's Office press service, the head of state was briefed on the measures taken by local authorities to ensure the urgent needs of local residents in drinking water.
Also, long-term decisions regarding drinking water supplies to the city of Mykolaiv were discussed.
The head of the Mykolaiv Regional Military Administration, Vitaly Kim, briefed the president about the situation regarding the flooding of populated areas across the region.
Reception points for citizens evacuated from Kherson region have been deployed in Mykolaiv.
As reported, President Volodymyr Zelensky on Thursday paid a visit to Kherson region, which was affected the most by the flooding caused by the Russia-inflicted damage to the Kakhovka HPP dam.
Photo: President's Office