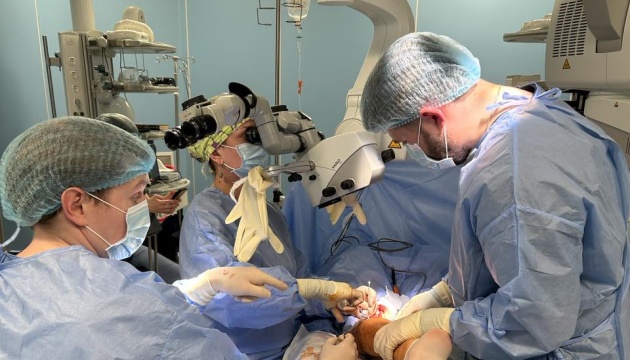 How surgeon at war begins to believe in miracles
Orthopedic traumatologist volunteers and performs unique surgeries to stitch together nerves damaged by war injuries
Oksana Myronenko, a reserve officer in the Medical Forces and trauma surgeon, is originally from Luhansk Oblast. She left her home with her family in 2014 and now lives and operates in Ivano-Frankivsk. She also takes care of about 700 elderly and disabled people in Prykarpattia region, who were forced to move here from Luhansk and Donetsk regions because of the war. Oksana Myronenko told an Ukrinform correspondent what motivated her to do volunteer work, what problems IDPs face today, and how they can be overcome.
"We first met her in Ivano-Frankivsk at the presentation of the movie 'Peaceful 21'. Then, while talking with the filmmakers, the doctor admitted that she did not know about all these events from anyone or from pictures. In 2014, she also treated the wounded and rescued Ukrainian border guards who were the first to fight the Russian invaders."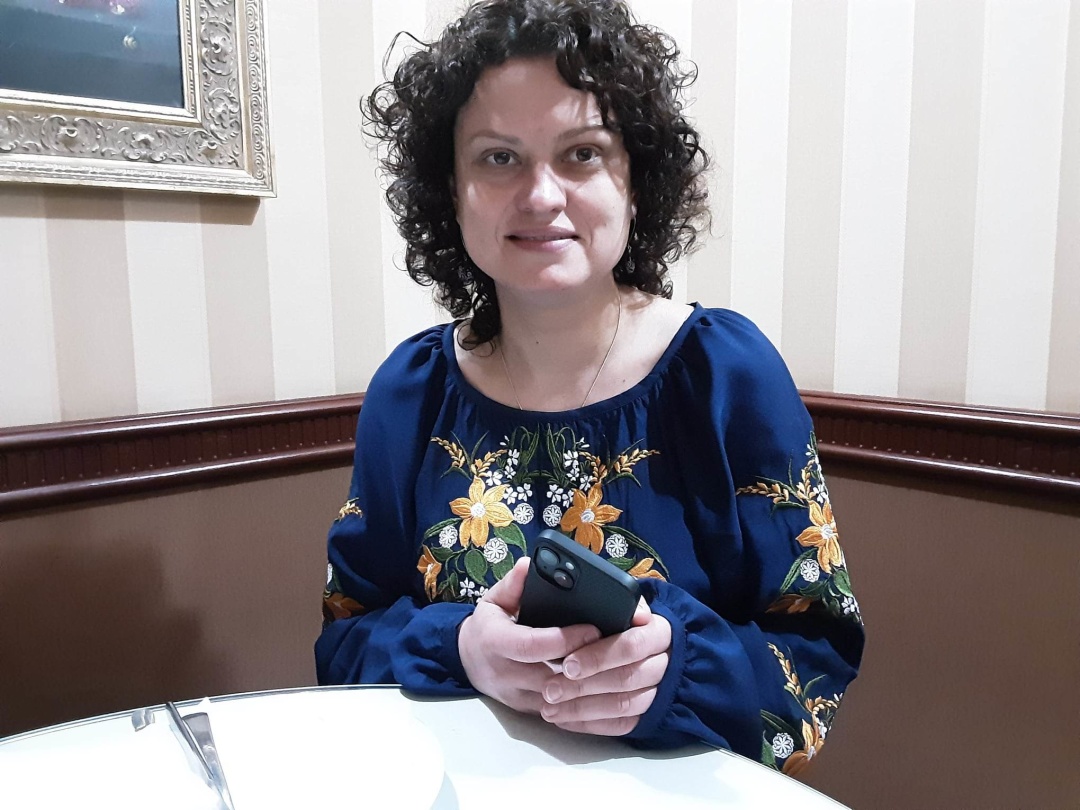 THE MAIN THING IS TO KNOW WHO THE ENEMY IS
"It was June 2, 2014. The morning began at 4 a.m. with a large number of explosions. We found out on Facebook that it was an assault on the Luhansk border post. The fighting continued throughout the day. An enemy plane hit the building of the regional state administration (RSA). We received the wounded from the border post and the RSA. The soldiers were taken to several medical institutions. They tried to keep the guys hidden. When they were already in the regional hospital, someone reported it on social media. Then I called my colleagues and asked them to hide the guys. At the border checkpoint itself, local officers hid the young recruits in the basement, while they were actually fighting with weapons in their hands and the Ukrainian anthem."
This is how Oksana Myronenko recalls the events of 2014 in Luhansk. The doctor notes that the movie "Peaceful 21" depicts real events. The only thing, she says, is that the movie was made in Ukrainian, and back then almost everyone in Luhansk spoke Russian.
"Yes, the Luhansk-1 battalion was all Russian-speaking back then. Now these guys in the National Guard have been defending their homeland for 9 years without rotation. The main thing is to know who the enemy is and to fulfill your duty to the country," Oksana Myronenko is convinced.
She says that she has been fluent in Ukrainian since childhood. Her mother is a teacher of Ukrainian language and literature. Back in Sverdlovsk (now the city of Dovzhansk), where she went to school, she was outraged that the history of Ukraine was taught in Russian. She says that back then, young people were deliberately and intentionally Russified. Despite this, the northern part of Luhansk, which has always been agrarian, remained almost entirely Ukrainian-speaking. Russian was spoken only in the industrial cities of the region, where, according to the doctor, no one wanted to hear anything else.
Oksana Myronenko came to Luhansk when she was 16. She entered a medical university and after graduation took an oath of allegiance to Ukraine.
"The boys took the oath, but the girls were only offered to take an exam. I stuck my neck out. I said, 'No, it won't be like that. After all, this is a serious moment in life. I brought a tape recorder with a recording of the Ukrainian anthem to the exam and forced the colonel to change the tradition. We, three groups of girls, read the oath and it was very solemn and symbolic," the surgeon recalls.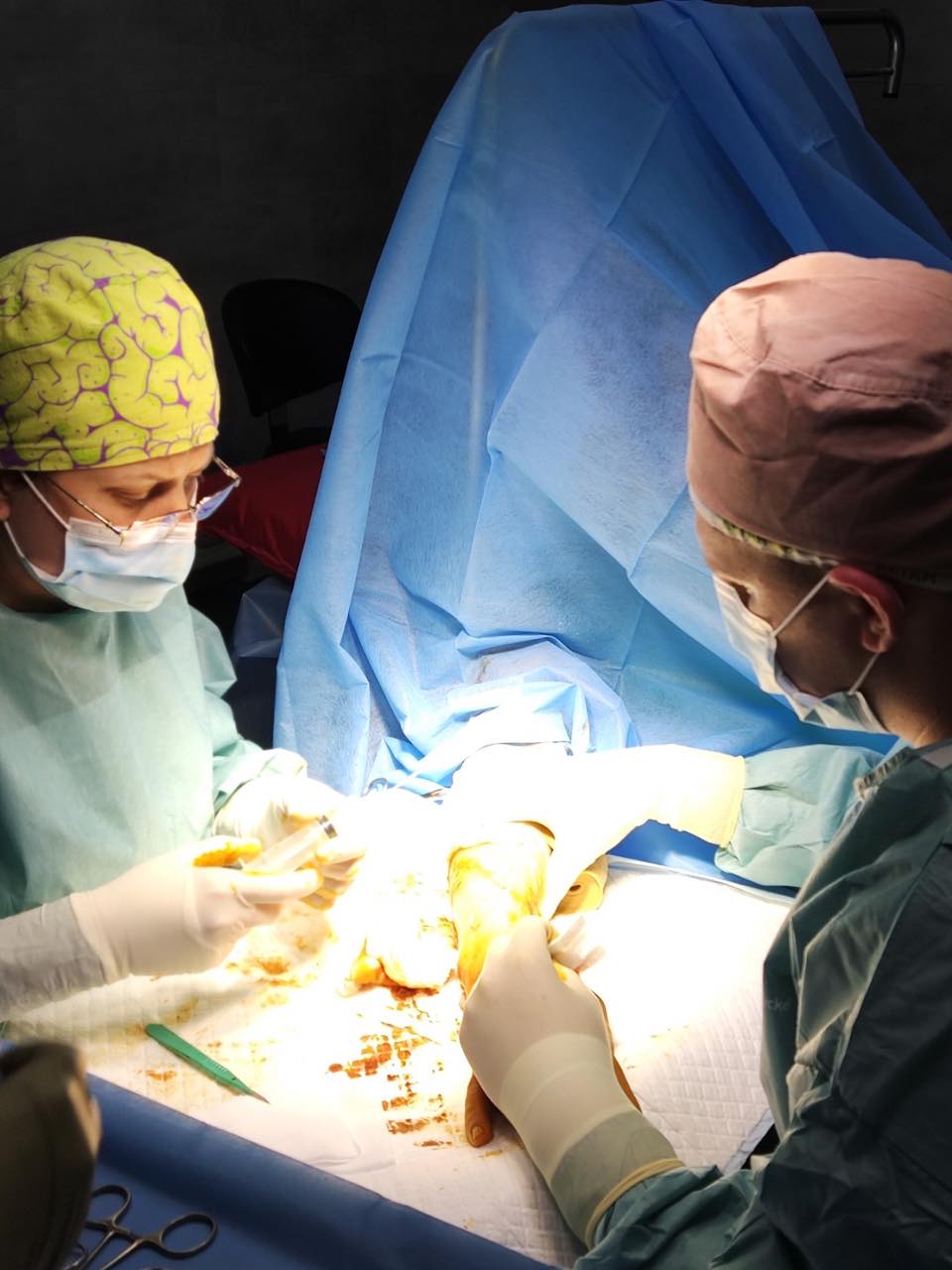 NOW I BELIEVE IN MIRACLES
After the events of 2014, Dr. Oksana Myronenko and her husband managed to get their children out of Luhansk. The couple stayed in the city for some time to work, as there was a shortage of doctors in the region. Meanwhile, people were leaving en masse. There were raids and outrages in Luhansk. Over time, it became clear that everyone had to leave. Oksana and her husband found work in Kyiv. They rented a house in Bucha. Her parents moved to Shchastia. When the shelling did not stop there, they all agreed to come to Bucha. It was in the evening of February 23, 2022.
"It was their wedding anniversary. I still had time to give them something. All day long, the question was whether to run away or not. We stayed in Bucha for another day. But our house was on electricity and we started to freeze. We decided to go to Kyiv with my husband and children to our friends to stay out the cold. My parents stayed in Bucha... They decided to leave later, on the condition that we hand over the children to them and they go to the western regions. At that time, the road to Kyiv was already closed. My mother remembered another road, but she did not know that the fighting had started there as well. She and my father were driving there in a car and were shelled. They tried to hide, but all the gates and gates were closed. My sister was in touch with them all the time. My father decided to turn around. They were maneuvering for some time, but something heavy came. My mom died on the spot. My father lost consciousness. After a while, apparently, when he heard his sister's voice on the phone, he came to. He tried to save my mother, but realized it was too late. He fled with the documents under fire," says Oksana Myronenko.
She recalls that she learned everything from her sister. Then she started looking for her father through everyone she knew. She says she even went to the head of the region. She realized that her closest person was stressed, contused and needed immediate help. Meanwhile, fierce fighting continued near Bucha, and the search seemed increasingly futile.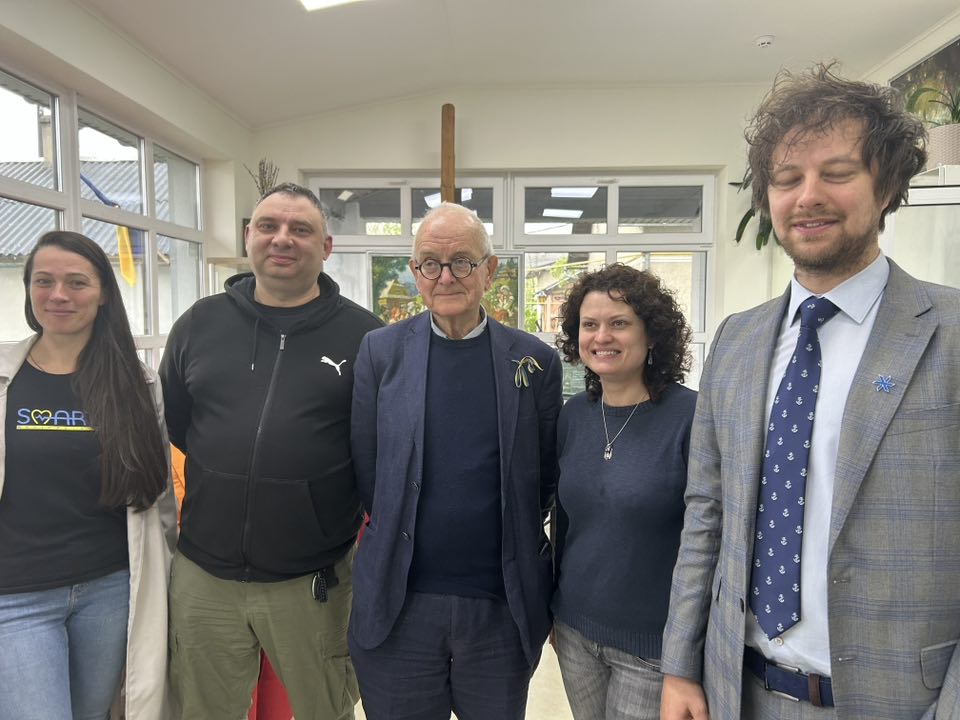 "Then I turned to the volunteers, their coordinators, and everyone with whom I had contact in this case. They found my father under fire. They gave him first aid and left him at their place to warm up," says Oksana Myronenko.
The next day, the father walked out of Bucha wounded, his son-in-law took him to Kyiv, and his daughter operated on him. Then they all went with their children to the Ivano-Frankivsk region, where Oksana Myronenko has been saving people who have had to go through similar ordeals for almost a year.
"Now I believe in miracles. They do exist, but they are made by people. It takes time, effort, and resources, and then you can save someone, give someone their life back. Yes, my mom died instantly. If I had just given up and cried at that moment, my dad would definitely not have survived. Now I decided to perform similar miracles all the time," the doctor admits.
When asked what keeps her going today, Oksana Myronenko confidently answers: the team of the "Nash Sokil" charity foundation, which she created and named in memory of her mother, the team at the "Brass" First Volunteer Surgical Hospital, where she operates on military personnel, and the team at the "Dobrobut" clinic in Kyiv, where she also treats the wounded.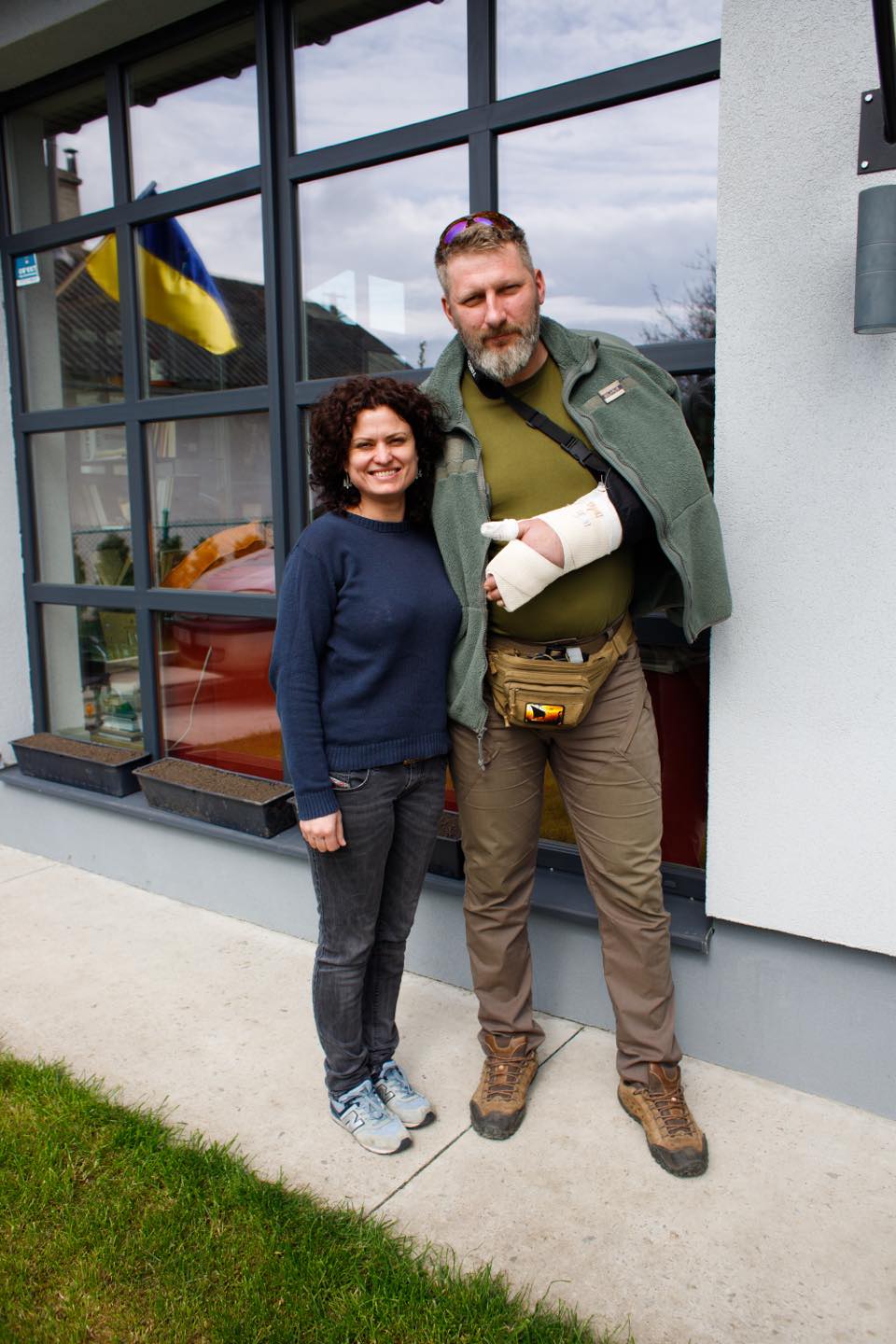 WE WILL NEED REHABILITATION SPECIALISTS, BUT WITH MEDICAL EDUCATION
In Ivano-Frankivsk, orthopedic traumatologist Oksana Myronenko performs unique surgeries to stitch together peripheral nerves after military injuries.
- How many such operations have you had to perform?
- I don't count them. Sometimes I suture wounds at the healing stage. Sometimes I stabilize the nerve at the stage of primary treatment and suture it when everything calms down. A nerve is an electrical network that provides movement and sensitivity. That is, if there is a nerve impulse, then there will be movements. When the nerve is torn, the impulse is not transmitted. Then you need to put the nerve in an ideal position to allow it to sprout. Under good conditions, the nerve grows a millimeter per day. It is not always cool, not always good. But a cut nerve, scarred or compressed, hurts a lot. Sometimes it can be pressed by some fragment, and then the signal is interrupted. Therefore, it is necessary to free it and put it in a comfortable environment so that it can grow. If everything goes well, the pain syndrome disappears and sensitivity and movement appear. The distance from the point of injury to the nerve's entry into the muscle is very large. That is, rehabilitation can be difficult and time-consuming. And all the time you need to keep the muscles alive, that is, to prevent their atrophy.
- Do you operate only in "Brass"?
- We have been operating here since May last year. There was a period when there were a lot of patients, and a period when there were not so many. This is the war. I am trying to organize my work so that I can operate in Kyiv as well. Next week I have a dozen operations scheduled there.
- Today, many people say that after the war there will be a great need for rehabilitation specialists in Ukraine. What other challenges do you expect and how do you prepare for them?
- Yes, we will need a lot of rehabilitation specialists, but professional ones. That is, with medical education. They should not only have skills, but also understand anatomy and physiology. It is very difficult to explain to someone without a medical degree what they should do, how and why.
- Are there enough rehabilitation facilities in Ukraine?
- No, there are not. There are excellent centers, but they are private and very expensive. There are sanatoriums and recreation centers. But they are not adapted for this. I recently visited one where the therapy machines were older than me. I also need to mention the complex system of the Military Medical Commission (MMC).
- But now civilian medical institutions are involved in this.
- Not all of them yet. This is the first thing. Second, a referral to the MMC must be obtained from a military unit. Sometimes the military, and they are not always healthy after being wounded, have to travel to another part of the country. But all this can be done electronically. We have "Diia", where you can find even covid certificates, but for some reason you cannot get a referral to an ambulatory medical examination through it. And this is a problem.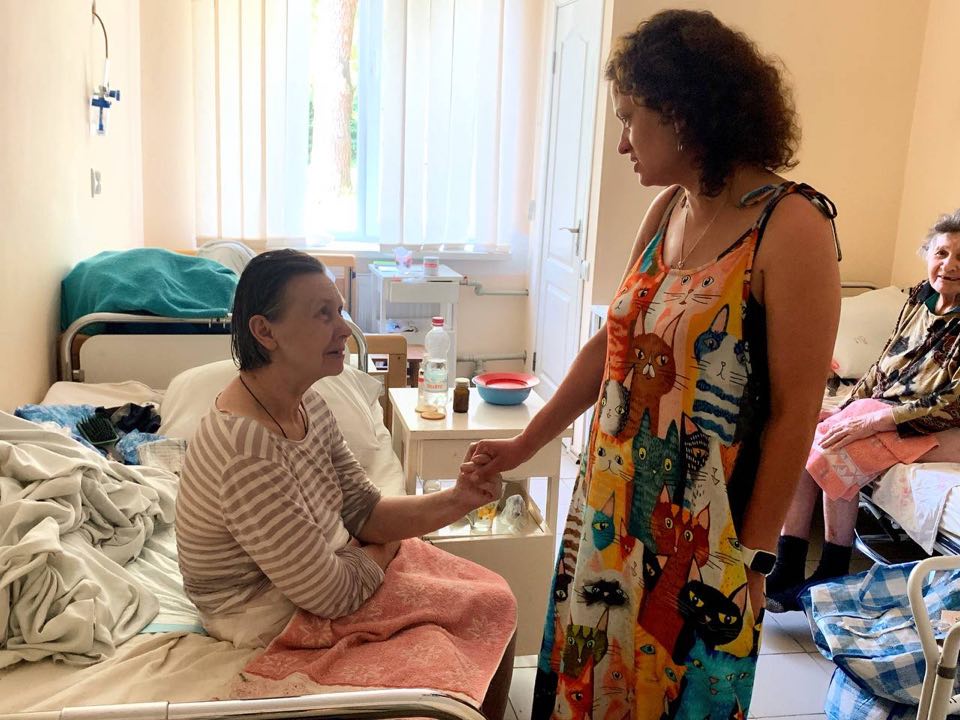 IDPS SHOULD NOT LIVE IN HOSPITALS
- You still provide volunteer support to IDPs. How many IDPs in the Carpathian region are under your care?
- More than 700 people with limited mobility who were evacuated because of the war from Luhansk, Donetsk, Kharkiv, Zaporizhzhia, and Mykolaiv regions. Here they are staying in hospitals, tercenters, wherever possible. I must say that the healthcare reforms that were implemented before the war helped us a lot. When hospitals realized that money follows the patient, they began to use their contracting opportunities with the National Health Service of Ukraine (NHSU) to help people more. And now we should thank them for this, because when an IDP arrives who is less mobile, elderly and lonely, and stays at the train station because there are no more places for evacuees, volunteers turn to medical institutions. Here I am working as a volunteer at the final stage. The fact that the healthcare system allows hospitals to pay for emergency treatment is very good. In order to survive the period when a person has just arrived and has not yet received medical care. They still have stress from the war, relocation, loss of connections, and so their condition is definitely getting worse. At the same time, the fact that they can be admitted to a hospital, treated and stabilized is great. Thanks to this, we have saved many people. Next, they need social housing, and here we have zero. I understand the host country, they don't get money for this. These people need care facilities, but they were filled immediately. And when people started to leave spontaneously, everyone did what they could... And it turned out that IDPs should not live in hospitals, but they still do.
- How many IDPs are living in hospitals in Ivano-Frankivsk region today and how can this issue be resolved?
- More than a hundred. Territorial centers can expand and provide social services. And charitable organizations are ready to invest in this. The cost of care in such territorial centers, where IDPs will not be kicked out, as it can be in hospitals, is 10-12,000 UAH per person per month. And they can only take 75% of an IDP's pension, which is about 2,000 UAH. And this is very little. I think that
Amalgamated territorial communities (ATCs) in gray areas that have frozen funds can use this money to support people. Another simple mechanism is an agreement between the thermal center and the ATC where the person came from. It should indicate that the ATCs will purchase these services for their residents. We need to find these communities and tell them where their residents are and what kind of help they need. Then we can ask them for funds. And volunteers are ready for this, because we are talking about people who need to be saved.
Iryna Druzhuk, Ivano-Frankivsk
Photo from the archives of Oksana Myronenko