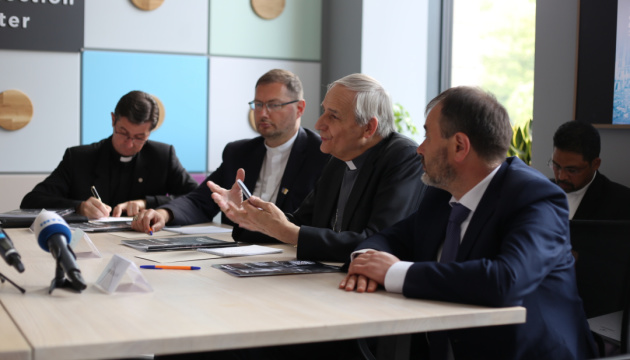 Vatican envoy in Ukraine: Church will do all to protect lives of children
Cardinal Matteo Zuppi, Pope Francis' peace envoy to Ukraine, has reiterated support for Ukraine and emphasized that the war is a step backwards that destroys everything and makes children suffer.
He said this at a meeting in Kyiv with Ukraine's parliamentary human rights commissioner, Dmytro Lubinets, according to an Ukrinform correspondent.
"It is unacceptable that the violence of this war has affected children. Pope Francis, speaking about Ukraine, used a very beautiful expression: 'Your tears are my tears, your pain is my pain.' And today I say that your children are our children I can talk about this because a lot of children came to Italy. [...] It was very nice to see the hospitality with which the Italians received Ukrainian children," Zuppi said.
The cardinal noted that Italian and Ukrainian children in schools quickly found a common language and became friends.
"Of course, the church will do everything possible to protect the lives of children," Zuppi said.
Lubinets, in turn, said that Ukraine was able to return 371 children from among those who were illegally deported by Russia during the war. "The return of each child is like a small special operation. When you know that the Russian Federation will never support and help you, we must do everything to return Ukrainian children. So far, we have managed to return 371 children. Perhaps with your participation, we will be able to radically change this figure," Lubinets said.
He emphasized that Ukraine is grateful to all those who are ready to help in this matter.
Both parties also discussed the exchange of prisoners of war and the deportation of Ukrainian children.
Cardinal Zuppi is visiting Kyiv on June 5-6. According to the Vatican, the main purpose of the visit is to listen in depth to the Ukrainian authorities about possible ways to achieve a just peace and to support gestures of humanity that will help ease tensions.
Photo: facebook.com/dmytro.lubinets