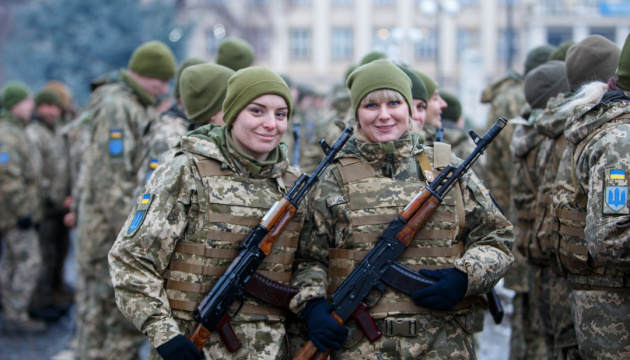 Most Ukrainians positive about women serving in Ukraine's Armed Forces
In Ukraine, 85% of citizens have a positive attitude towards women serving in the Ukrainian Armed Forces, according to a survey conducted by the Rating Group.
The results of the survey were presented during a press conference at the Ukraine-Ukrinform Media Center.
The poll revealed that 64% of Ukrainians have an unequivocally positive attitude towards women in Ukraine's Armed Forces, 21% are rather positive about that, and about 3% are negative about women serving in the Ukrainian army.
In addition, 47% of respondents consider inequalities between women and men in the Ukrainian Armed Forces to be rare, 33% said it was difficult to answer, and about 19% said they were widespread.
According to the study, 71% of Ukrainians believe that representatives of national minorities are not discriminated against during their service in the Ukrainian Armed Forces.
The survey was commissioned by the Independent Anti-Corruption Commission (NAKO) and carried out with the support of the Ukrainian Veterans Fund of the Ministry of Veterans Affairs of Ukraine. The research was conducted in March 2023.
A total of 2,000 respondents were interviewed. The poll's margin of error does not exceed 2.2%.