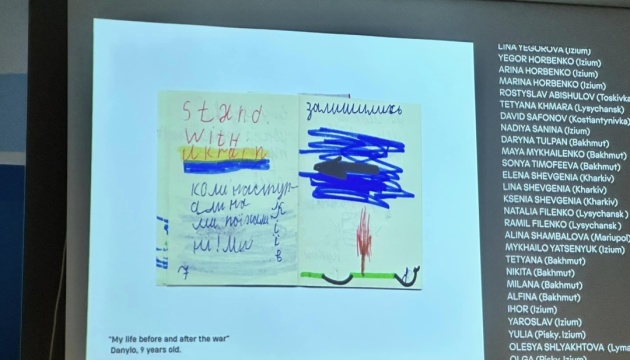 Forged by Fear: Documentary about war through eyes of Ukrainian children presented in Brussels
On June 1, International Children's Day, a screening of Denis Vorobiov's documentary Forged by Fear - War through the Eyes of Ukrainian Children took place.
That's according to Ukraine's Embassy in Belgium, Ukrinform reports.
"This film is great proof of the war crimes committed by the russian federation against Ukrainian children. Forged by Fear reveals the stories of those who went through the occupation, shelling, loss, and suffering. These are the stories of little heroes who lost their childhood forever," the report reads.
Diplomats note that the mission is to once again raise the issue of protecting children's rights and continue "to talk about it in the realities of the russian war against our country, which is taking away the lives and future of young Ukrainians."
The film by Denis Vorobyov, who took part in the presentation via video conference, allowed the audience to look into the reality of Ukrainian children who daily face Russian aggression in their war-torn country, according to Front News.
The authors revealed their pain, grief, suffering, and struggle for survival, telling the world about how the Russian invaders are destroying their land and their lives. However, along with these dramatic events, the film also showed the boundless faith of the youths — innocent Ukrainians — in their strength, their country's troops, and their ultimate victory.
Among those featured in the documentary are children aged 4-16 from Kharkiv, Izium, Bakhmut, Severodonetsk, Kostiantynivka, Bucha, Kyiv, Lyman, Irpin, and Lysychansk, who share their everyday problems and fears.
Photo: Ukraine's Embassy in Belgium