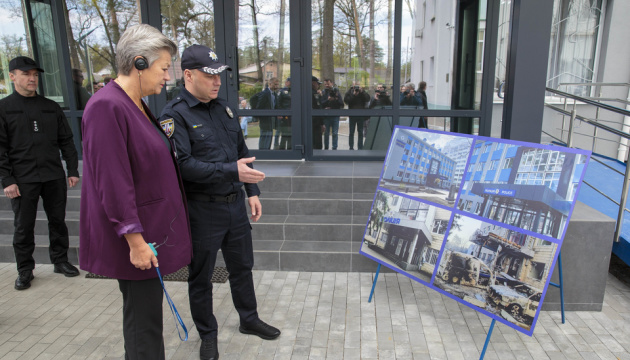 European Commissioner for Home Affairs visits Irpin
European Commissioner for Home Affairs Ylva Johansson visited the sites of war crimes committed by the Russian invaders in the town of Irpin, Kyiv region.
This was reported by the press service of the Ukrainian Ministry of Internal Affairs, according to Ukrinform.
As noted, the delegation, which also included Director-General of the Directorate-General Migration and Home Affairs Monique Pariat and Executive Director of Europol Catherine De Bolle, visited the reconstructed district police department, which served as a shelter for civilians during the Russian occupation, as well as the site near a destroyed residential complex.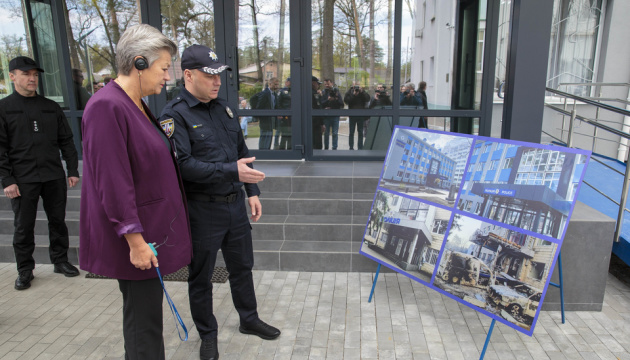 Acting National Police Chief Ivan Vyhivskyi told the guests about the work of the police under martial law, as well as the aftermath of Russia's massive shelling of Irpin.
"The Russian military shelled the city, turning blooming Irpin into ruins. The district police department was also destroyed, the shooting range of which became a shelter for local residents. In total, almost 300 civilians were killed in Irpin during the occupation," said the head of the department.
The delegation visited the Irpinski Lypky residential complex, which suffered large-scale destruction.
"It was one of the largest residential complexes in the city. The Russians actually destroyed it. On March 2 last year, Russian planes launched two airstrikes on a residential building. Later, on March 16, a fire broke out here as a result of shelling, which was extinguished only the next day because of active combat actions. Unfortunately, civilians were killed," Vyhivskyi said.
European Commissioner Johansson was impressed by the devastating consequences of the Russian invasion, as well as the resilience of Ukrainians. "The EU will be on your side as long as it takes," she assured.
As reported by Ukrinform, on May 11, European Commissioner for Home Affairs Ylva Johansson arrived in Kyiv for a visit.