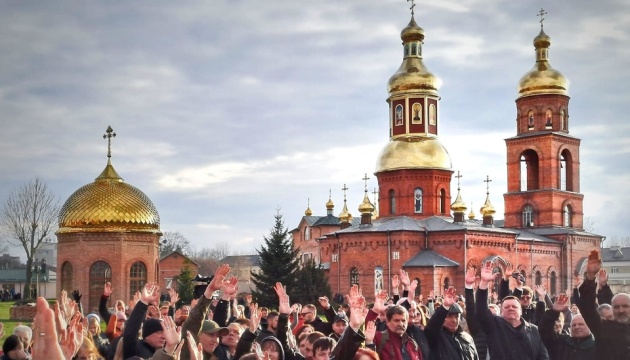 Yet another Orthodox parish in Ukraine snubs Moscow-run church
In Khmelnytskyi, a local parish attending the St. George's Church voted for transition to the Orthodox Church of Ukraine, the independent church recognized by the Ecumenical Patriarchate in Constantinople, thus breaking ties with the Ukrainian Orthodox Church of the Moscow Patriarchate.
That's according to the Deputy of the Khmelnytskyi City Council, Vitaly Pidhaichuk, Ukrinform reports.
"For the first time in many years, a prayer for Ukraine and the Ukrainian Army was heard in the Ukrainian language," Pidhaichuk wrote.
According to the deputy, the decision to hand the temple to the OCU was made by community members at the relevant meeting.
In Khmelnytskyi, one more temple of the Moscow Patriarchate was transferred to the OCU / Photo: Vitaly Pidhaichuk
Last week in Khmelnytskyi, the Holy Intercession Cathedral, the Church of the Kazan Icon of the Mother of God, and the Cathedral of the Nativity of the Most Holy Theotokos were transferred to the OCU.
As Ukrinform reported earlier, the Khmelnytskyi City Council decided to terminate the lease right for 13 land plots earlier provided to the churches of the Moscow Patriarchate.
The Khmelnytskyi Regional Council at an extraordinary session passed a full ban on the activities of the Moscow Patriarchate across the region.