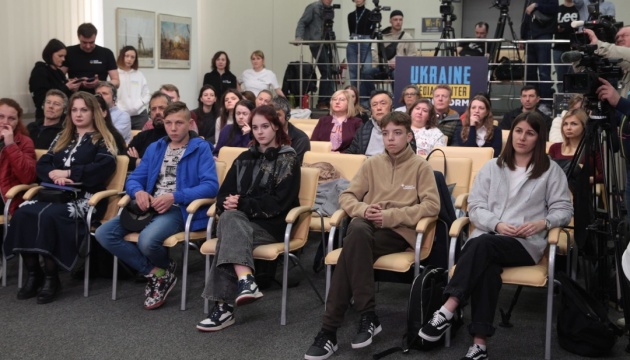 Abducted Ukrainian children punished for refusing to sing Russia's anthem - rights advisor
Ukrainian children who were deported by Russia and managed to return to Ukraine report beatings and other punishments for refusing to sing the Russian anthem and even mentioning that they identify as Ukrainians.
That's according to Daria Gerasimchuk, the advisor to the President's representative on children's rights and rehabilitation, who spoke at the national telethon, Ukrinform reports.
"The children who return say nothing good about what happened to them there. In general, it depends on their location because some were even beaten, which is very difficult to even talk about, but some of the children were physically abused for constantly noting that they are Ukrainians, for refusing to sing the Russian national anthem, for refusing to stand up for the Russian anthem, for refused to chant 'Go Russia' every morning, etc. For this they were beaten, punished, not allowed to go for walks, forced to write and rewrite certain texts in Russian, etc.," she said.
The authorized adviser to the president emphasized that total "Russification" of Ukrainian children is taking place in Russia, where young Ukrainians are being turned against their parents, being told that their parents have abandoned them, and that they should not return to Ukraine, where supposedly no one is waiting for them.
Herasimchuk explained that Ukrainian children abducted by the Russians suffer great psychological trauma, often even physical.
According to the advisor, there is a child who was operated on without proper anesthesia. The child screamed and begged, telling medics of huge pain, but the Russians told her "to be strong."
At the same time, she emphasized that currently there is no single mechanism for the return of Ukrainian children from Russia. For each deported child or their small group, a separately developed rescue operation is developed.
Herasimchuk noted that the Russian authorities in no way participate in the return of children or the negotiation process; on the contrary, they constantly relocate young Ukrainians, not allowing them to inform their relatives of their whereabouts. They also deny international organizations and third-country representatives any access to these children.
The adviser recalled that as of today, Ukraine managed to return 360 children abducted by Russia, but hundreds of thousands are still held by Russian invaders.
As reported, 31 more Ukrainian children who were illegally deported by the Russians were recently returned to Ukraine.