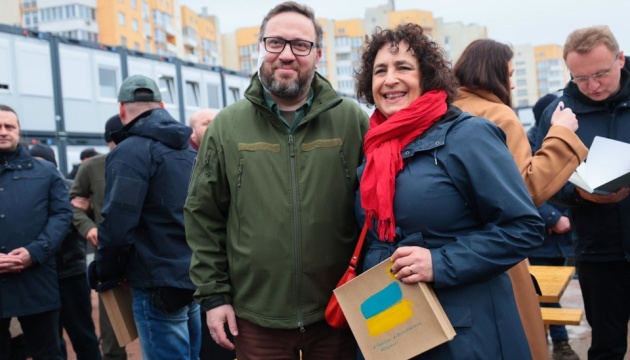 UK's, Poland's ambassadors visit displaced people in modular town in Lviv
Ambassador of the United Kingdom to Ukraine Melinda Simmons and Ambassador of Poland to Ukraine Bartosz Cichocki visited IDPs in the largest modular town of Lviv. The construction of this temporary shelter for Ukrainians was funded by these countries.
"This project to build modular towns, which was launched in Lviv last April, now reflects the unity of the international community around Ukraine which has become a victim of Russian criminal aggression. I am glad that families have found shelter here. I wish that these towns, on the one hand, unite Ukrainians who arrived here from different regions of Ukraine and, on the other hand, we would all like them to remain empty as soon as possible and you could return to your homes," Ambassador of Poland to Ukraine Bartosz Cichocki said, an Ukrinform correspondent reports.
Accompanied by the city and regional authorities, the ambassadors visited the IDPs and got acquainted with the organization of everyday life, children's interactive rooms, and the infrastructure. Together with the residents, the delegation members planted the first trees in the territory near the modular houses.
"Millions of Ukrainians have been left homeless because of the war. I am very glad that Great Britain and Poland are working together to provide temporary housing for internally displaced people in Ukraine. This town was built quite quickly with the support of the Polish government, and Britain provided GBP 10 million as part of the project, as well as generators for schools, hospitals, and community centers. The international community is united in our common determination to support the brave people of Ukraine for as long as it takes," said British Ambassador to Ukraine Melinda Simmons.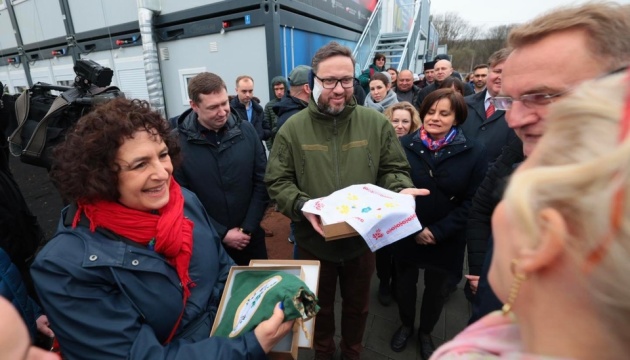 The town consists of eight two-story buildings, or 640 modules, of which 480 were purchased, delivered, and placed at the expense of the Government of Poland and Poland's Governmental Agency for Strategic Reserves, and 160 modules – at the expense of Great Britain.
As reported, the new, as it has already been nicknamed, "winter" modular town is the largest of all existing ones in Lviv and provides 1,400 places. There are houses of the so-called corridor type. People who live in modules leave their rooms not outside, but in the corridor, where heat is better preserved. The bathrooms are located inside, not in separate modules. There are also canteens in the premises where people can prepare food and wash things.
Currently, more than 750 people live in the shelter for free, almost all of them are residents of the first three modular towns that were built in the city earlier. Mostly women with children and elderly people from Donetsk, Luhansk, and Kharkiv regions live here.