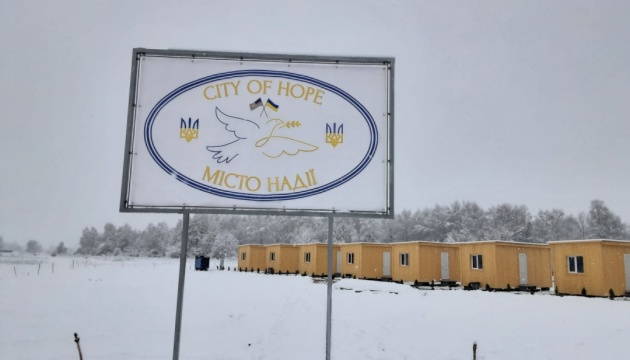 "City of Hope" near Cheremosh
An American company is implementing a project in Bukovyna that will provide shelter to 3,000 Ukrainian IDPs
Since the beginning of the war, the Chernivtsi region has received more than 100,000 internally displaced persons and has become one of the rear regions that put a lot of effort into rescuing Ukrainians fleeing the war. The Banyliv community, located in the Vyzhnytsia district, was not aloof from these events, too. More than 700 people from the eastern and central regions of Ukraine found warmth and shelter here. Currently, some of them have already returned home, but for most IDPs, their return remains only a dream. To alleviate the situation of the people in the village of Banyliv, a project with a symbolic name "City of Hope" was launched here.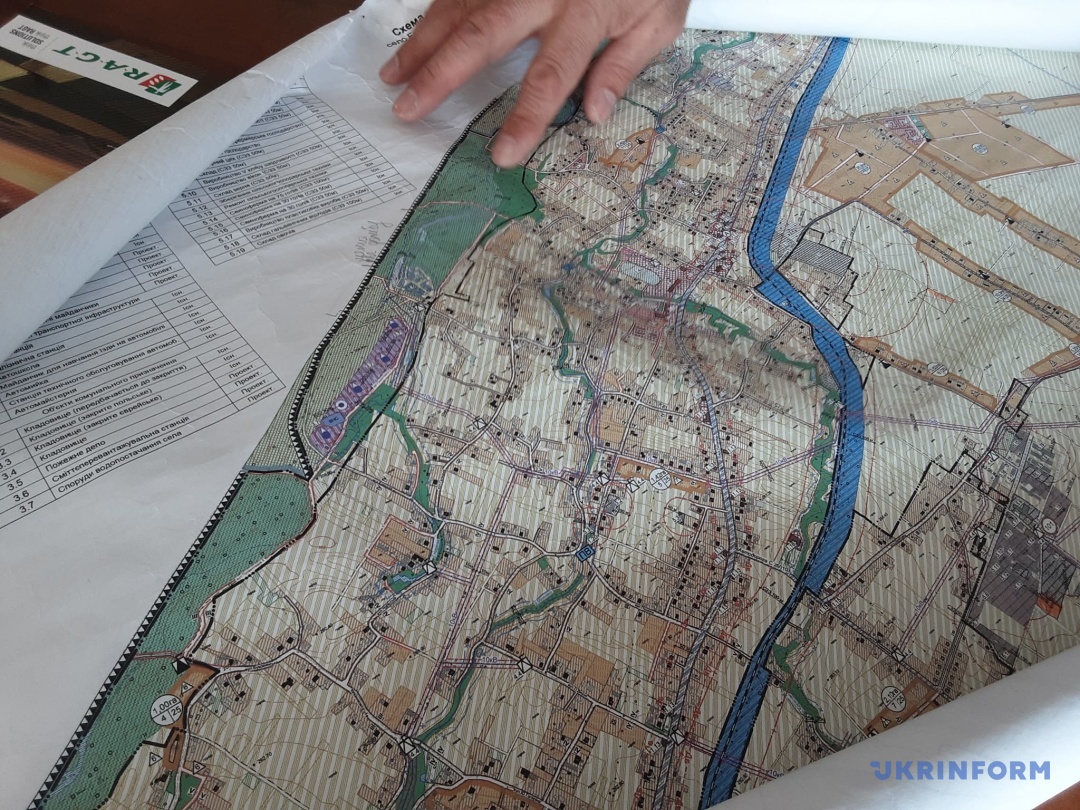 CITY OF HOPE IS NOT AN INVESTMENT
Banyliv is one of the few villages in Bukovyna where ardent farmers live. At least the head of the village, Vasyl Solomko, proudly says that at one time the villagers did not give a single piece of land to agricultural holdings, but decided to cultivate the land on their own and grow all kinds of vegetables. However, after the full-scale invasion, Banyliv realized the needs of the displaced persons and agreed to give them "golden allotments" just near Cheremosh. It was there that they began to build the "City of Hope" for those who were forced to seek salvation due to the war.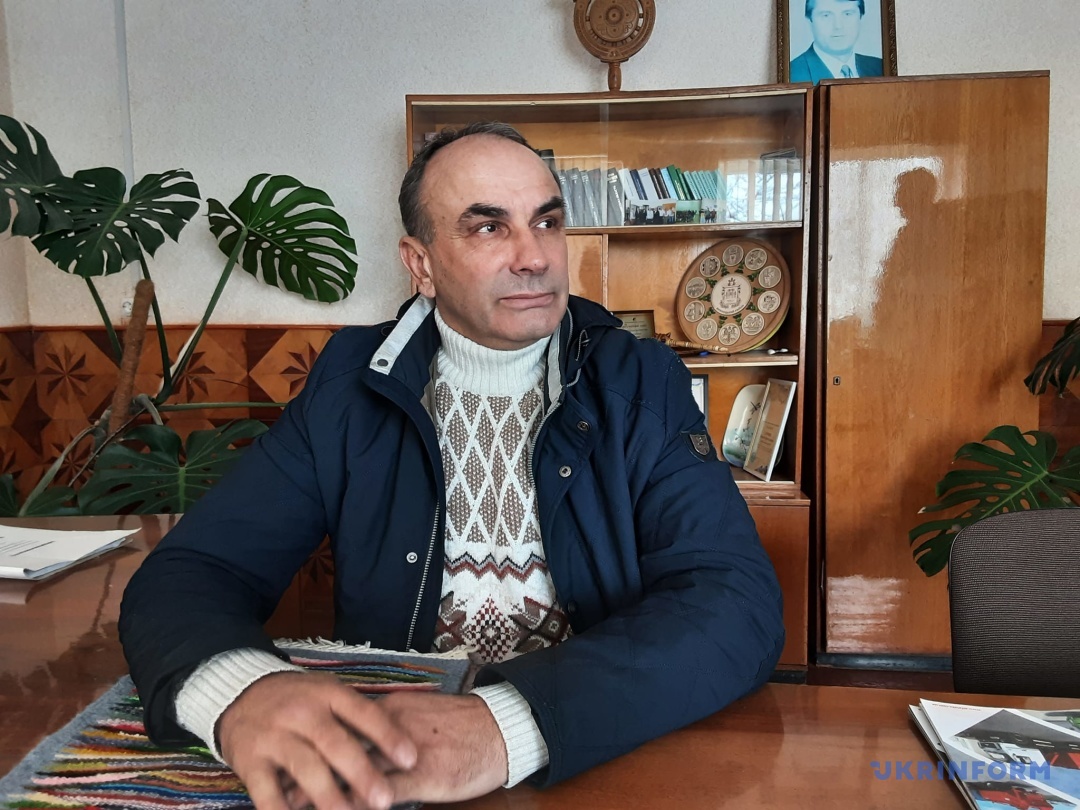 Vasyl Solomko
"Our people are ready to embrace the sky, but only when they are also understood," Vasyl Solomko said.
According to him, Banyliv, home to about 8,000 residents, has received 780 IDPs since the beginning of the war. The residents of the village invited most of them to live with them, and about 50 IDPs had to be accommodated in a local kindergarten. People helped them with food, boilers, firewood and everything they could offer. When representatives of CDAG International came to the village with a proposal to build the "City of Hope," people in Banyliv enthusiastically supported the idea.
"Together we chose the territory that might be the best for building a recreation complex. At that time, all decisions on land allocation could be made on the instructions of the village head and the executive committee. The session could not be held for a long time, because many people left, while others went to war. So that there were no misunderstandings, we proved to our people that this land remains the property of the Banyliv community. Secondly, the houses that are being built remain on the territory of the community. That is, the village council will receive big bonuses from this," Vasyl Solomko added.
"Actually the City of Hope is not an investment, we approached it as a humanitarian effort. We made a corporate decision to donate nearly $250,000 to begin developing the infrastructure and start constructing the City of Hope," said Carolyn Davis, CEO at CDAG International.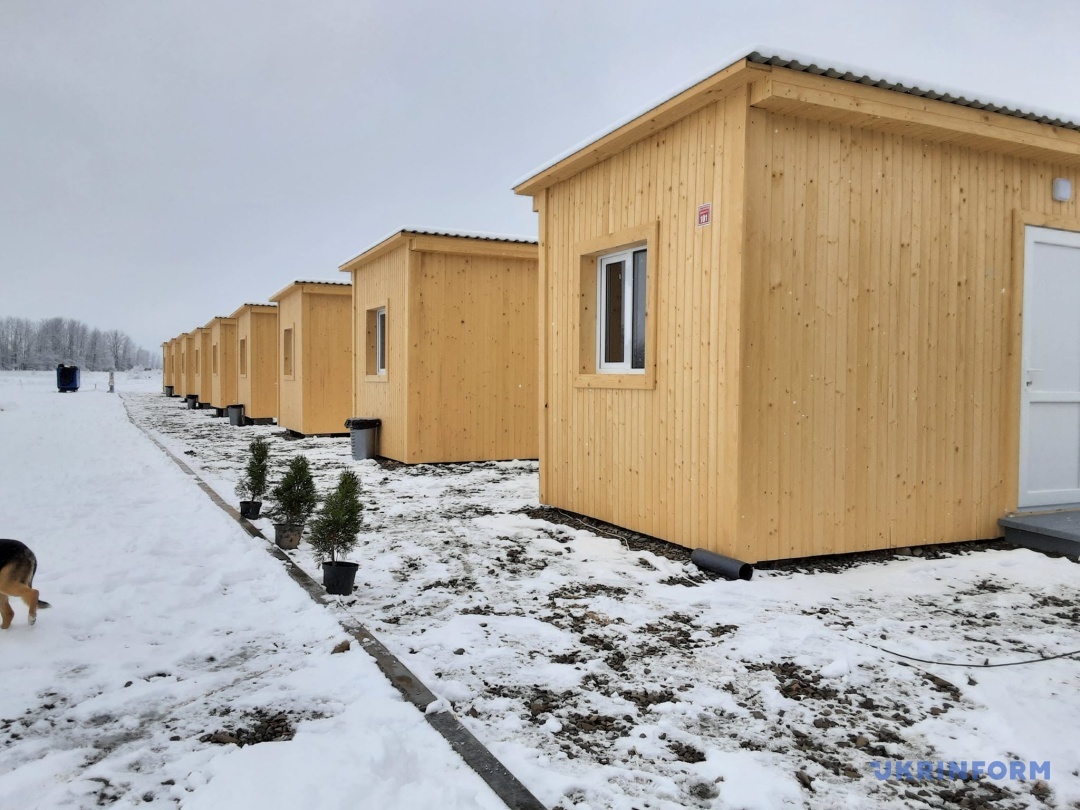 She said the company decided that Banyliv would be an ideal town because of its location.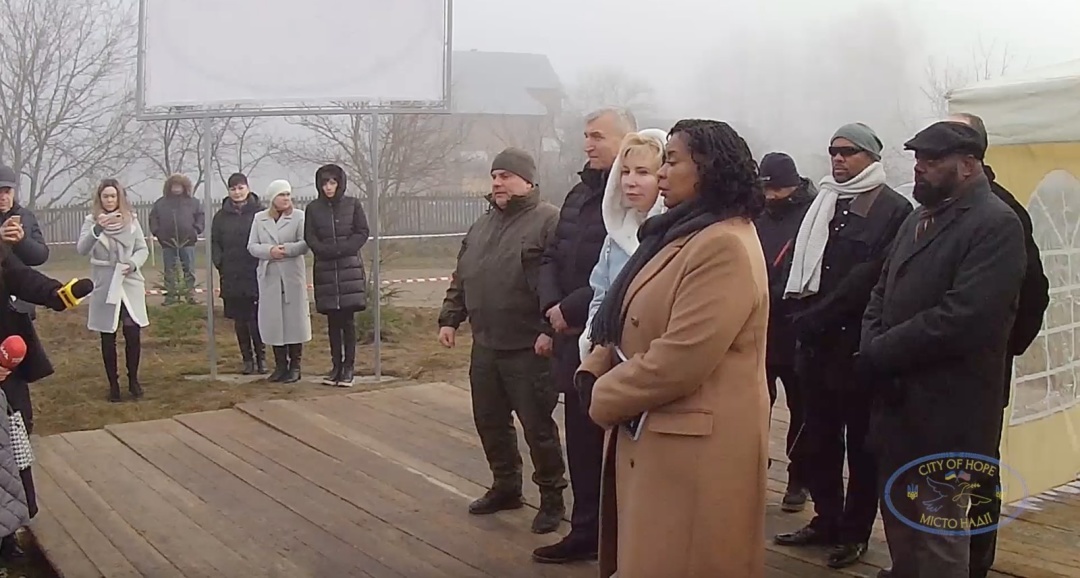 Carolyn Davis
"The area is stunningly peaceful and beautiful. [...]Several of the IDP's that were in being provided temporary shelter in Banyliv, they were there at the meetings as well, and provided input. They were involved in every step of the process, including the children creating artwork on what their vision of the City of Hope should look like. […] I'm hoping that our vision of the City of Hope will serve as a beacon and encourage other companies, non-profit organizations, and individuals to participate in partnership with CDAG/ICPE in expanding our humanitarian goals and make the City of Hope a shining example for those Ukrainians who want to remain in their homeland despite the dangers and tragedy of this war. Our guiding principle is: "Where there is no vision, there is no Hope" (George Washington Carver)," Carolyn Davis said.
EXTENDING A HELPING HAND TO THOSE IN NEED
The initiator of the construction of the "City of Hope" is Volodymyr Pakhnii, head of the International Center for Promotion of Entrepreneurship. He admits that the problems of people who were forced to leave their homes due to the war are painfully familiar to him. His family had to go through the same path.
"We were leaving Bucha the day after Russian aggression started. Before February 24, my family was preparing to celebrate the birthday of our grandson, who then turned 4, but we woke up that day to the sound of explosions and bombardment. Then I had to make a decision to take my wife and children to a safe area and return. However, I haven't had such an opportunity for a long time," Volodymyr Pakhnii said.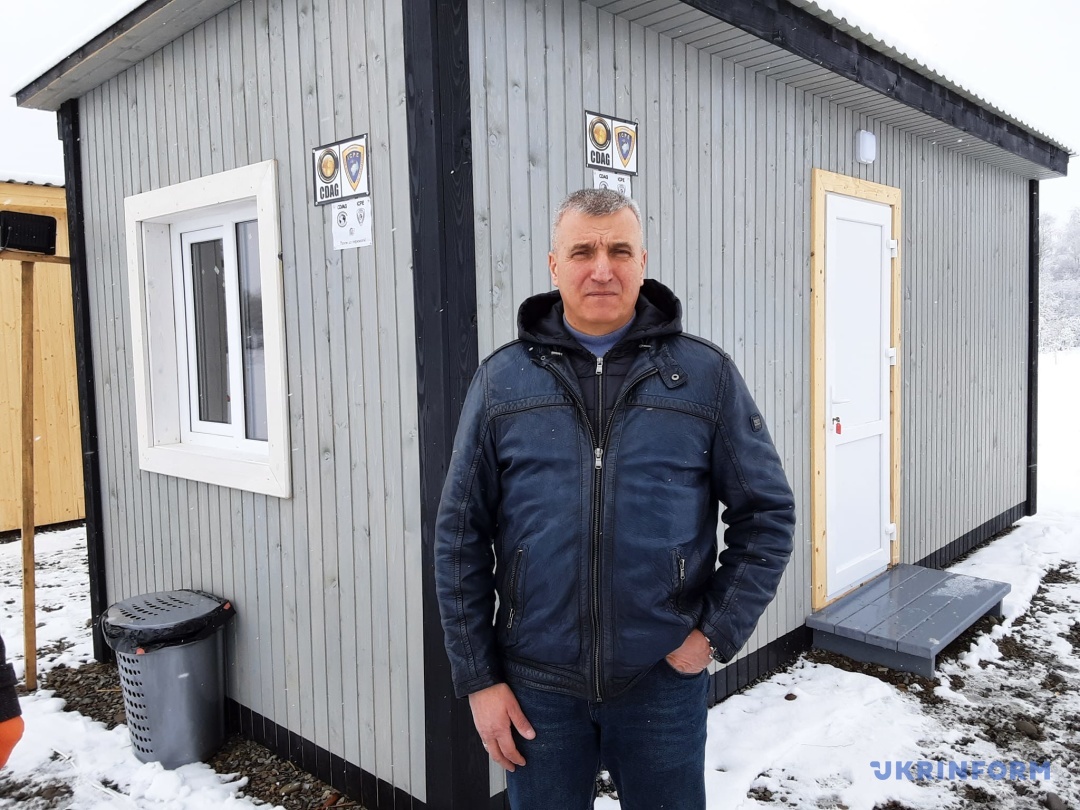 Volodymyr Pakhnii
From the first days of the full-scale war, Volodymyr was engaged in the delivery of humanitarian aid that was provided by partners from Slovakia, the Czech Republic and other European countries. In the Vyzhnytsia district, as in other regions, there was a great need for the aid. The communities in the Chenivtsi region were ready to take in IDPs, but there was not enough housing and food for everyone.
Subsequently, the International Center for Promotion of Entrepreneurship asked international investors to provide assistance to the affected Ukrainians. A series of meetings and negotiations led to the signing of a memorandum of cooperation with CDAG International. The agreement defined several areas of joint activities: humanitarian assistance to affected IDPs, assistance to territorial communities of Ukraine located in the area of hostilities and de-occupied territories, construction of the "City of Hope" and post-war reconstruction of Ukraine.
Pakhnii says CDAG International is a qualified, experienced and multifaceted construction company specializing in general contracting services, supply of construction materials, equipment, fuel and logistics. It operates worldwide, including in Ukraine, Romania, Egypt, Saudi Arabia, and the United Arab Emirates. The management team has field experience in conflict zones, where it has been operating for the past 20 years.
"On October 26, with the support of the International Center for Promotion of Entrepreneurship, a memorandum of cooperation was concluded between the American company CDAG and the Banyliv Village Council for the implementation of the joint project 'City of Hope.' The first stage of the town project – ten houses for temporary accommodation – they have already been built and are ready to receive people. It is planned to build 300 such houses as part of the project," said Andrii Pakhnii, deputy director at the CDAG International office in Ukraine.
"This entire project has been a close collaboration between CDAG, City of Banyliv, and ICPE. We will continue working together until we reach our goal to provide shelter to 3,000 Ukrainian citizens," Carolyn Davis said.
"I am an American citizen and my company is involved in projects that span the globe, bringing a vast source of diversified experience in construction management in order for us to meet the discerning needs of our clients. This led so far to many sustainable, trustworthy and lengthy partnerships, which we eventually hope to utilise in the future to assist Ukraine in its recovery, and reconstruction. However, my personal goal is to extend a helping hand to those who are in need and this is the main reason for which I am now in Ukraine. Helping the country get back on its feet is a sustainable goal as it will guarantee the overall economic stability and improvement of the whole region," said Carolyn Davis.
WE ARE 100 PERCENT READY TO ACCOMMODATE PEOPLE
Container houses bought in Romania were brought to the Vyzhnytsia district for the construction of the "City of Hope." In Banyliv, local craftsmen reconstructed them in accordance with the State Building Regulations, and now they guarantee that people will be able to live in them even at temperatures as low as -20°C.
"Everything will be heated inside by electricity. The walls are two bricks thick, that is, this house is suitable for use in the winter period," said Ivan Ivanyshyn, the director of a contracting company.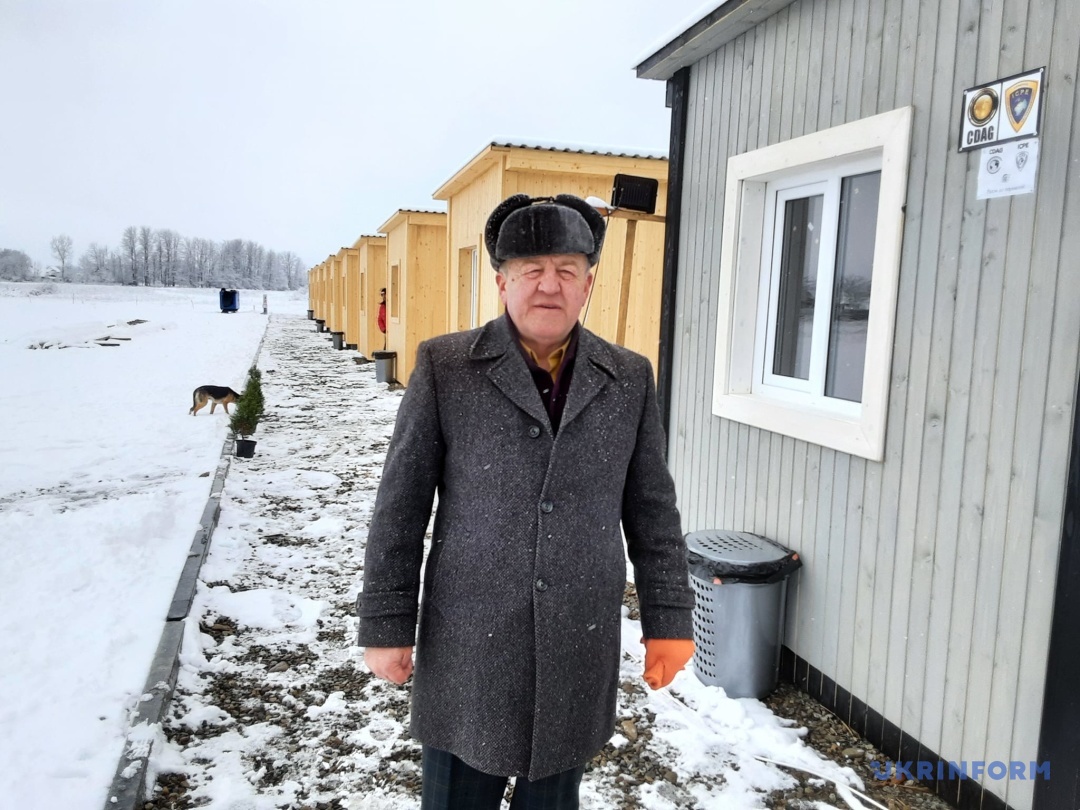 Ivan Ivanyshyn
He says that before the arrival of the investor, bushes were growing on this territory. Local builders cleared the area, constructed the necessary supply lines, and now the first houses are standing here, a few meters from the Cheremosh River. Each of them has two beds, a shower, a boiler and a cooking area. Residents will be able to equip it with household appliances to their taste. The water will be supplied straight from the ground.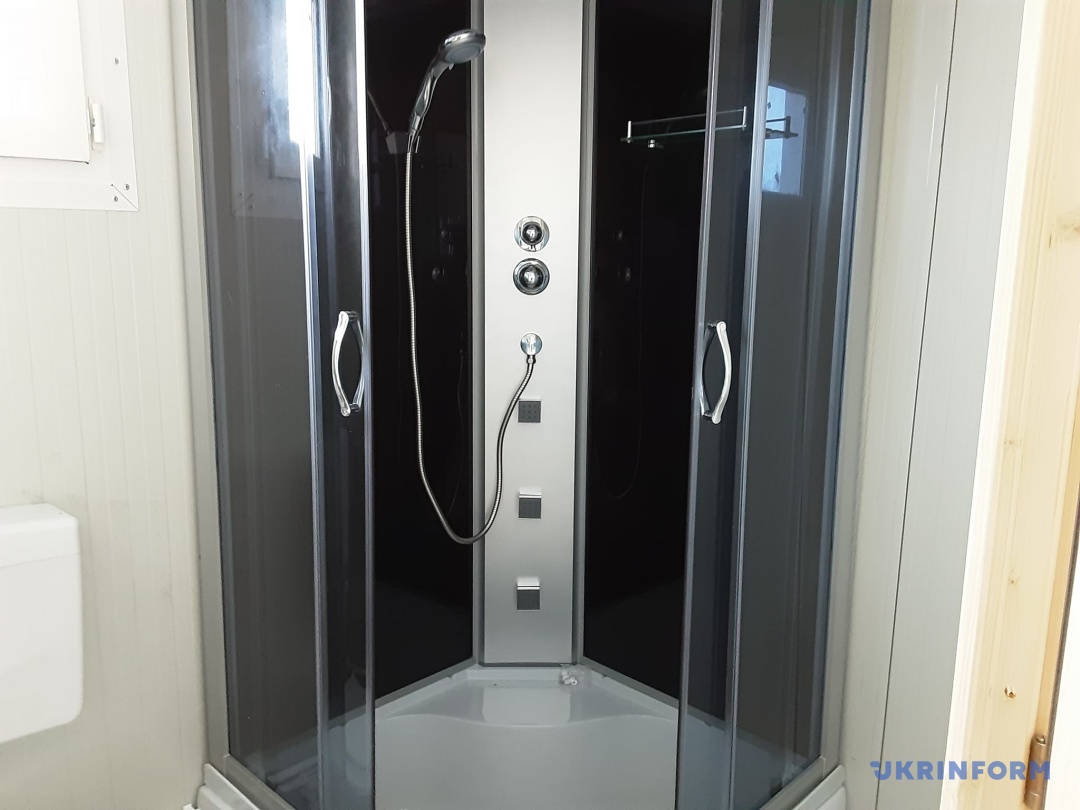 "This is quality and good water. The necessary analyses were conducted and certificates were obtained to confirm this. The ground water in this area flows close enough to the surface and therefore there were some problems with drainage to avoid contaminating drinking water. To solve the problem, they installed an advanced Biotal treatment plant that meets all European standards. Each house is connected to this system. The light will be supplied by a transformer substation. We are 100 percent ready to accommodate people," Ivanyshyn said, inviting us to look at the thuja trees that are to be planted near each mini-home.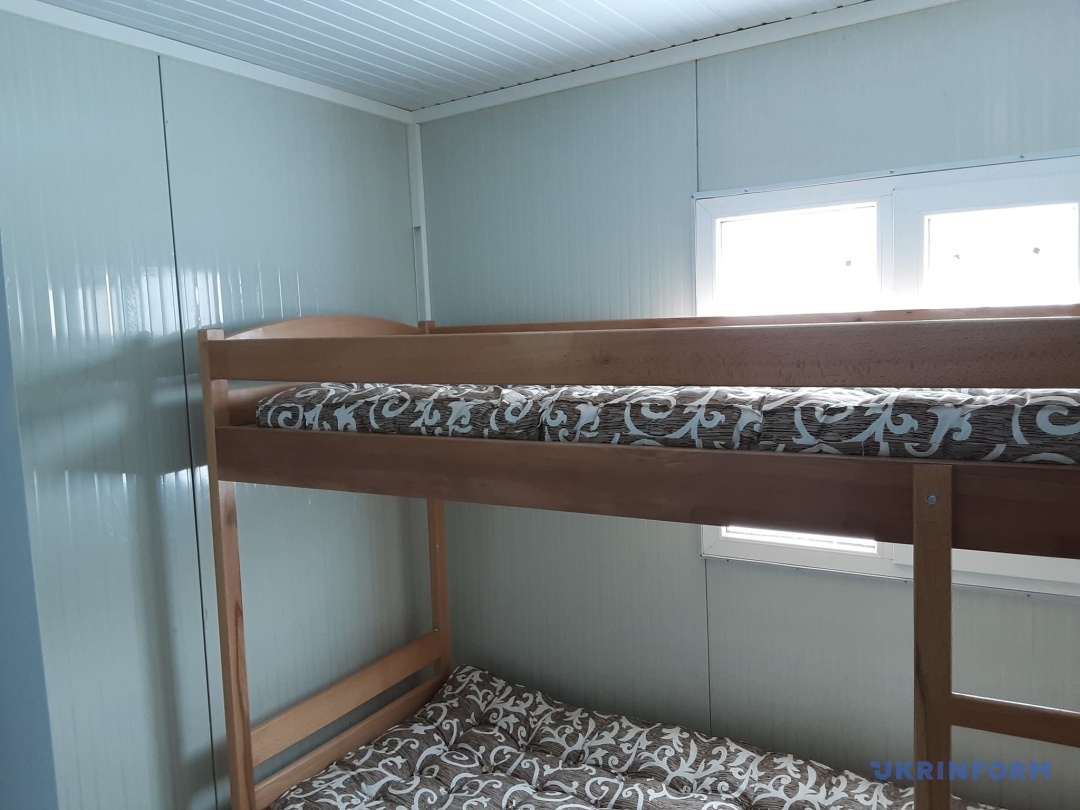 The investors also provided a 70-kilowatt generator for the "City of Hope." They say it will be connected in case of a power outage in the village.
"At least ten 15-kilowatt substations should be operational in the town. For this, it is necessary to reconstruct the main substation on the border between Banyliv and Korytne. This issue was relevant for us. There were accidents all the time. Now the Banyliv community will receive additional preferences in terms of infrastructure improvement," Vasyl Solomko added.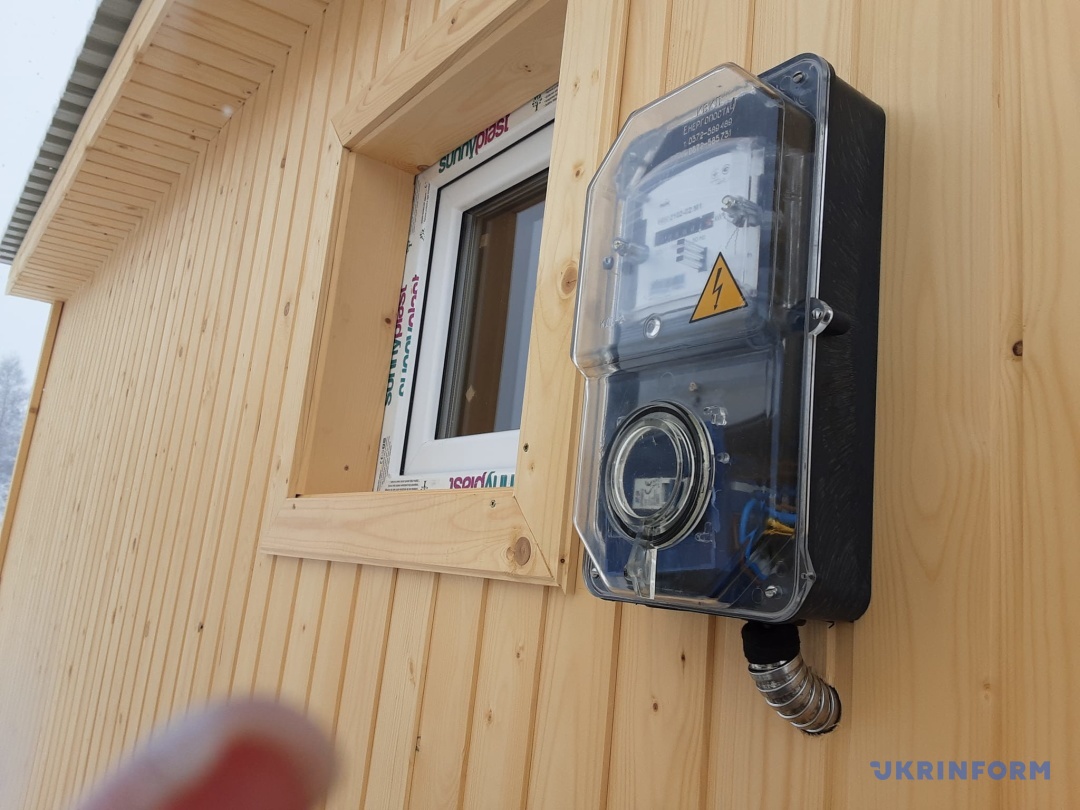 In the meantime, people are already thinking about organizing the work of the energy industry. They assure that only local specialists will work here.
"Why do local people and entrepreneurs work in Banyliv? This is the condition of American investors – to create jobs in Ukraine so that Ukrainians can earn money and fill local budgets. I emphasize that the investors refused to work with large construction companies because they want to give small businesses in Ukraine the opportunity to earn. The town's investors reserve only the right to control and manage the engineering section," Volodymyr Pakhnii said.
WE HAVE TROUBLE THERE
In just a few days, the first residents will be welcomed in the "City of Hope." Houses for temporary accommodation are to be handed over to IDPs free of charge. In Banyliv, lists of people are compiled for this purpose. They say that preference will be given to military families and families with children. Among the potential residents is Yuliia Savenko, who came here from the Donetsk region.
"We have trouble there," says Yuliia.
She says that she worked at a feed mill until recently. Only when the plant's windows were damaged by shelling, I realized that I had to run and save my children. They are 13 and 5 years old.
Yuliia Savenko
"We tried to leave by evacuation train, but the front line was already so close that the evacuation was canceled. We got to Sloviansk using public transport, and from there we went to Bukovyna," says Yuliia.
She says that her husband worked in the Czech Republic before Russia's full-scale invasion of Ukraine began. A man from Banyliv worked together with him and he invited the family from the Donetsk region to his native village.
"He told us: 'Come, no one will offend you there.' We came. The elder daughter already goes to school. She was received so well – [classmates] were the first to contact her, got acquainted with her, asked her about everything - and it's very nice. And the younger one is a brawler, she also likes it here," Yuliia said, smiling.
Yuliia's husband is currently in a military hospital with a serious leg injury. He returned to Ukraine from the Czech Republic to defend his homeland with arms in his hands. He was wounded in Bakhmut.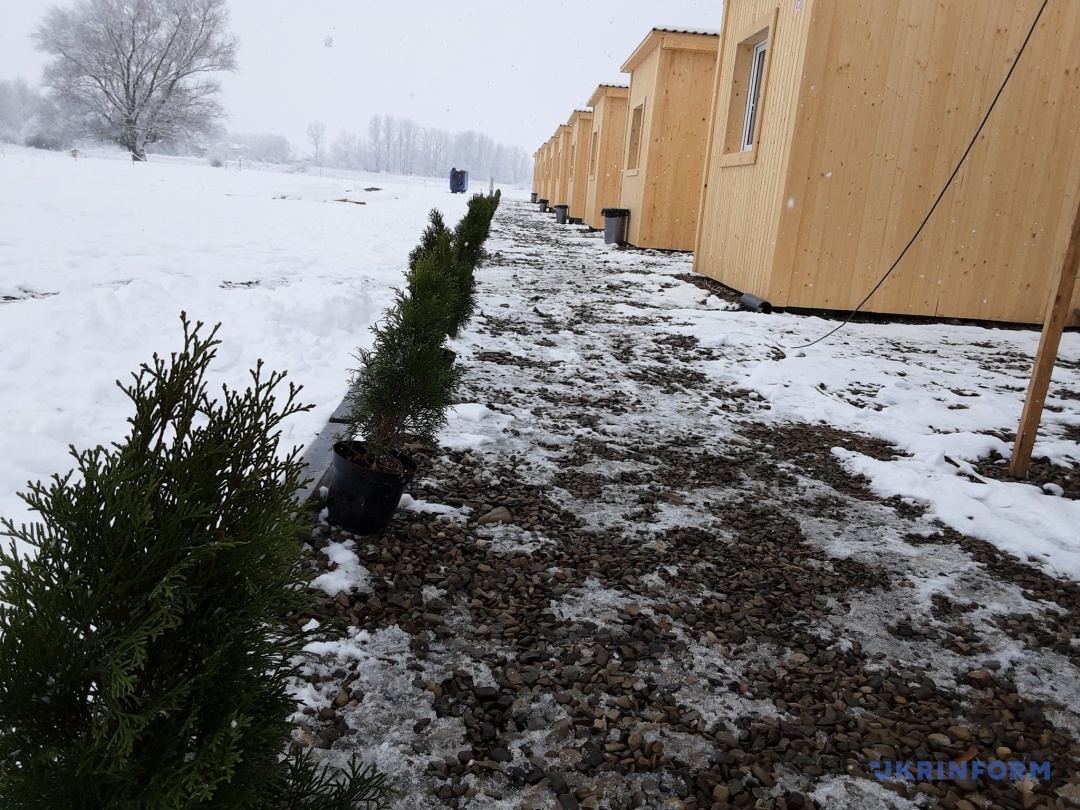 "Such houses are a lifebuoy for us. Today, many people are fleeing еру war and sometimes they have nowhere to go. And here people are already waiting for them. The idea is good, everything is well thought out, there are optimal conditions for life. You always have to start from something. We will consult with my husband," Yuliia said.
"There are many of us here, including a grandson and a daughter-in-law. When the Kharkiv region, Chuhuiv district, was de-occupied, we also managed to relocate our parents, who are over 80 years old," says Svitlana Hrebeniuk, an IDP from Kharkiv.
When the war began, she and her children were hiding in basements from shelling for several days. When the occupiers bombed their apartment in their hometown, the family hurriedly packed their things and left.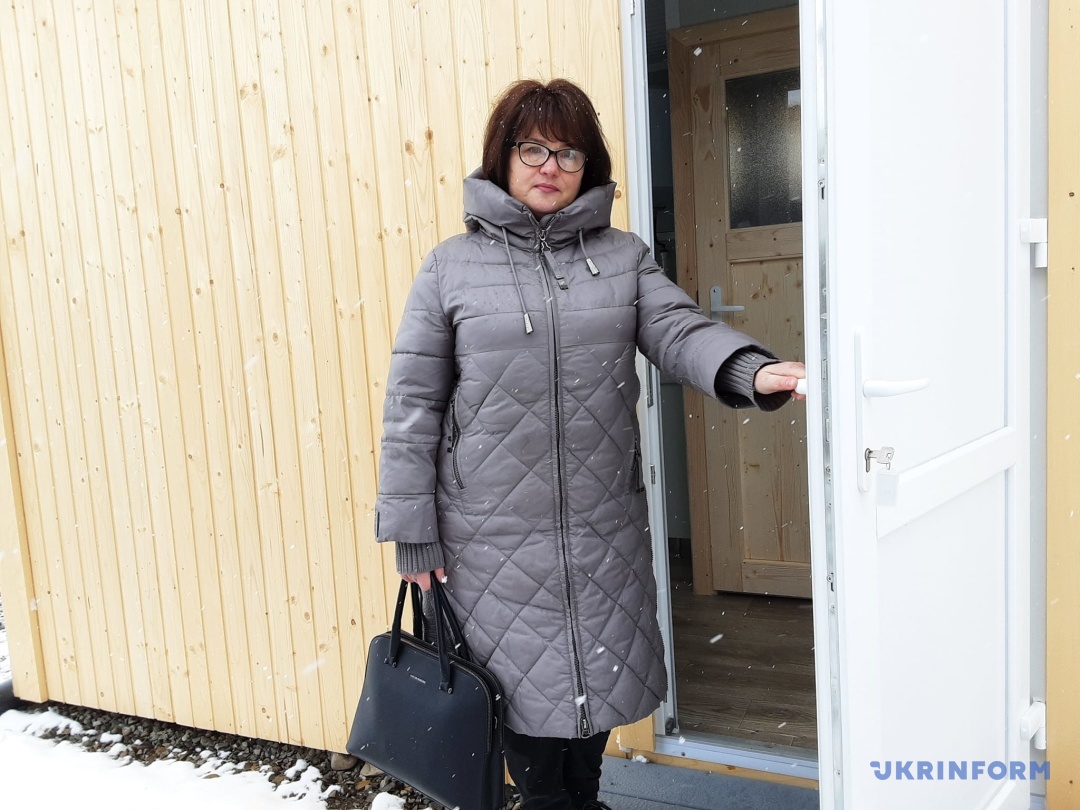 Svitlana Hrebeniuk
"We traveled for a whole week. We didn't know where we were going. We stayed in hotels, in the homes of our friends. We learned about Banyliv from the godmother [of our child]. Wonderful people met us here. They met us like part of their family. We were immediately given warm things and canned goods... We were accommodated in a private household of Mr. Petro. He always cheers us up, comforts us, and takes us to the mountains... I want to confess that I have never been to Western Ukraine, but here I simply fell in love with this area, nature, and people," Svitlana Hrebeniuk said.
Her son is a career officer of the Ukrainian Armed Forces. The family waits for news from him from the front lines every day. They just want him to write that he is alive. In the meantime, they take care of their elderly parents together.
"Here they were given all the examinations free of charge. We didn't pay anything. The people here are incredible," says Svitlana as she inspects the housing in the "City of Hope."
"Yes, houses for two are wonderful for those who are fleeing the war. Even four or five of them are ready to live in these houses. When do we plan to return home? Every day. We plan, we plan, but we don't dare. My friend returned earlier, but now she has come again. He says there is shelling, explosions... All this is difficult. And for many, there is simply nowhere to return to," Svitlana Hrebeniuk added.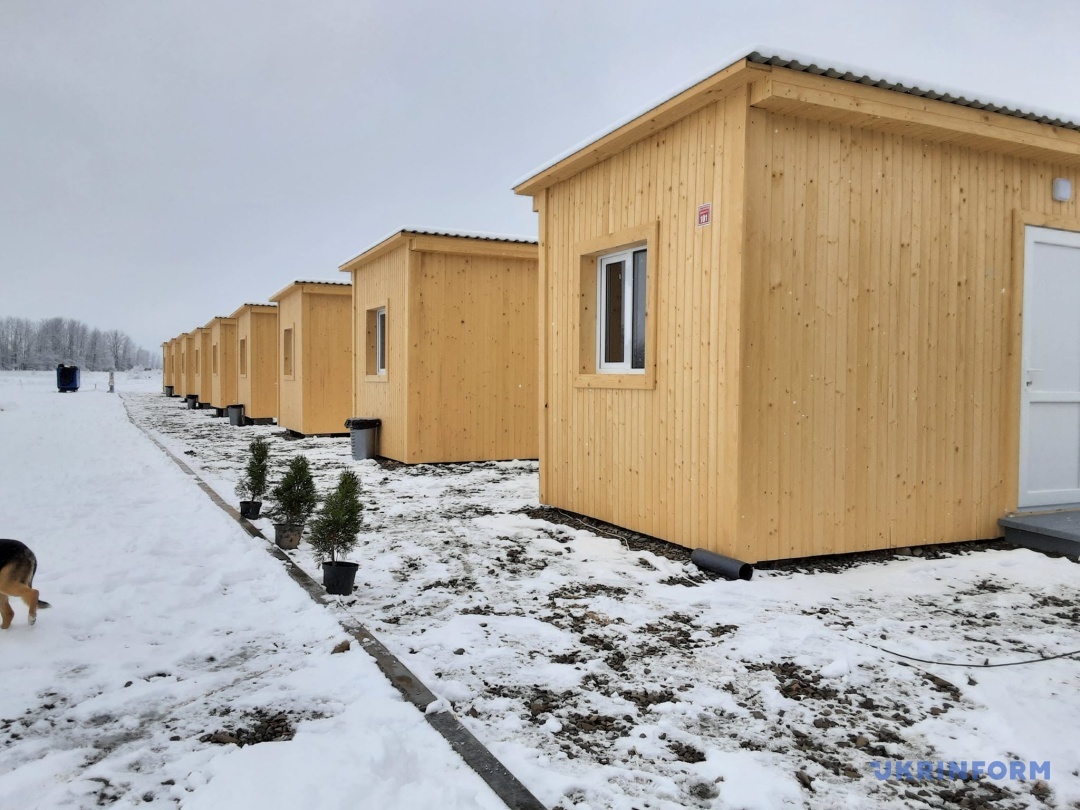 INFRASTRUCTURE IN WARTIME IS VITAL
"Since the beginning of the war, the Vyzhnytsia district has received about 20,000 internally displaced persons. Over time, this number changed, and today there are 4,500 IDPs living in the district," said Serhii Chebotar, head of the Vyzhnytsia District Military Administration.
Serhii Chebotar
He said the "City of Hope" is a great idea for accommodating IDPs. He also added that this would improve the infrastructure of the village, provide locals with jobs and strengthen the bank of the Cheremosh River.
At one time, a bridge connecting the Chernivtsi and Ivano-Frankivsk regions was built across the river. The one-kilometer-long crossing burned down almost a hundred years ago.
"It happened during the First World War. The bridge burned for three days. It was burned for military reasons. Prior to that, the local authorities took all the people out so they wouldn't get hurt. First of all, they saved children and women," says Banyliv village head Vasyl Solomko.
Nowadays, he says, women and children are saved from war in Banyliv too. Despite this, the locals still have a desire to restore the bridge, which is associated with the history of the village.
According to Vasyl Solomko, villagers from Banyliv and Popelnyky – a village located near Cheremosh in the Ivano-Frankivsk region - always held fairs together, met in football matches, and traveled to each other across the bridge. He said it would be good to restore the tradition, because people still do not forget about it.
"We set up football pitches in every corner of the village so that children could play and develop sports traditions," Solomko said. He also showed a place on the map where they plan to build another football pitch and put up sports facilities in the "City of Hope." He admitted that negotiations were already underway with investors about the restoration of the bridge.
"It is fully understandable that people want improvements to their lives, especially under the current dreadful circumstances. Infrastructure like roads, bridges, schools, hospitals would be seen as a basic necessity in peace times but during wars, they become vital. We are constantly in touch with the local authorities and we are committed to continuing to help Ukraine," Carolyn Davis said.
"Will there be a bridge in Banyliv? It will, but everything takes time," Serhii Chebotar said, adding that the war poses other challenges. "But now it would be fine to plan how we will live after the victory," he said.
Iryna Druzhuk. Banyliv, Chernivtsi region
Photos provided by the author