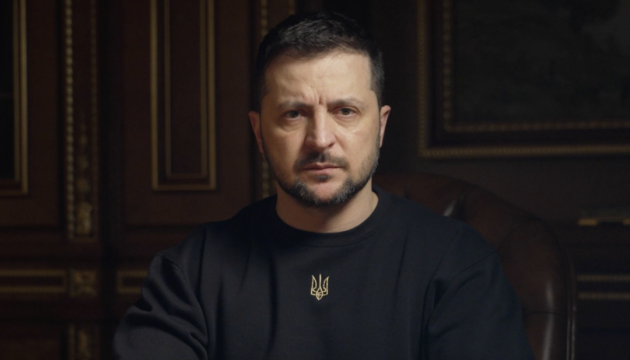 Zelensky to Ukrainians living in Russia-captured areas: Ukraine won't leave you behind
President Volodymyr Zelensky says Ukraine will not leave behind any of its citizens who are now living under Russian occupation or remain in captivity.
The head of state spoke in an address on the anniversary of Russia's full-scale invasion, Ukrinform reports.
"I want to address those who are still waiting. Our citizens who are now under temporary occupation. Ukraine has not abandoned you, has not forgotten about you, has not given up on you. One way or another, we will liberate all our lands. We will do everything for Ukraine to return. And to all those who are now forced to stay abroad, we will do everything for you to return to Ukraine. We will do everything to make it possible. We will fight and bring back every single one of our captive soldiers. Only all this together will be a victory," Zelensky said.
The president noted that, despite the constant massive missile attacks and power outages, the Ukrainians "see the light of this victory" even in the dark.
"In their memories of their first feelings on February 24, 2022, people mention shock, pain, and uncertainty. A year after the full-scale invasion, the faith in victory is 95%. The main emotion we feel when we think about Ukraine is pride. For every Ukrainian man, every Ukrainian woman. Pride for us. We have become one big army. We have become a team where someone finds, someone packs, someone brings, but everyone donates," said the president.
He expressed gratitude to the multi-million army of volunteers.
"We have become one. Our journalists and media are a united front fighting against lies and panic. We have become one family. There are no more strangers among us. Ukrainians today are all fellows. Ukrainians have sheltered Ukrainians, opened their homes and hearts to those who were forced to flee the war," Zelensky said.
The president stressed that this was a year of resilience, care, bravery, pain, hope, endurance, unity, and invincibility.
"Its main result is that we endured. We were not defeated. And we will do everything to gain victory this year!" the president concluded.
Memo. On February 24, 2022, Russia unleashed a new stage of the war against Ukraine – a full-scale offensive. Throughout the year, Ukraine's defense forces have inflicted massive losses on the aggressor, eliminating almost 147,000 invaders.
Photo: Ukrainian President's Office