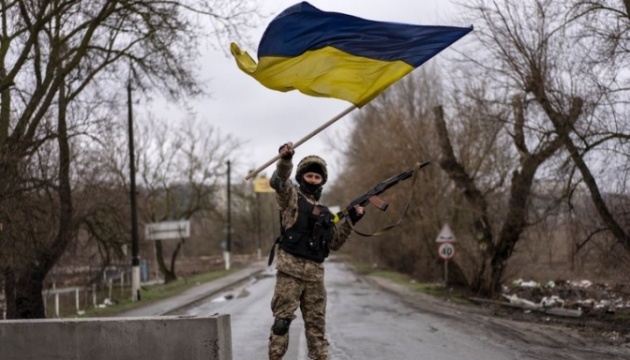 Over 80% of Ukrainians believe in victory over Russia
More than 82% of Ukrainian citizens are confident in their country's ability to successfully repel an ongoing onslaught by the Russian Federation.
This is evidenced by a survey conducted by Gradus Research ahead of the anniversary of the full-scale invasion, Ukrinform reports.
"Confidence in Ukraine's victory remains consistently high: 82% of surveyed Ukrainians are absolutely or rather confident in Ukraine's ability to repel Russia's attack. At the same time, Ukrainians equally believe in victory, regardless of age, gender, and place of residence," the study says.
According to the survey, optimism about the future of Ukraine is also quite high - according to 68% of respondents, Ukraine will become stronger in the post-war period.
It is noted that for the majority of respondents (64%) the sign of Ukraine's victory will be the liberation of the entire territory of Ukraine (as of 1991); for 57% - the fall of Putin's regime / tribunal for Putin / Putin's death; for 54% - Russia's capitulation, and for 50% - Russia paying reparations. Also, 41% of those surveyed would consider the return of Crimea a real victory for Ukraine.
As most terrifying events of a full-scale war, the interviewees named missile strikes on peaceful cities (17%), murders and torture of Ukrainians under occupation (12%), as well as the first day of the full-scale invasion.
On the other hand, Ukrainians consider the liberation of the temporarily occupied territories of Kherson, Kharkiv, and Kyiv regions, as well as financial and military assistance from foreign partners, to be the most joyful and encouraging events of the year.
The poll was run February 17-20 through mobile questionnaires, covering 1,151 respondents.