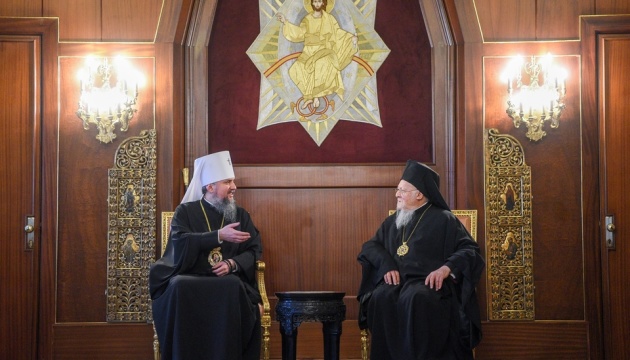 Epiphanius meets with Ecumenical Patriarch Bartholomew
Metropolitan Epiphanius, the Primate of the Orthodox Church of Ukraine (OCU), met with Ecumenical Patriarch Bartholomew during his visit to Istanbul. The Patriarch called the war in Ukraine "devilish" and condemned Russian aggression.
"Epiphanius thanked for the help provided by the Ecumenical Patriarchate to Ukraine which is given to those in need," the press service of the Kyiv Metropolitanate of the OCU informs.
In turn, Patriarch Bartholomew condemned the Russian aggression against Ukraine. "We are happy to welcome you, Your Holiness, here in the Ecumenical Patriarchate, where we constantly pray for you, for Ukraine, for those who suffer from an unjust war. We condemn this war, Russian aggression against Ukraine. This is a devilish war that was spawned by untruth. I said this in my speech recently at a forum in Abu Dhabi, and most of the audience greeted this definition with applause.
We pray for Ukraine and for your victory. Convey our greetings to the people, to the Orthodox faithful, convey that we admire their courage and pray for them," Patriarch Bartholomew said.
ol