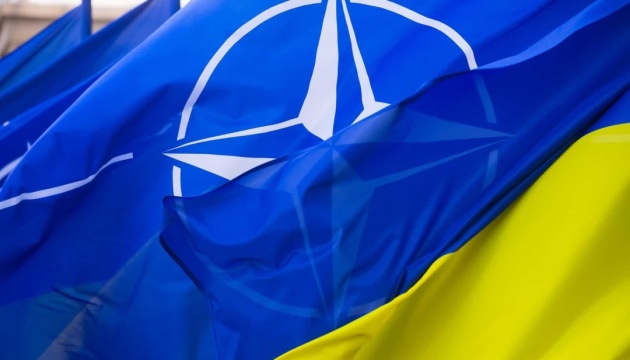 69% of Ukrainians not ready to give up joining NATO in exchange for peace talks with Russia
More than two-thirds of Ukrainians (69%) do not think it is possible to start peace negotiations with Russia on the condition that Ukraine refuses to join NATO.
This is evidenced by the results of the poll "Wartime Diplomacy. What do Ukrainians think about Ukraine's movement towards EU and NATO membership during the war", conducted by Info Sapiens on behalf of the New Europe Center, Ukrinform reports.
"In March 2022, the Ukrainian side considered the possibility of starting peace negotiations with the Russian Federation, offering to give up Ukraine's accession to NATO in exchange for the withdrawal of Russian troops from the occupied territories of Ukraine. More than two-thirds of Ukrainians (69%) do not think it is possible to start peace negotiations on such conditions," the authors of the research said.
Meanwhile, 18.9% of respondents spoke in favor of the beginning of negotiations and 11% of respondents are undecided.
The authors of the research also noted that a record-high level – 83% – of support for joining NATO was registered in Ukraine last October.
The poll was conducted from December 16 to 25, 2022 using the method of computer-assisted telephone interviews based on a random sample of mobile phone numbers. The sample is representative of the adult population of Ukraine (aged 18 and older). The structure of the sample corresponds to the structure of the population according to such parameters as gender, age, size of the settlement and the region of the pre-war place of residence according to the data of the State Statistics Service as of January 1, 2022. The poll was not conducted in the Autonomous Republic of Crimea, the city of Sevastopol, as well as in other territories of Ukraine temporarily occupied by Russia, where Ukrainian operators do not provide mobile telephone services. Also, the survey does not sufficiently cover Ukrainians who have gone abroad. The maximum possible error does not exceed 3.1%.
ol