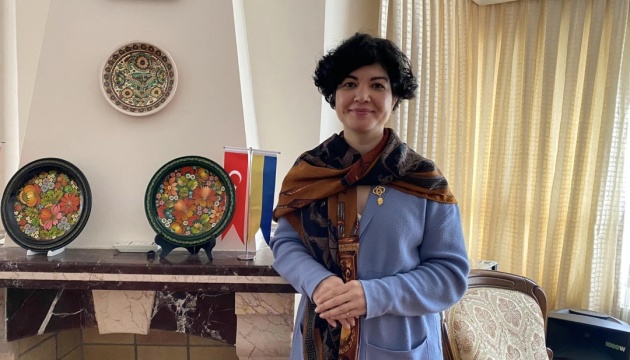 Expulsion of Russian nationals from Crimea after deoccupation "completely legitimate" - envoy
All Russian citizens staying Crimea in violation of Ukraine's migration legislation will have to leave after the area is deoccupied so any attempts to brand this as "deportation" are groundless.
That's according to the President's Permanent Representative for Crimea, Tamila Tasheva, who spoke with Ukrinform following a visit to Turkey.
"We have a principled position, which has been formed and has legal norms based on it. All citizens of the Russian Federation, who illegally arrived in the temporarily occupied territory, Crimea, in violation of the migration legislation and border crossing regulations, must move, after the territory is liberated, outside the Ukrainian borders, including Crimea, because they were staying there illegally," the official said.
According to Tasheva, currently there are between 500,000 and 800,000 people who were supposed to obtain a residence permit and an entry permit.
Tasheva pointed out that Russia is already declaring that it would the "deportation of Crimeans."
"What kind of Crimeans? We are talking about Russian citizens who are not Crimeans. They are persons who temporarily stay on the territory of Crimea. Their expulsion is an absolutely legitimate process that cannot be compared with the deportation of 1944, when the Crimean Tatars were deported in freight cars without IDs from the lands where they had historically formed their statehood. Now these are persons who have the citizenship of another state, who illegally crossed in and are stayinh on the territory of our country. If a citizen of any country crosses the border illegally, they are subject to forcible deportation. So we will apply it," explained the envoy.
She noted that even those who could not comply with the requirements of Ukraine's migration legislation due to a number of circumstances will have to leave, too.
"There are humanitarian principles. For example, isolated cases where, due to circumstances, someone actually cannot meet migration requirements. In such cases, exemptions are possible, but these people, too, must first leave and file an appropriate application with the migration authorities to obtain appropriate permits after their applications are considered. We can't say how many such cases we will see – maybe hundreds, maybe 1,000 to 2,000," Tasheva noted.
According to the official, work is already underway regarding registration papers, including birth, death, and marriage certificates. A draft law on the administrative procedure for obtaining such documents has been worked out with the Ministry of Reintegration, Ministry of Justice, Migration Service, and lawmakers.
"We hope that this draft law will soon be tabled in the Verkhovna Rada. We have to be ready for reintegration processes," Tasheva emphasized.
As reported by Ukrinform, on March 24, Volodymyr Zelensky by his decree put into effect the decision of the National Security and Defense Council of March 11, 2021 "On the Strategy of Deoccupation and Reintegration of the Temporarily Occupied Territory of the Autonomous Republic of Crimea and the City of Sevastopol."