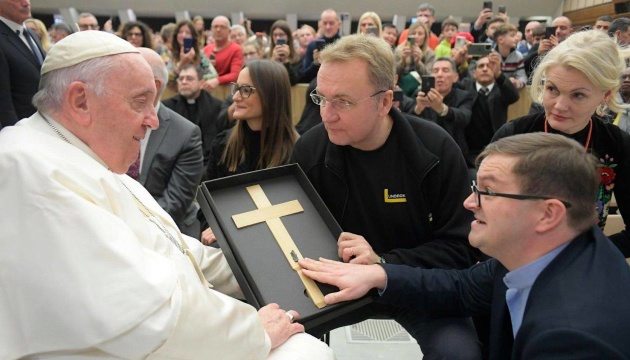 Lviv mayor meets with Pope Francis
Lviv Mayor Andriy Sadovyi and the head of Lviv First Medical Association met with Pope Francis. The mayor's wife was also present at the meeting.
Andriy Sadovyi wrote this on Telegram, Ukrinform reports.
"I was surprised when I received this offer. Together with Kateryna, Oleh Samchuk and Serhiy Kiral, we thoroughly prepared for the meeting. Only a few minutes to say everything that is necessary, everything that is important," he wrote.
Sadovyi published a photo of a wooden cross - a symbol of the victory of good and truth - "wounded" by a piece of Russia's missile. This shrapnel was removed from a wounded 13-year-old girl.
"Wounded, but UNBROKEN, like all Ukrainians. The piece was removed from the body of 13-year-old girl Nastia. The Pope knows about it. I think everyone understood the symbolism very clearly," Sadovyi wrote.
It is noted that the Pope blessed the cross. The cross will travel to the churches of the world to encourage all the faithful to pray for Ukraine. Another such cross will remain with the Pope to remind him every day of the price paid by Ukrainians for truth and freedom.
Sadovyi also added that the topics of the meeting included the consequences of Russian aggression and the #UNBROKEN project, which was launched in Lviv to provide comprehensive medical care, including prosthetics and different kinds of rehabilitation, for Ukrainians who suffered from the war.
Photo: Andriy Sadovyi/Telegram
iy