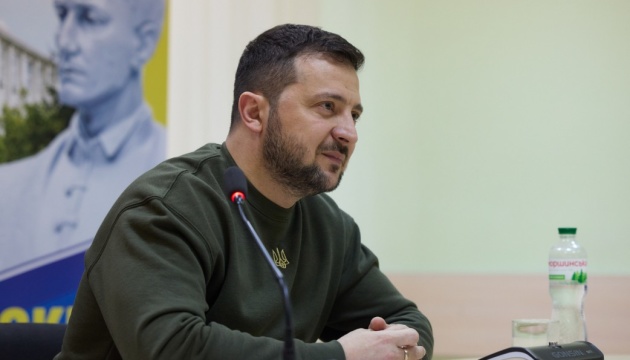 Ukraine needs to fight against Russian disinformation within country – President Zelensky
It is difficult to fight against propaganda in Russia, but it is necessary to fight against Russian disinformation on the territory of Ukraine.
The relevant statement was made by Ukrainian President Volodymyr Zelensky in a conversation with the students and teachers of Hryhorii Skovoroda University in Pereiaslav, an Ukrinform correspondent reports, referring to the Office of the President of Ukraine.
"There are various measures that our state should have taken from the very beginning. It was difficult: there was a great influence of Russia on us – media, political, industrial, and historical... There are fundamental things. The media space in Ukraine cannot be controlled by Russia," Zelensky said.
Hence, according to Zelensky, in order to counteract Russia's media influence on the Ukrainian society, the National Security and Defense Council (NSDC) decided to terminate the activities of certain TV channels that were financed from Russia.
In addition, Zelensky believes it is necessary to develop Ukrainian universities and science, as this is an informational warfare. This also applies to the country's spiritual sphere.
"If someone supports the war in Ukraine, they are definitely not pro-Ukrainian and have chosen another state," Zelensky added.
According to the President of Ukraine, these are very correct, democratic steps that the state should take and society should support.
Additionally, Zelensky mentioned that it is necessary to convey true information to societies across different countries and break through the veil of propaganda created by Russia. This will help to unite the world around Ukraine.
"A separate approach should be taken in the fight against propaganda in the territories that we de-occupy," Zelensky added.
Replying to a question about whether new symbols should appear in Ukraine instead of the Soviet ones, which are now being replaced, the President of Ukraine noted that, in his opinion, this is already happening naturally.
"It is necessary to help and make it possible, but I would not like pressure to be there. It seems to me that Ukraine is strong because it is very free in its expression of will and attitude to life. And that's why the discussion has to come from below... We have to talk about it, think about it with the public, scientists, what legislative changes should be. But the most important thing is that all this should not be done through pressure, destruction, humiliation, etc.," Zelensky explained.
In his words, dialogue and logic are the key elements in this regard.
"Today, the entire society is united and eager to restore everything that has been forgotten: names, monuments, and important historical knowledge, and the memory of people who have been forgotten for a long time due to the Soviet power," Zelensky said.
Zelensky expressed confidence that today Ukraine is able to find its true heritage thanks to the work of scientists and professionals who have deep knowledge of history.
"Today, we want the most forgotten, but ours, Ukrainian. Our identity must be maintained," Zelensky concluded.
Photo: Office of the President of Ukraine
mk