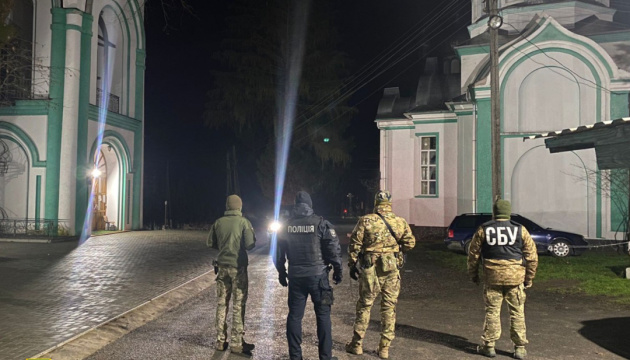 SBU raids Moscow Patriarchate churches in three regions
Employees of Ukraine's SBU Security Service are conducting counter-intelligence (security) measures at the facilities of the Ukrainian Orthodox Church-Moscow Patriarchate in the Zhytomyr, Rivne, and Zakarpattia regions.
That's according to the SBU's press center, Ukrinform reports.
The measures are being carried out together with the National Police and the National Guard – as part of the SBU's systematic work to counter the subversive activities of the Russian special services in the country.
In view of Russia's armed aggression, these measures are carried out, among other things, to prevent the use of religious communities as a center of the "Russian world" and to protect the population from provocations and terrorist attacks.
With the direct participation of representatives of the churches, law enforcement officers are inspecting the territory and premises (including hotels) to identify persons who may be involved in illegal activities to the detriment of the state sovereignty of Ukraine and find banned items.
All actions are in line with the current legislation.
The SBU said they act exclusively within the limits of the Constitution of Ukraine and current legislation, respecting the rights of every citizen to freedom of choice of religion and worldview.
The SBU earlier conducted searches in the dioceses of the Ukrainian Orthodox Church-Moscow Patriarchate in various regions of the country. In many of them, the security agency found people with Russian citizenship, pro-Russian literature and millions in cash.
In particular, a large number of anti-Ukrainian materials, including propaganda literature denying the existence of Ukraine, were found at the Pochaiv Theological Seminary and the Ivano-Frankivsk Diocese.
Photo credit: SBU