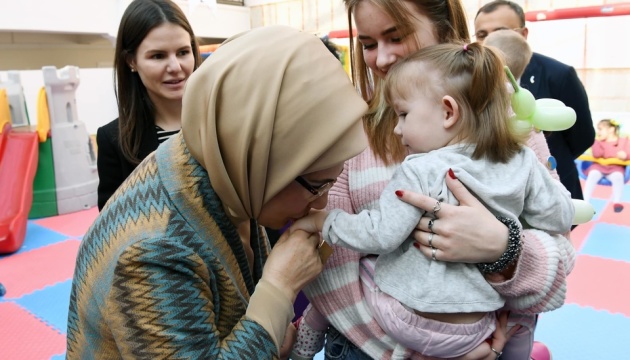 First Lady of Türkiye visits Ukrainian orphans evacuated from Odesa
First Lady of Türkiye Emine Erdoğan, visited the orphanage, where the students of the Sonechko orphanage, evacuated from Odesa, were placed.
This was reported by an Ukrinform correspondent.
"No one wants war. We are against anyone losing their parents or being forced to leave their country. I wish that this war would end as soon as possible, that the wounds would heal, and that everyone could safely return to their homes," said the first lady of Türkiye.
She recalled that the evacuation of children from the Odesa orphanage to Turkey had been agreed upon at a meeting with First Lady of Ukraine Olena Zelenska.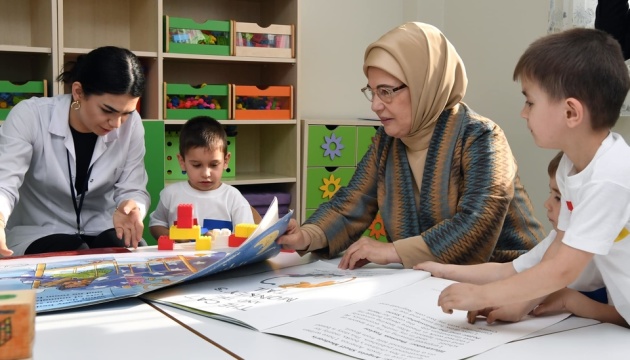 Emine Erdoğan was accompanied by Minister of Family and Social Services Derya Yanik, Ambassador Extraordinary and Plenipotentiary of Ukraine to Turkey Vasyl Bodnar and his spouse, as well as Consul of Ukraine to Turkey Andriy Bilyk.
"We are grateful to President of Turkey Recep Tayyip Erdoğan and First Lady Emine Erdoğan for this opportunity to provide a normal childhood for children left without parental care, for caring about and supporting them. A little over a week ago, these children were frightened by the sounds of sirens, and had to go down into bomb shelters. In this way, Russia tried to steal their childhood. Today, they hear cheerful children's songs, receive gifts, play, and are open to learning new things with childlike carelessness," Vasyl Bodnar said in a comment to Ukrinform.
According to the diplomat, the children will stay in Turkey until the conditions for their return to Ukraine become safe.
The ambassador also noted that Emine Erdoğan was interested in the children's health and well-being after the evacuation. Consent had been obtained in advance to provide the necessary assistance to one of the students of the orphanage, who has a special medical condition and who could not have the scheduled operation performed on him due to the war.
As reported by Ukrinform, 34 students of the Odesa children's home Sonechko were evacuated to the capital of Turkey, along with staff and medics.