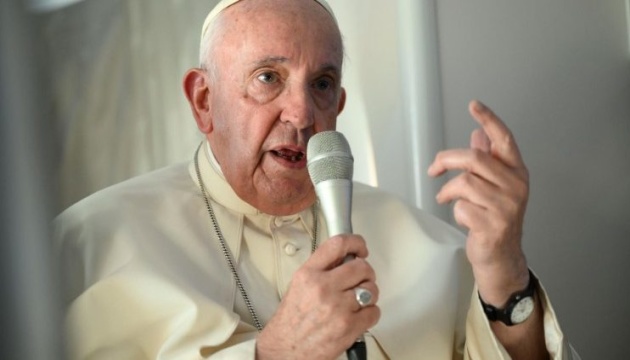 Pope Francis recognizes Russia as aggressor against Ukraine
Pope Francis said that Russia is the aggressor in the Russo-Ukrainian war.
This was reported by Vatican News, according to Ukrinform.
"When I talk about Ukraine, I talk about a martyr nation, a martyred people. If there is a martyred people, then there is one who tortures them. When I talk about Ukraine, I talk about brutality because I have a lot of information about the brutality of the invading troops. In general, the most cruel are probably those who are from Russia, but do not belong to the Russian tradition, for example, Chechens, Buryats, and so on. Of course, the one who attacks is the Russian state. This is quite understandable. Sometimes I try not to specify, so as not to offend, but rather to condemn in general, although it is well known whom I condemn. It is not necessary to indicate the first and last name," said the pontiff.
He also added that he never gave anyone a chance to consider that he was covering up Russian aggression.
"Why don't I name Putin? Because it is not necessary; this is already known. However, sometimes people get hung up on a detail. Everyone knows my position, with or without Putin, without mentioning his name," the Pope said.
As reported by Ukrinform, on the first Sunday of Advent – the period of Christmas fasting in the Catholic Church – Pope Francis once again called not to forget the long-suffering people of Ukraine, not to get tired of saying "no" to war, and remembered the victims of the Holodomor.
Photo: vaticannews.va