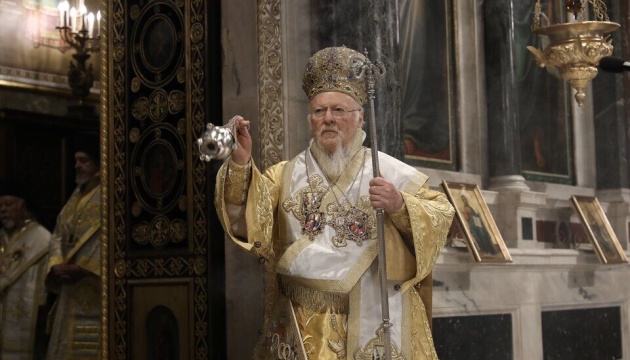 Catholic, Orthodox Christians mull common date for celebrating Easter - Bartholomew
Ecumenical Patriarch Bartholomew stated that both the Orthodox and Catholic sides have a good intention to finally establish a common date for the celebration of Easter - Christ's Resurrection, but it is too early to talk about any details.
The Ecumenical Orthodox Patriarch expressed this opinion during a meeting in Istanbul with a group of priests and journalists who arrived in Turkey to visit places related to the life of St. Paul, Vatican News reports, according to Ukrinform.
The trip was organized by the Vatican Pilgrimage and Tourist Office "Opera Romana Pellegrinaggi". Answering journalists' questions, the Ecumenical Patriarch talked about joint efforts with Pope Francis related to the celebration of the 1700th anniversary of the first Ecumenical Council, which took place in Nicaea in 325.
The Patriarch recalled that among the Council's decisions was setting the date for Easter celebration. "But, unfortunately, for many years we no longer celebrate it together, for many centuries. Therefore, within the framework of this anniversary, the subject of our joint efforts with the Pope is to find a solution to this issue. It may not be time to talk about any details yet, but I'd like to emphasize that there is this good intention from the Orthodox and Catholic sides to finally set a common date for the celebration of Christ's Resurrection," said Bartholomew.
Answering the question of what are the hopes for peace in the face of the devastating war, which Ukraine became a victim of, Bartholomew emphasized that "this war cannot be justified by anything," and that this should be emphasized "in the name of our Christian faith and not only."
"It seems to me that all people who have the right view of things cannot but condemn this war. The same Pope wants to increase the sensitivity of the whole world to peace. In his message on the first of January (World Day of Peace - ed.) a few years ago, the Pope stated that it is impossible to have peace without justice. These are really correct words," said Bartholomew.
As reported by Ukrinform, during the visit to the Ecumenical Patriarchate, First Lady of Ukraine Olena Zelenska, together with the head of the Office of the President Andriy Yermak, First Deputy Prime Minister Yulia Svyridenko, Deputy Head of the Office of the President Andriy Sybiha, and Ambassador of Ukraine to Turkey Vasyl Bondar thanked the Ecumenical Patriarch Bartholomew for support and assistance to Ukraine.
Photo: Vatican News