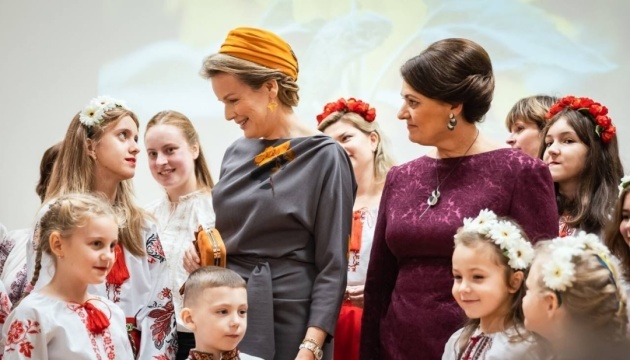 Olena Zelenska thanks Lithuania's First Lady, Queen of Belgium for providing care for Ukrainians
First Lady of Ukraine Olena Zelenska is grateful to First Lady of Lithuania Diana Nausėdienė and Queen Mathilde of Belgium, who visited the Ukrainian Center in Vilnius, for providing support for the displaced.
The First Lady posted on Telegram that the Ukrainian Center in Vilnius was a project she developed and implemented together with First Lady of Lithuania Diana Nausėdienė in the summer. Lithuania's First Lady personally patronizes the center and recently visited it with Queen Mathilde of Belgium who cooperates with Ukraine in the field of mental health care.
According to Zelenska, children's creative groups and a choir have been set up in the Center. So, in addition to warm communication with Ukrainian families, the First Lady of Lithuania and the Queen of Belgium attended a small celebration organized by children and educators.
"I am grateful for this visit and the unceasing care for the displaced Ukrainians. I am sure that this attention and warmth is no less important for our families than the shelter they received in Lithuania," Zelenska wrote.
As reported, the Ukrainian Center in Vilnius opened in June 2022 on the initiative and under the patronage of the first ladies of Ukraine and Lithuania.
ol