Books about Soviet occupation presented at Latvian Military Museum
In Latvijas Kara muzejs (Latvian Military Museum), a presentation was held of the two books exploring arious aspects and consequences of the Soviet occupation, drawing analogies with the ongoing war of aggression Russia is waging on Ukraine.
This was reported by an Ukrinform correspondent.
Both books were published in the Russian language in order to show the Russian-speaking audience data and analytics that could be controversial to them although important in the current conditions,
The book entitled "Crimes of the Soviet Occupation Army in Latvia. 1940-1991." authored by an acclaimed archivist and historian Janis Riekstinš (he was also one of the authors of the book "Ukrainas vesture / History of Ukraine", published earlier this year, where one of the chapter is dedicated to the Holodomor). Riekstinš reviewed material dating back to the occupation period, written in Russian, selecting 72 pieces for the book. As the author himself and other participants of the presentation noted, individual documents that list the facts of robberies, looting, and violence are very similar to what is currently happening in the temporarily occupied territories of Ukraine. The author separately noted that while working on the publication, he tried to get access to SMERSH (Soviet military counterintelligence) archives, but it turned out to be impossible. All of them are stored in Russia, remaining classified (Russian historians have access to them either).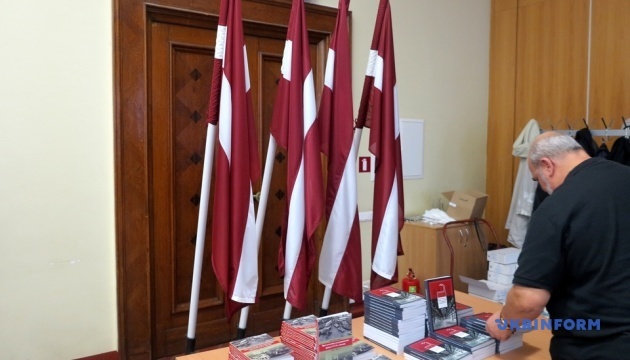 A presentation of books about the Soviet occupation took place in the Latvian Military Museum / Photo: Oleg Kudrin, Ukrinform
Another book, entitled "Industry of Latvia before and after the restoration of independence," is a collection of reports from the conference bearing the same name, held earlier in Riga. The information was summarized and elaborated by Ruta Pazdere, the head of the board of the Latvian Society for the Study of the Occupation. During her report at the presentation, she told that in 1920-1930, Latvia was among the 12 leading European nations in terms of industrial development.
The publisher of both books is the Ministry of Justice of Latvia. The head of the Ministry of Justice, Janis Bordans, also attended the event. Addressing the participants, he drew a direct parallel between the Soviet occupation of the 20th century and the aggressive wars waged by Russia in the 21st century against Georgia and Ukraine, including the capture of territories.
The presentation was attended by experts, scholars, and general public, in particular the Ukrainian diaspora. Both books are available for free.