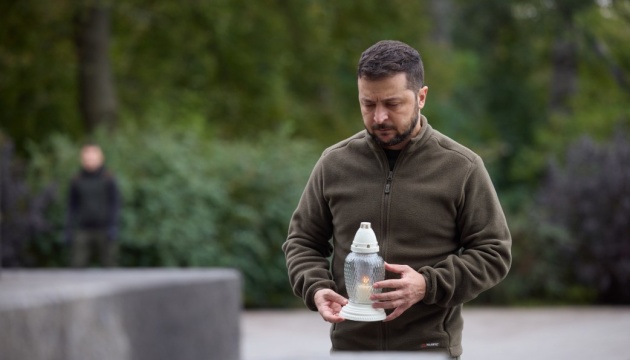 Zelensky commemorates victims of the Babyn Yar tragedy
On the 81st anniversary of the Babyn Yar tragedy, President of Ukraine Volodymyr Zelenskyy honored the memory of all the victims of the mass executions of civilians by the Nazis in occupied Kyiv during World War II.
The Head of State laid flowers at the monument to the victims of the tragedy on the territory of the Babyn Yar National Historical and Memorial Reserve, the President's Office informs.
The President also honored the memory of the Jews shot by the Nazis in Babyn Yar by putting an icon lamp next to the Menorah memorial sign.
Flowers were also laid at the monuments of the Ukrainian writer Olena Teliha and the Roma executed by the Nazis.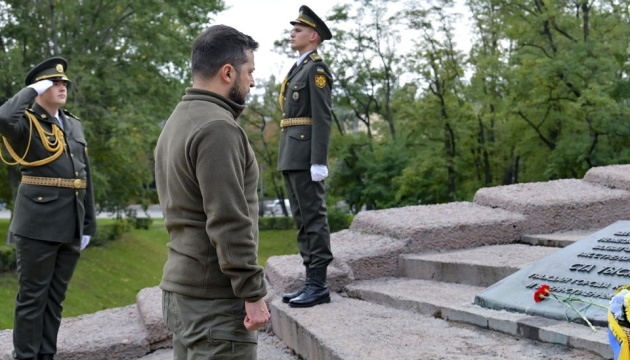 In addition, Zelensky watched the Black Cube installation dedicated to the 81st anniversary of the Babyn Yar tragedy. A model of Babyn Yar is installed inside the cube, on which a visual projection takes place; excerpts from the works of Ukrainian writers devoted to the tragedy are also voiced, and images symbolizing the tragic events of Babyn Yar are shown on multimedia screens.
The Head of State was told about how the Babyn Yar National Historical and Memorial Reserve was working to preserve the memory of this tragedy for current and future generations of Ukrainians.
Zelensky stressed that the world should do everything possible to prevent similar tragedies and crimes against humanity, which, unfortunately, still happen today, particularly in Ukraine.
"Any inhumane regimes pose a threat to all humanity. Criminals who cause such tragedies must be punished so that dictators and tyrants are reluctant to repeat something similar in the future," the President noted.
During World War II, the German occupation forces used the Babyn Yar tract in the northwestern part of Kyiv as a place of mass executions of civilians, mainly Jews. On September 29, 1941, by order of the occupation administration, the entire Jewish population was obliged to appear in Babyn Yar. People were escorted in groups through the checkpoint, after which they were driven to the edge of the ravine and shot. On September 29-30, 33,771 people were killed. The massacres in the tract lasted until the occupiers left the city. According to official data, about 100,000 people were shot down there.
Photo credit: President's Office
ol