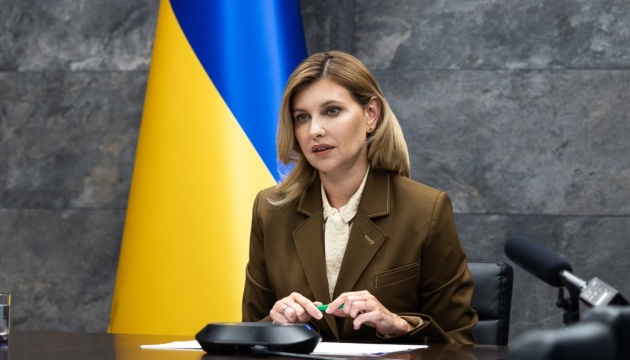 Ukraine's First Lady presents own charitable foundation in NYC
First Lady of Ukraine Olena Zelenska, who is now on a visit to New York, has presented her own charitable foundation, inviting world leaders to join the Ukraine restoration effort.
That's according to First Lady's posting on Telegram, Ukrinform reports.
"An important day. I hope, not only for me, but also for Ukraine. I presented my foundation to the world. In fact, everything I've been doing since the full-scale invasion, helping our people to survive in the new conditions, was officially embodied in this way," wrote Zelenska.
She recalled how children with cancer were taken to safe countries as the Russians were bombarding Ukrainian hospitals. "Our adults and children lost and continue to lose their limbs – we find them the best prosthetics abroad. Due to constant stress, our women give birth prematurely – so we import special incubators with an uninterrupted power supply to save prematurely born infants," added Zelenska.
According to the first lady, the war offers new quests every day. Therefore, to respond to them as quickly and efficiently as possible, a rescue headquarters is needed, which her foundation will essentially represent.
At the center of the Olena Zelenska Foundation is a person and their well-being. The President's spouse believes that the restoration of the country begins with the people. In her opinion, if people's lives are improved and their strength is restored, the whole country will improve and recover.
The Foundation works in three operating directions: humanitarian aid, high-quality and affordable health care, and education.
Zelenska explained that anyone who needs support could apply for humanitarian aid and receive it. Also, the Foundation will ensure that Ukrainians can regain their physical and mental health. Another component of the Foundation's work is to make sure that, despite the ongoing war and destruction, Ukrainian youths could grow, develop, and receive the best education,.
"Our task is to help life win. And for this we need hospitals, we need schools, jobs and opportunities. So, today in New York, where political and business leaders of the world gathered for the 77th session of the UN General Assembly and where the presentation of my foundation took place, I invited world leaders to join the restoration of Ukraine," Zelenska said.
According to Zelenska, the destruction and chaos caused by the Russian aggressor must be contrasted with reconstruction. Put into practice common values, where a person and their life are above all else. "By defending them, Ukraine is just now making the world better, safer, and fairer. Helping Ukraine recover means helping the entire free world," added Zelenska.
All willing to join or learn more about the Foundation are offered to visit its website.
As reported by Ukrinform, Olena Zelenska, the spouse of the President of Ukraine, as part of her visit to New York on the occasion of the 77th session of the UN General Assembly, held a meeting with Secretary General of the United Nations Antonio Guterres, Prime Minister of Great Britain Liz Truss, First Lady of France Brigitte Macron, and Executive Director of the United Nations Population Fund (UNFPA), Natalia Kanem.
On September 20, the 77th session of the UN General Assembly launched its work in New York.