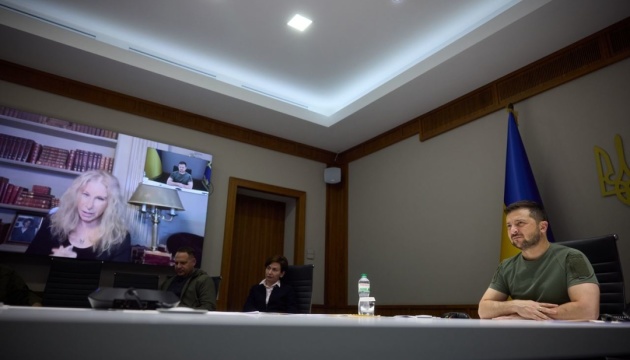 Barbra Streisand becomes ambassador for UNITED24 platform
Oscar, Emmy, Grammy, Tony, Golden Globe and Peabody award winner Barbra Streisand has become an ambassador for the UNITED24 fundraising platform, in the field of medical aid.
President of Ukraine Volodymyr Zelensky wrote this on Telegram, Ukrinform reports.
"During an online call, I discussed the details of our cooperation with Barbra Streisand, who became the ambassador of the UNITED24 fundraising platform in the 'Medical aid' direction," Zelensky wrote.
He noted that the world may get a little tired of thinking about Ukraine every day, but the communities in the US and European countries continue to support and help Ukraine.
''It is very important for us that such talented and famous people in the world support the UNITED24 platform. Mrs. Streisand, thank you for supporting Ukraine!" Zelensky wrote.
According to United24, Streisand's grandparents emigrated to the United States from Ukraine. Streisand told she has a strong connection with Ukrainian: "As I am of Jewish origin with Ukrainian roots, I am especially moved by the struggle of Ukrainians for freedom. The resilience and courage of the Ukrainian people have become a real inspiration for everyone who works to preserve democracy and fight against authoritarianism. You and your country have my full support."
It is noted that the first project - which Streisand will support as part of her ambassadorship - is 24 000 Friends of Ukraine, which aims to get 24,000 subscribers to commit to monthly donations of $24 towards Medical Aid for Ukrainians directly affected by the war.
"Regular donations provide constant support to Ukrainian doctors, who have been heroically saving the lives of war victims for almost 7 months. Everyone who signs up for a charitable monthly donation will receive a thank-you email, signed by the President of Ukraine, Volodymyr Zelensky," United24 said.
As reported, in May, President Volodymyr Zelensky signed a decree on the initiative to create the United24 national brand to unite the efforts of international partners in support of Ukraine.
Photo: President's Office
iy