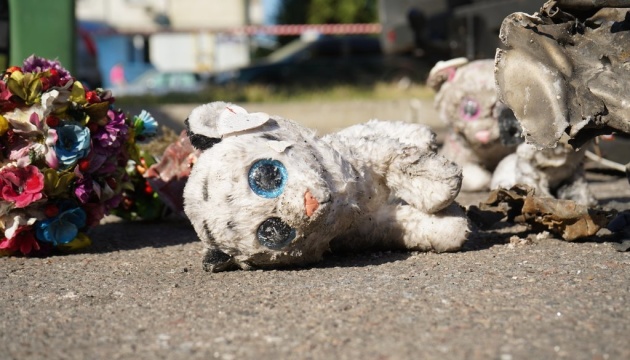 Invaders illegally remove from Ukraine over 2,000 children
The coccupiers took to the Russian Federation at least 2,100 Ukrainian children, who had been deprived of parental care.
That's according to Deputy Prime Minister, Minister of Reintegration of the Temporarily Occupied Territories of Ukraine Iryna Vereshchuk, who spoke with journalists during a trip to Kharkiv region, Ukrinform reports with reference to the Suspilne public broadcaster.
"We are talking about 2,161 children. This is what we were aware of as of September 1. These are children, deprived of parental care, we call 'status children.' Of them, by the way, we have already returned 55," said Vereshchuk.
According to the official, these are not the exact numbers.
"We are verifying information systematizing them, and immediately turning to the Russian Federation. We regard it (as international law allows us to) the forcible removal of Ukrainian children to the territory of the aggressor country. And it is obvious that this is a crime, so it will be qualified those guilty will be brought to justice. But now our task is to find those children, locate them, and demand that they be returned," explained Vereshchuk.
She noted that Russia is trying to find guardians for some of the Ukrainian children. "We have information that Russia is preparing some of them for certain guardian families, as they call it, some forms of adoption. I'd like to state once again: this is absolutely unacceptable... We demand that our children be returned, we appeal to the international community with the demand to do everything to make Russia pay, that is, to strengthen sanctions, over the fact that today our children are illegally held on the territory of the Russian Federation," said the Deputy Prime Minister.
During the negotiations on returning the children back to Ukraine, Ukrainian authorities turn to Russia, providing the names of the children in question and information about their guardians. "The guardian comes to Russia, which takes nearly 10 days, as he or she has to go there, pick up the child, and bring them back. We accompany all this process ... in this way, we managed to rescue 55 children," added Vereshchuk.
As Ukrinform reported earlier, the Government of Ukraine will sue Russia for the so-called adoption of abducted and deported children.
Photo: State Emergency Service