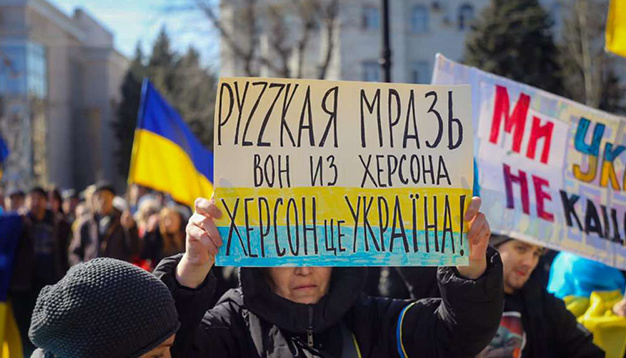 Local resistance in Kherson region gives Russians no opportunity to even simulate "referendum" - intelligence
The Armed Forces of Ukraine, along with the local population, which has put up massive resistance to the Russian invasion forces, give the occupiers no opportunity to hold a sham referendum on the region's accession to Russia.
That's according to the Main Intelligence Directorate of the Ministry of Defense, Ukrinform reports.
"Of course, they could announce some kind of an event, but in the essence of any pseudo-referendum, after all, lies an imitation of some legitimacy of the process. Thus, neither the Armed Forces of Ukraine nor society as a whole give the Russians even the opportunity to imitate the process. And, of course, the world will immediately reject even the very attempt at holding such a referendum – it would be ridiculous. I think that the occupiers themselves understand the futility of even trying to approach the so-called referenda seriously," said Andriy Yusov, the agency spokesman.
As Ukrinform reported earlier, on September 6, the head of Ukraine's Central Election Commission Oleg Didenko said any pseudo-referendums held by the Russian invaders in the temporarily occupied territories of Ukraine would be illegitimate, while all persons involved in their organization should be sanctioned.