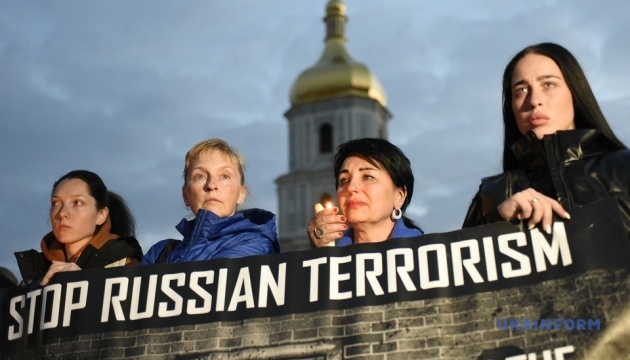 Families of Azovstal defenders commemorate those killed in Olenivka
On Sofiyska Square in Kyiv, the Association of Azovstal Defenders' Families, together with caring residents and guests of the capital, honored the memory of Ukrainian defenders killed in a terrorist attack on the penal facility in the village of Olenivka, Donetsk region.
As Ukrinform reports, the event participants lit lamps and, standing on their knees, observed a minute of silence in memory of the victims. The injured prisoners of war were also remembered.
Some of those present held posters reading "Olenivka", "Stop russian terrorism" in their hands. Several dozen people took part in the event: women, men, small children.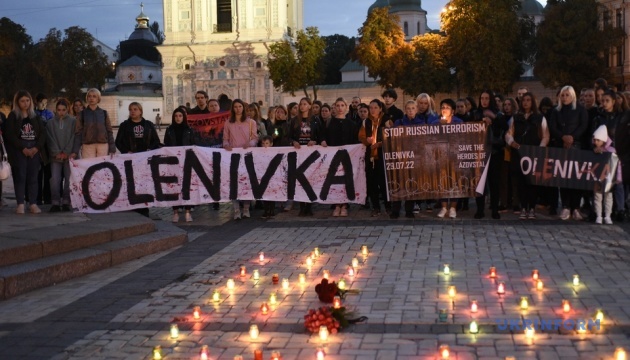 The relatives of POWs held in Olenivka emphasized that 40 days had passed since this terrorist attack, but the civilized world had not yet reacted properly to the crime. Ukraine did not receive confirmed lists of the killed, and the relatives of the heroes did not receive the bodies for burial. The health condition of the injured soldiers remains unknown.
As reported, on the night of July 29, in the territory of the former penal colony in the village of Olenivka in Donetsk region, occupied by the Russian army, an explosion destroyed a building where Ukrainian military personnel evacuated from the Azovstal steelworks were held. Many prisoners of war were killed and seriously injured.
According to Ukrainian intelligence data, mercenaries from the PMC Wagner committed the murder of Ukrainian POWs in Olenivka.
Dmytro Lubinets, the Ukrainian Parliament Commissioner for Human Rights, assumes that Russia will allow representatives of the UN and the International Committee of the Red Cross to visit the place of execution of captured POWs in Olenivka after it hides all traces of the crime there.
ol