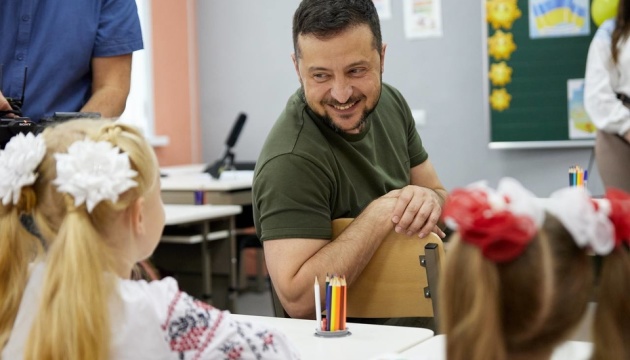 President Zelensky visits Irpin school rebuilt after Russian attacks
On the first day of the new academic year, Ukrainian President Volodymyr Zelensky visited a school in Kyiv Region's Irpin, which had been rebuilt after Russian attacks in March 2022.
The relevant statement was made by Ukrainian President Volodymyr Zelensky on Telegram, an Ukrinform correspondent reports.
"Knowledge Day at a school in Irpin. The educational institution was damaged during hostilities in March but was renovated before the new academic year started," Zelensky wrote.
In his words, today Ukrainian children go to school for the first time or return to studies, continue to receive education. The Head of the State expressed confidence they would have the opportunity to see, hear and get to know Ukraine.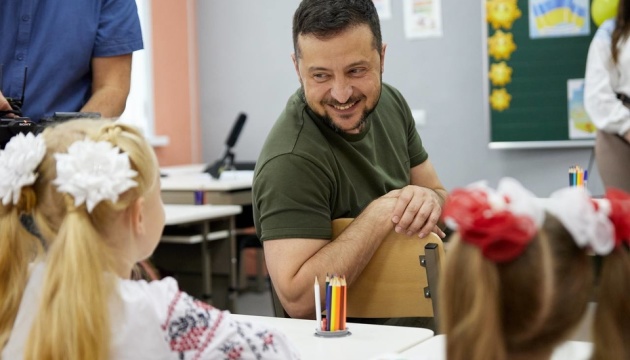 "We are working to ensure that each Ukrainian educational institution damaged due to the war reopens, our children are safe, and nothing prevents them from acquiring knowledge," the President of Ukraine stressed.
Ukrainian Education and Science Minister Serhiy Shkarlet noted on Telegram that about 50% of that school in Irpin had been damaged due to the Russian armed aggression and active hostilities. About 20 Russian projectiles hit the school but, thanks to the concerted efforts of government authorities, territorial communities and UNICEF partners, it was renovated.
Photo: Office of the President of Ukraine
mk