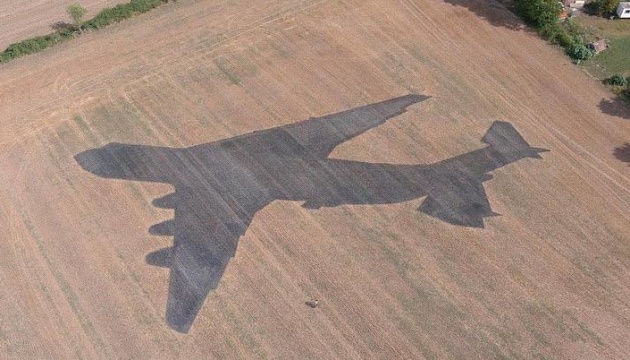 Ukrainian sculptor creates 80m shadow of Mriya aircraft on Denmark's wheat field
Life-size shadows of a Russian Su-27 fighter jet, a drone, and the Ukrainian An-225 Mriya giant, a unique record-holding cargo plane destroyed at the onset of Russian invasion at its base in Hostomel near Kyiv, appeared on the fields of Denmark's Funen Island (Fyn).
The Landart project by the famous Ukrainian sculptor Nikita Zigura is dedicated to the anniversary of Ukraine's Independence and points to the current reality, the threat that residents of other countries see only in the news, according to the Ukrainian Embassy in Denmark.
On the other hand, it's about struggle and hope, which is symbolically reflected in the 80-meter shadow of the An-225, the largest transport plane in the world.
"This is a symbol of the victory of Ukraine, a symbol of the victory of life over death. Yes, unfortunately, the plane that we are proud of was destroyed by the invaders, but this doesn't mean that our spirit and faith in our own strength was destroyed, too! We will rebuild everything. And the plane, of course, too," the sculptor said in a statement, according to the Ministry of Culture and Information Policy.