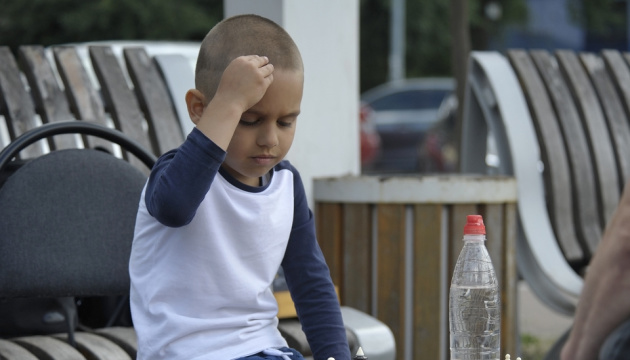 Five-year-old chess prodigy from Vinnytsia dreams of raising funds to buy tank for Ukrainian army
Artem Kucher, a five-year-old chess prodigy from Vinnytsia, decided to raise funds at charity chess games to buy a tank and body armor for the Armed Forces of Ukraine.
The young chess player told an Ukrinform correspondent about his intentions on Sunday, July 10, during a game with all those willing in the open air in Vinnytsia.
"I have been playing chess for nine months and I am doing well. I think that those who play with me are interested in a game because I have the second adult category. I want to help the Armed Forces and that's why I play for money. I want this money to be used for buying a tank for soldiers. And body armor," Artem said.
The boy says that he is not afraid to play with either children or adults. He is sure that he will defeat all opponents as the Ukrainian army does.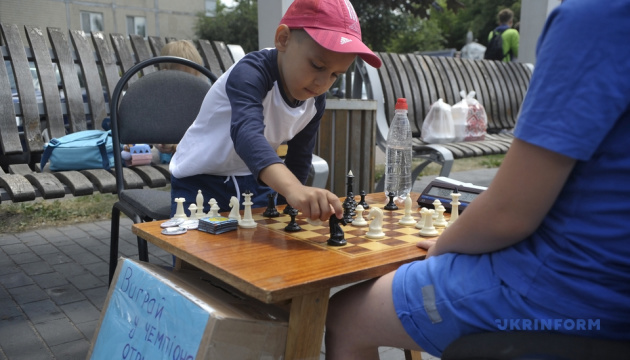 As Oleksandr Kucher, the father of the young chess player, told Ukrinform, holding a charity chess game in support of the Armed Forces of Ukraine in the open air is a joint initiative of Artem, his family, and the Romantyk chess club. They learned that young athletes held such games with all those willing in other cities and hope to raise funds for the army in Vinnytsia as well. They want the defenders of Ukraine to have everything they need and to be able to withstand the battle with the Russian invaders. Artem's opponents leave as much money as they want in a box for donations.
The press service of the Vinnytsia Regional Chess Federation notes that all funds raised by Artem at charity games will be transferred for the needs of the Armed Forces.
On February 24, the Russian Federation began a new phase of the war against Ukraine – the full-scale invasion. Russian invaders shell and bomb the Ukrainian cities, towns, and villages, torturing and killing the civilian population. The Ukrainian troops are fiercely resisting the Russian invaders.
ol