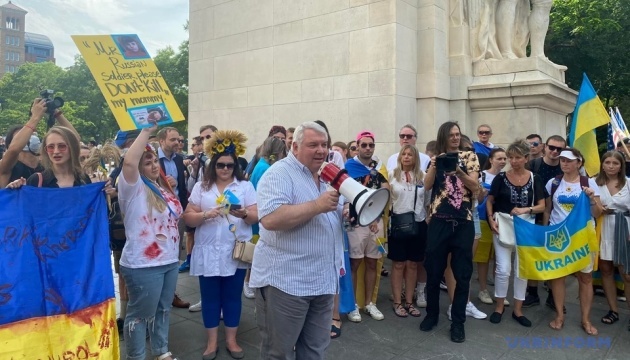 'War is not over': Activists hold rally in New York center
The rally "War is not over" took place in New York as hundreds of activists with blue and yellow flags marched through the center of the largest US city.
As an Ukrinform correspondent reports from New York, the activists marched four kilometers along Broadway – from Times Square to Washington Square Park.
According to one of the organizers, Artur Zhurov, the purpose of the rally is to remind the public that the war in Ukraine continues, Russia continues to bomb cities and kill Ukrainians.
"The war continues. We should not get tired of repeating it, and together we should do everything that depends on us to end it," Oleksiy Holubov, Consul General of Ukraine in New York, said at the rally.
He emphasized that Ukraine cannot agree to any terms that would involve the exchange of territories for a truce.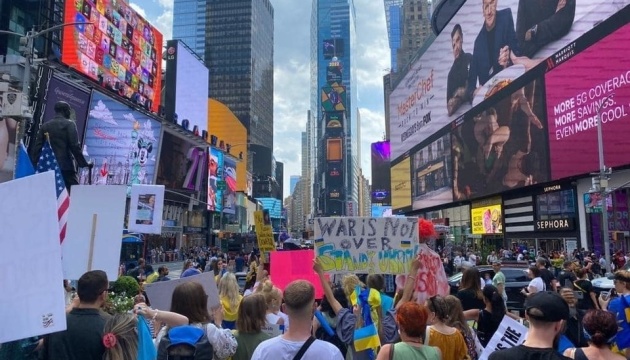 Jakub Kulhánek, Permanent Representative of the Czech Republic to the UN, also took part in the rally.
"The Czech Republic fully supports Ukraine, because it is not only about Ukraine. After all, Ukrainians fight not only for their freedom but also for us. That is why this support is so important for the Czech Republic," Kulhánek told Ukrinform in a comment.
According to the Czech diplomat, society and politicians in his country are unanimous on this issue. "We don't just want Ukraine to win. We need it. That is why we actively help in the humanitarian sphere and with arms supply," Kulhánek added.
ol