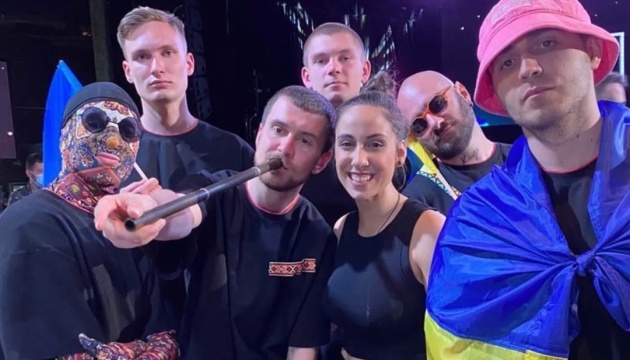 Ukraine leaves mark on Glastonbury - media
Paul McCartney showed his solidarity with Ukraine by waving the country's flag during his Glastonbury set on Saturday, while Ukrainian bands spread the word about Ukraine's resistance to Russian aggression
The Beatles legend earned a huge cheer as he stood under the flag's blue and yellow stripes, but for Ukrainian musicians at the festival, it was more than just a gesture, the BBC reports.
"For soldiers, for people in Ukraine and around the world, when your big stars support you and understand you, it shows you have truth on your side," says Marko Halanevych of DakhaBrakha.
"It gives us inspiration to stand."
Ukrainian Eurovision winners, Kalush Orchestra, also praised the star for his support.
"A lot of people follow and listen to their idols, so superstars like him expressing their support for Ukraine really helps us to promote our cause," says frontman Olek Psiuk.
Both bands performed at the festival this weekend, helping spread their message of resistance.
During their show, Kaush placed a tip jar on the stage so that fans could donate money to the cause. Just weeks ago, they auctioned off their Eurovision trophy for about $900,000, which goes to support Ukrainian soldiers and the people who have been displaced inside Ukraine.
Electro-folk band Go_A also helped inform fans of the threat posed by the Russian invasion, by leading them in a traditional religious ritual called a Horovod, where the faithful join hands and dance around a fire in a circle.
"We show people this ritual because we need them to understand Ukraine is a unique country with a unique culture, and is not a part of Russia. We're different. We have different values. We need to connect people," said singer Kateryna Pavlenko.
"It's not a political message, it's a cultural message," adds founder member Taras Shevchenko. "Right now, Russians are not just invading our cities, they are destroying our culture. We need to save it and we need to show it to the world."
His words echo those of Ukrainian president Volodomyr Zelensky, who delivered a pre-recorded message to festival-goers on Friday morning.
"Russia has stolen our peace," said the president. "Glastonbury is the greatest concentration of freedom these days and I ask you to share this feeling with everyone whose freedom is under attack."
"The more people join us in defending freedom and truth, the sooner Russia's war against Ukraine will end," he added. "Prove that freedom always wins."
DahaBrakha's Halanevych said that the war is "not only about our territory and our culture," but also "about democracy, all across Europe."
"Our enemy just proclaims that there is no Ukrainian people, no Ukrainian culture, no Ukrainian language. We were a colony more than 200 years," adds the musician.
"The whole world has been impressed with the Ukrainian people. They say we are heroes of resistance, but we don't have any choice because if we don't stand up, we will be destroyed.
"We need to stand and we need to win."