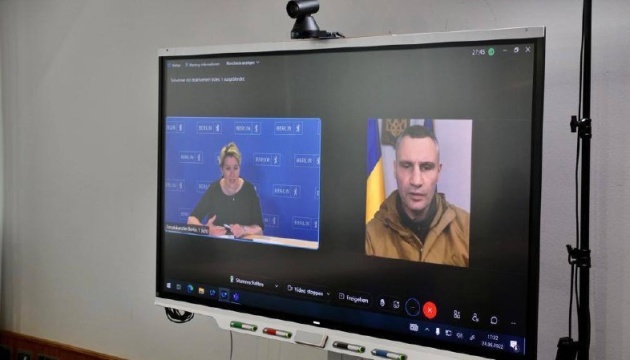 DeepFake technology dupes Berlin, Madrid mayors into thinking they speak with Klitschko
The perpetrator, posing as Kyiv Mayor Vitaliy Klitschko, held talks via ZOOM with the mayors of Berlin and Madrid.
That's according to Vitaliy Klitschko's statement issued on Telegram, Ukrinform reports.
According to the Kyiv mayor of Kyiv, "the enemy just can't stop and keeps waging war on all fronts – including to spread disinformation and compromise Ukrainian politicians, in order to pit them with European partners so that they stop helping Ukraine."
As Klitschko noted, yesterday, on his behalf, the mayors of several European capitals were allegedly sent requests for a video conference via ZOOM, from a fake email address. "As our friends react quickly and support us, the mayors of Berlin and Madrid agreed to talk. So with the help of DeepFake technology, the culprit spoke to them, posing as Klitschko," the Kyiv mayor said.
According to Klitschko, law enforcement must investigate such actions and, If necessary, engage foreign experts.
"By the way," the mayor of Kyiv stressed, "hybrid war, Russian disinformation is one of the topics of the panel discussion in which my brother and I are to participate within the NATO summit in Madrid next week."
As Ukrinform reported earlier, the State Service for Special Communications and Information Protection warns of a possible cyberattack aimed at Ukrainian telecom operators and providers. The phishing letters come from an email address in the gov.ua domain (possibly compromised) and hold password-protected attachments, entitled "Protocol for family members of missing serviceman LegalAid.rar." The RAR-archive contains the document entitled "Algorithm_LegalAid.xlsm," the opening of which will lead to the download and launch of the DarkCrystal RAT malware.